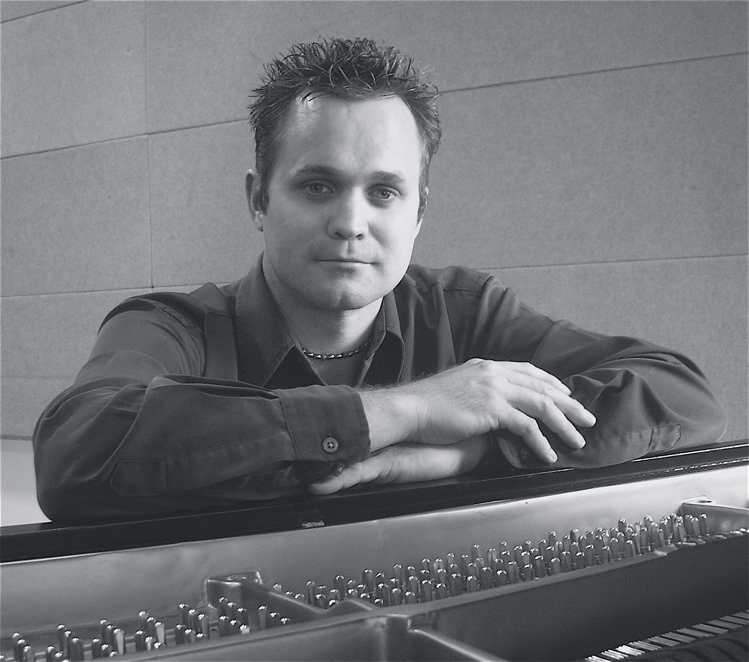 Dr. Trent Hanna has been awarded for his achievements both as a composer and performer. He currently serves as the Theory and Composition Coordinator at Sam Houston State University's School of Music, where he teaches composition and theory classes. His original works have been commissioned and performed throughout the United States, Europe, and Asia. Dr. Hanna premiered his Concerto for Piano and Orchestra with the Sam Houston State University Symphony Orchestra in 2004 and later that year conducted his Fanfare for Peace in the Czech Republic, Austria, and Hungary. His composition Dorland (for solo piano) won first prize in the Contemporary Japanese and American Music Composition Competition resulting in a two performances by the composer in Japan. This past fall he was invited as keynote speaker to the International Crime and Pop Culture conference and premiered his piece Quyannanana (for four percussionists), which was written for the 20-year anniversary of the Exxon Valdez oil spill. As a pianist, Dr. Hanna has performed extensively as soloist with various symphony orchestras, including John Corigliano's Concerto for Piano and Orchestra with the San Angelo and Corpus Christi Symphony Orchestras. Dr. Hanna received his Doctorate of Musical Arts in Composition from the University of Texas at Austin, and both his Master of Music degree in Composition and his Bachelor of Music degree in Theory, Composition, and Piano Performance from Sam Houston State University. He is currently a member of the Society of Composers, and has been awarded artist residencies at the Dorland Mountain Arts Colony (California), the Virginia Center for the Creative Arts, Villa Montalvo (California), the Isle Royale Artists-in-Residence Program (Michigan), the Djerassi Resident Artists Program (California), and most recently the Millay Colony for the Arts (New York). His music can be heard on his full-length CD of original works for solo piano entitled Sojournal and chroma:new music for piano (Capstone Records). Trent Hanna received his Doctor of Musical Arts from the University of Texas and both his Master of Music degree in Composition and his Bachelor of Music degree in theory, composition, and piano performance from Sam Houston State University. He studied composition with Newton Strandberg, Fisher Tull, Richard Toensing, Philip Schroeder, Dan Welcher, and Kevin Puts. His primary studies in piano were with the late, great John Paul.
Compositions
Concerto for Piano and Orchestra
My Concerto for Piano and Orchestra uses symmetry as a controlling factor throughout most of the piece. It is centered on the pitch D, and more specifically D4. Therefore, most of the resulting harmony can be related to this vertical symmetry. Oftentimes this approach can lend itself to extreme dissonance. However, I sought out consonant-sounding symmetrical harmonies to contrast with the more dissonant and strident harmonies. This battle between the two forces of consonance and dissonance, each sharing the same tonal center, is an overriding feature of the work. Sam Houston State University Symphony Orchestra Carol Smith, conductor Trent Hanna, pianist
whim (alto sax, vibes, piano, and cello)
Notes for whim Dedicated to my brother, Devon Hanna whim was composed while a resident at Djerassi Resident Artists Program in Woodside, California the summer of 2007. While hiking through the desert hills and redwoods of Djerassi, I would come across different unique and inspiring sculptures. One of my favorites is a yield sign welcoming visitors and residents as they approach the complex. The sign reads not only "yield," but "yield to whim." This message and my time at Djerassi became my inspiration for the piece. Beginning with a meditative, slowly developing idea in the piano, the other instruments leisurely join in, and the piece whimsically goes where it chooses. The main idea of the piece (and climax) is the idea of just letting go – let life and everything take you where it may. Or, in other words, it's not about the destination, but the journey.
Tetrasomia (String Quartet No. 1)
Tetrasomia, or Doctrine of the Four Elements, was written by a fifth-century Greek scientist and healer named Empedocles. In it, he institutes that the beginning of time began with the four elements completely unified in a sphere. This perfect sphere is attributed to Philotês (Love), but Neikos (Strife) appears and scatters the elements throughout the universe. Eventually Love will gain control again and a new sphere will be formed.
...at a loss for words...
Dedicated to the victims of the 2004 Tsunami. Scott Plugge, saxophones Matthew McInturf, conductor