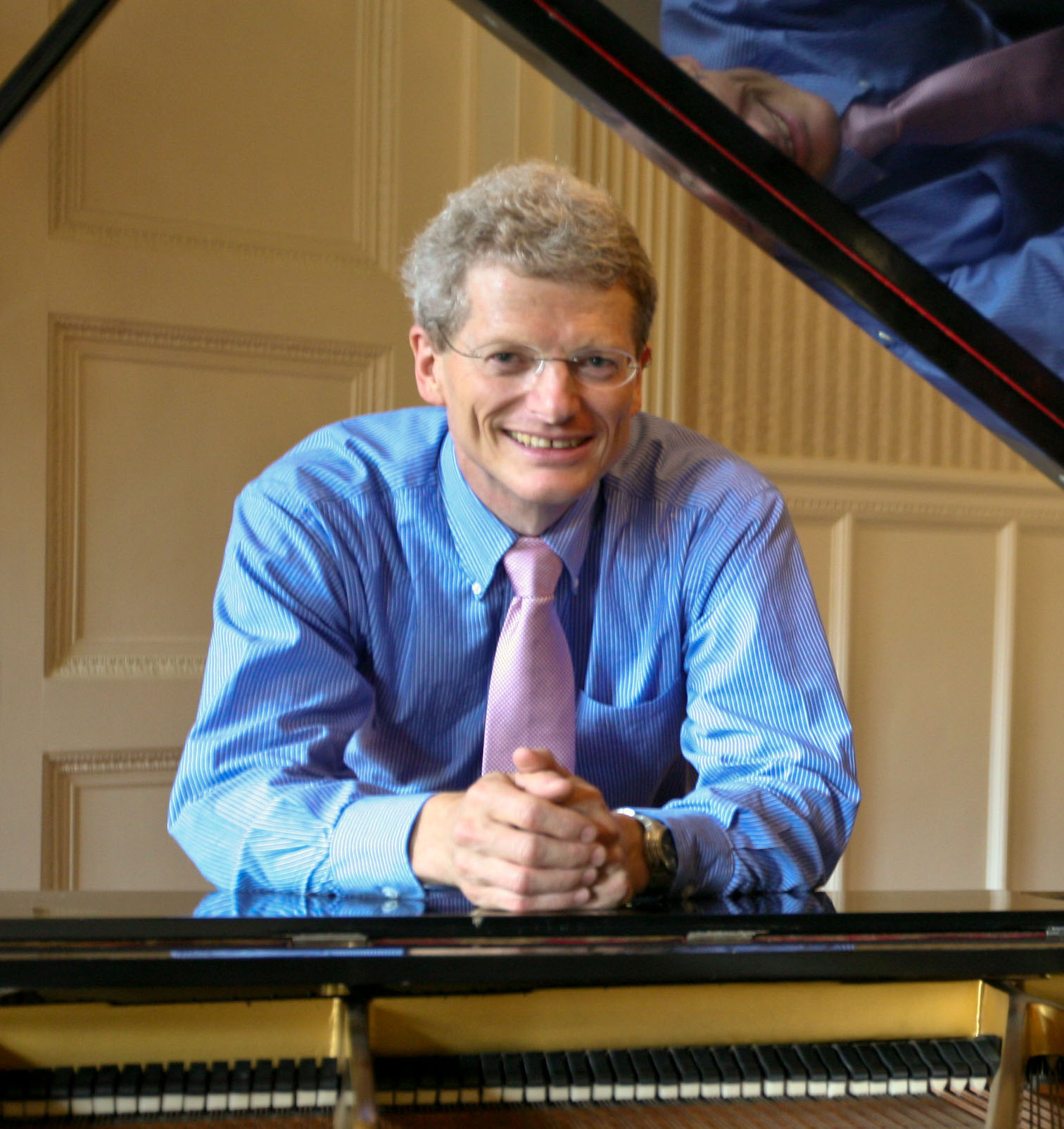 Jonathan L. Chenette is Dean of the Faculty and Professor of Music at Vassar College. Before arriving at Vassar in July 2008 he was Associate Dean and Blanche Johnson Professor of Music at Grinnell College. A graduate of the University of Chicago with a Ph.D. in music composition and a bachelor's degree in mathematics, he also holds a master's degree in music composition from Butler University. His music often focuses on relationships between people and the land, particularly in the context of the prairie Midwest where he enjoyed a twenty-five year career. His compositions have involved collaborations with writers, dancers, folk musicians, farmers, visual artists, and museums as well as performing ensembles including the St. Paul Chamber Orchestra, the Netherlands Radio Chamber Orchestra, the Murasaki Duo, Red Cedar Chamber Music, Chatter, and Virelai. Broken Ground, composed in collaboration with six Iowa poets, premiered in a concert of the Des Moines Symphony broadcast statewide over Iowa Public Television as part of Iowa's sesquicentennial in 1996. Other major works include the opera Eric Hermannson's Soul (1993), the song cycle Oh Millersville! (1990), the September 11 memorial composition Elegy and Affirmation (2002), and the orchestral works Chamber Symphony for 31 Instruments (1983), Triple Feature (1994), and Rural Symphony (2000). Recent works include an orchestral fantasy on the tune Macapay (2008) for the Latin American duo Calle Sur, the chamber quintet Onomatopoeia (2010) based on a 60-foot-long scroll painting by Santa Fe artist Signe Stuart, and the choral work Four Fibs (2012) setting a poem by A.E. Stallings. His musical projects have received support through grants or fellowships from the MacDowell Colony, the Iowa Arts Council, the American Music Center, the American Composers Forum, and Meet the Composer. His compositions are available on CD's from Boosey & Hawkes, Capstone, Fleur de Son Classics, Innova, and Riverrun labels and in publications from Boosey & Hawkes, Theodore Presser, and Fish Creek Music.
Website at Vassar College: http://adminstaff.vassar.edu/jochenette/index.html; 2014 Eric Hermannson's Soul: Excerpts Arranged for Small Ensemble (37:00); 2012 Four Fibs for SATB choir and piano, poem by A.E. Stallings (5:00); 2010 Onomatopoeia for flute, oboe, clarinet, violin, and cello (30:00); 2009 Jubilation for organ (4:00); 2008 Macapay for Latin American duo and orchestra; also arranged for orchestra without soloists (5:00); 2008 Grandmother's Hymnal for tenor and piano based on the poem "On Opening My Grandmother's Hymnal" by Sydney Lea (8:00); 2007 In Eternity for soprano and organ based on a Latin text by St. Augustine its English translation by Peter Press (5:00); 2007 Sextour Mystique by Heitor Villa-Lobos – celesta performer as part of sextet • recorded on Centaur CD 2839, "Music for Flute and Guitar", Rebecca Stuhr, flute, George Torres, guitar; 2004 Dvorak Variations for woodwind quintet (12:00); 2003 Spillville Variation for flute, viola, and guitar (1:30); 2002 Elegy and Affirmation for cello and piano (15:30); 2002 The Pale Queen of the Silent Night for mezzo-soprano, renaissance flute, bass viol, and lute (4:16) • recorded by Virelai on Riverrun CD RVRCD62; 2001 Skipped Stones for electronic media (sound and video projections) (40:00); 2000 Rural Symphony for orchestra • I. Row Crops and Livestock (5:37) • II. Milking Time (3:32) • III. Becoming Prairie (6:09); 2000 Fast Track for flute and guitar (3:20) • recorded by Boland-Dowdall Duo on Fleur de Son Classics CD FDS 57960; 1998 Hyperbole for solo piano (8:15); 1998 Nowel for SATB choir a capella; text by anon.; (3:00); 1998 The Vow for SATB choir a cappella based on a poem by Edward Hirsch (4:00); 1998 Iowa Central Train for voice and piano based on an anonymous text from the 1910 Grinnell College "Cyclone" (3:00); 1997 The Bright Harmonic String for treble choir and harp or piano; texts by anon. and Thomas Moore; (13:00) • I. "Wake, Sweet Muse" • II. "Dear Harp of My Country" • III. "The Harp That Once" • IV. "The Minstrel Boy"; 1997 Strings in the Earth for treble choir and harp or piano; text by James Joyce (3:32); 1997 Gloria for SATB and organ (2:00); 1997 We Sing With Thanksgiving for soprano, tenor, and harp based on a text by Connie Wieman (5:00); 1997 They Gathered to Worship, hymn, based on a poem by Betty Moffett (2:00);
1996 Broken Ground for choir and orchestra (37:00); 1996 Broken Ground for choir, violin, and piano (37:00); 1995 Posthumous Orpheus for mezzo-soprano and lute; text by Edward Hirsch (8:00) • recorded by King/Heringman Duo on Capstone CD CPS8787; 1994 Triple Feature for chamber orchestra (19:00) • I. Epic (7:28) • II. Romance (5:56) • III. Farce (5:33); 1993 Prairie Autumn for soprano and chamber ensemble or piano (4:00) • recorded by The American Celebration Duo (Diana Guhin Wooley, soprano; Richard Steinbach, piano) for the CD "Though Love Be a Day" (Innova #529); 1993 Pleasant It Looked for SATB choir a cappella, based on a Winnebago (Anonymous) text; 4 min.; 1986 - 1993 Eric Hermannson's Soul, opera based on Willa Cather's short story of the same name, libretto by the composer (98:00); 1992 Four Character Pieces for flute and piano (12:00); 1992 Oh Millersville! for soprano and orchestra; texts by James Norman Hall (24:00); 1991 Duo Variations for double bass and harp (10:00); 1991 Out of the Land, cantata for solo baritone, choir, and organ, based on a poem by Paula Smith incorporating words from Grinnell College's first president, George Magoun (composed for the inauguration of Pamela Ferguson as the 11th President of Grinnell College) (8:00); 1991 Music for Episcopal Worship, a collection of settings of the Gloria, Sanctus, Memorial Acclamation, and Fraction Anthem, to be used in the worship of Episcopal Church congregations (commissioned by St. Paul's Episcopal Church, Grinnell, IA); 1990 Oh Millersville! for soprano and piano; texts by James Norman Hall (37:00); 1989 Liberty from the Tyranny of 12 Equal Tones for synthesized horn quartet in 19 note equal temperament (18:00); 1985 Fantasy and Fugue on BACH for piano trio (11:00); 1983 Chamber Symphony for 31 Instruments (14:00); 1982 Redolence for solo harp (4:00); 1981 Idyll for soprano, flute, and harp; text by John Hawkes (4:00); 1979 Jazmines for baritone voice and 11 instruments (11:00)
Compositions
Onomatopoeia, movement 1 (of 5)
Onomatopoeia, for flute, oboe, clarinet, violin, and cello, is a musical response to a 60-foot-long, 11-inch-wide scroll painting of the same name by Santa Fe artist Signe Stuart. The artist experienced synesthesia as she painted – the colors and shapes evoking aural sensations that the music, in part, aims to recreate. Sometimes the relationships between scroll and music are specific, as in the ochre background and spiky lines at one end of the scroll corresponding to oscillating background figures and brittle foreground chords as the music begins. Other relationships between music and scroll are more general, as in their shared vibrancy of color and energy. The music is in five movements, corresponding roughly to twelve-foot sections of the scroll. Onomatopoeia premiered at the Albuquerque Museum in November, 2010, performed by the ensemble Chatter in conjunction with the exhibition "Sensory Crossovers: Synesthesia in American Art."
Eric Hermannson's Soul: Excerpts Arranged for Small Ensemble
These are five excerpts from the opera Eric Hermannson's Soul, completed and premiered in 1993, excerpted and reorchestrated for concert performance with smaller ensemble in 2014. The opera is based on the composer's own libretto derived from Willa Cather's short story of the same title. The story is an ironic reworking of the tale of Faust, using characters and settings from the American Midwest of circa 1900. Willa Cather published her story in the year 1900 at the age of 27. She sets three main characters with their own foibles and yearnings off against each other: Preacher Asa Skinner, converted train gambler who knows only the wrath of God and nothing of God's beauty – who calls down God's wrath to stifle joyful exuberance wherever he finds it; wealthy Margaret Elliott on a grand tour of the Western plains before marrying into high society back East, who seems to have everything, but yearns for just "one great moment" to give her life meaning beyond its material comforts; and Eric Hermannson, Norwegian immigrant and misfit with nothing but his music to call his own -- who loses his voice under Asa Skinner's domination and recovers it with Margaret. In this early story, Cather demonstrates her distinctive lyricism, her love of the prairie landscape, her passion for art, and her interest in music as one of the freest manifestations of the human soul.
Elegy and Affirmation
Elegy and Affirmation was commissioned through an Iowa Arts Council initiative to mark the first anniversary of the September 11, 2001 terrorist attacks. Its premiere took place at the Blanden Memorial Art Museum in Fort Dodge, Iowa in conjunction with the opening of an exhibition of contemporary art on the subjects of peace and healing. The music's elegiac first movement and hopeful second movement derive inspiration from diverse sources: a conversation with the mother of a victim of the World Trade Center collapse, a snippet from a nostalgic Stephen Foster tune which serves as the culmination of Elegy, a song sung by Afghan girls returning to school which dominates Affirmation, melodies borrowed from repertories of various bowed string instruments from musical cultures along the Silk Road, and a poem by W.H. Auden. The piece seeks both to mourn our loss and to assert our interconnectedness in the aftermath of the terrorist attacks.
Broken Ground, movement 1 (of 5)
Broken Ground was commissioned by the Des Moines Symphony Orchestra, the Iowa Sesquicentennial Commission, and Grinnell College in honor of the sesquicentennials in 1996 of the State of Iowa and Grinnell College. Its creation brought together 6 poets, a composer, and a large network of performers and supporters in pursuit of a common goal: to reflect on the relationships between the people and landscape of the prairie Midwest through the arts of music and poetry. In creating the work, the collaborators sought to express the beauty and harshness of the prairie as well as the intensity of the human response to its rigors and fruitfulness. All six collaborating poets write with a distinctive lyricism about the midwestern landscape. They include poet-farmer Michael Carey from southwest Iowa, Native American poet and novelist Ray Young Bear from the Mesquakie Settlement of the Fox-Sauk Tribe, poet and essayist Mary Swander from Iowa State University whose work often focuses on the Amish culture around Kalona, poet and novelist Paula Smith of the Grinnell College faculty, songwriter and humorist Dan Hunter of Des Moines, and National Book Award-winning poet Ed Hirsch, a Grinnell College graduate and President of the Guggenheim Foundation. Movement 1, "The Ice-Glazed Landscape," emerges from the icy cold sound of the crotale. The texture thickens gradually and hopefully as the chorus intones the phrase "We lived here once inside and along these ancient hills." But after this brief moment of warmth, the music settles back into the icy coolness of its opening.