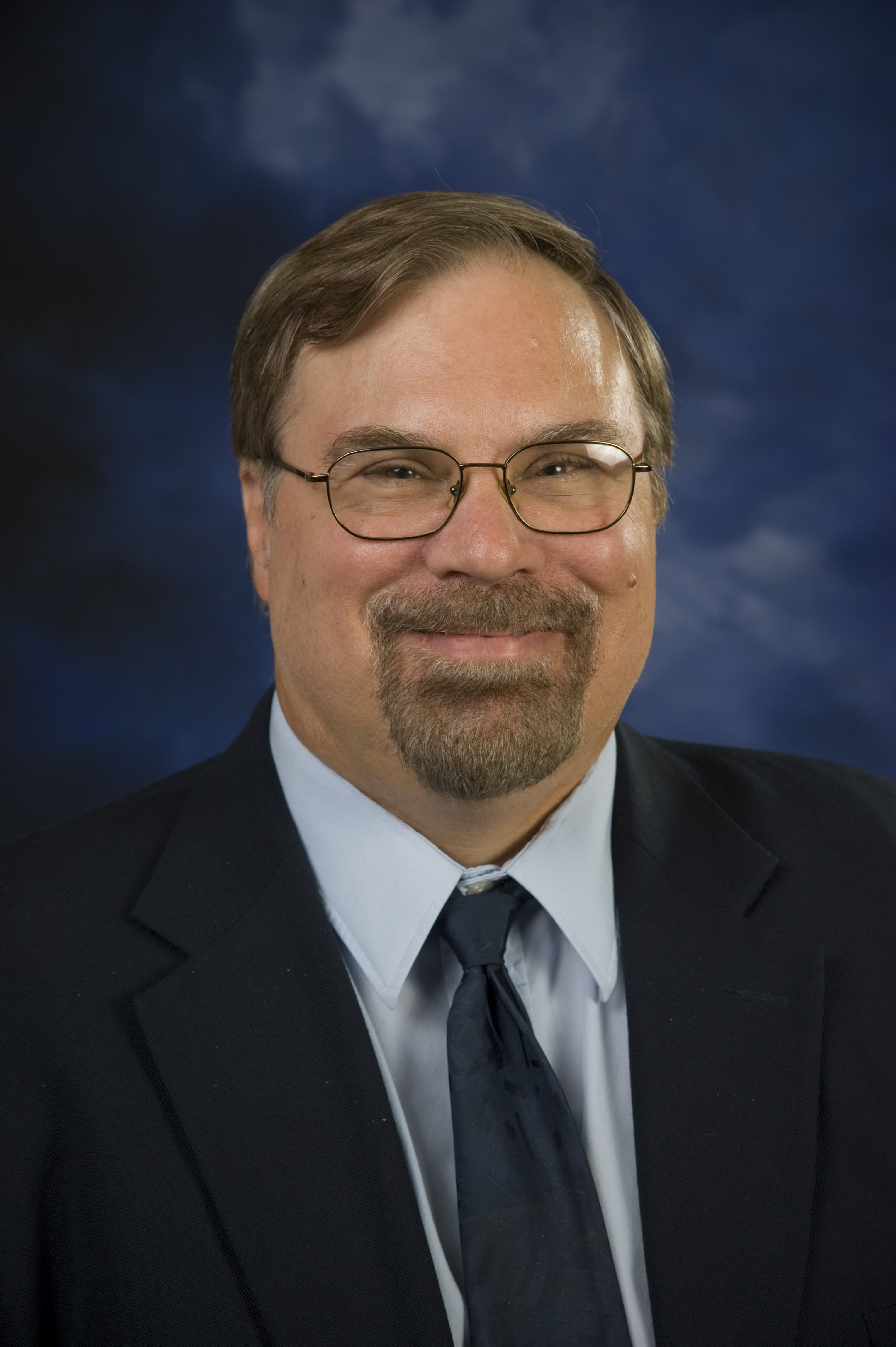 You can contact Warren at
wgooch.truman.edu
SELECTED WORKS

Clockwork (orchestra)
we are experiencing minor turbulence (orchestra)
Menuet Macabre (orchestra)
The Stones Speak of Eternity (wind ensemble)
Song of the Voyageurs (wind ensemble)
Te Deum (choir and orchestra)
Wisdom: A Cantata (choir and orchestra)
John 1: The Word (SATB choir)
The Work of Thy Hands (SATB choir)
Three Reflections from the Psalms (SATB choir)
A Tempest (SSA choir)
Out of the Primordial Ocean (percussion ensemble)
Fanfare and Alleluia (brass choir)
Divertimento (string quartet)
A Modest Compendium of Olde Verse (brass trio)
Three Fauxmanian Dances (violin and cello)
The View from the Tower (tenor, piano, tuba)
Through a Glass Darkly (trombone and percussion)

Additional works for large and small instrumental and vocal ensembles.

Chamber and solo works (with and without piano) for voice and/or most orchestral instruments, piano, organ.

Several works can be heard on SoundCloud

Please contact the composer for a full list of works.
Warren Gooch's music has been performed throughout North America, Asia, Europe and Latin America. A native of Duluth, Minnesota, Gooch is Professor Emeritus of Music Theory/Composition (Truman State University). He is a past recipient of that university's "Educator of the Year" award and of the Governor's Award for Excellence in Education from the State of Missouri.

Ancient History
Little Gooch began composing as soon as he was old enough to reach the keys on the family piano. To the initial chagrin of his parents, at first he devoted more time to "making up" pieces at the piano than he did to practicing his formal music lessons. Eventually, this interest in composition led to over a dozen awards in young composers competitions.

Recognition and Publications
Grown-up Gooch's work has been recognized by the National Federation of Music Clubs, Minnesota Orchestra, American Choral Directors Association, Music Teachers National Association, Percussive Arts Society, Collegiate Band Directors National Association, International Trumpet Guild, College Music Society, Music Educators National Conference, the Composers Guild, the American Prize and other organizations. He has been the recipient of over thirty composition awards and paid commissions, and has approximately forty published works from houses such as Southern, Dorn, Kjos, API/Quo Vadis, Flammer, Ensemble, Plymouth, and others. Clockwork for orchestra is available from Navona Records, performed by the Slovak Radio Orchestra under the direction of the late Robert Black.
Education
Gooch received his Doctorate from the University of Wisconsin, his Masters degree from the University of Minnesota (Duluth), and his Bachelors degree from the College of St. Scholastica. He studied with Stephen Dembski, Joel Naumann, Mary Mageau, Martina Hughes, Eric Stokes, Thomas Wegren and others, representing the varied aesthetic philosophies and stylistic positions of composers such as George Crumb, Milton Babbitt, Howard Hansen and Nadia Boulenger. This broad background has informed Gooch's diverse and eclectic style.

Theory Stuff
Gooch's work as music theorist has been recognized by the College Music Society, Music Teachers National Association, Macro Analysis Creative Research Organization, and Gooch authored a (now extinct) manual in the Benward /Saker "Music in Theory and Practice" series, published by McGraw Hill.

Even More Stuff
Professional affiliations include BMI, Society of Composers, Phi Mu Alpha Sinfonia, Christian Fellowship of Art Music Composers, Pi Kappa Lambda Music Honor Society, Macro Analysis Creative Research Organization, Iowa Composers Forum, and others. In the distant past, he taught music at pretty much all grade levels. Gooch is actively involved in the field of sacred music, and his composition catalog includes a number of sacred choral and instrumental works.

Compositions
outside my midnight house
This song cycle was commissioned by Scott Piper in memory of the late Jim Thomas, a beloved Missouri poet. Jim's poetry is characterized by its "Midwestern" flavor, its wonderful use of imagery and humor, and its wise, subtle insights into life and the world around us. "I would kiss you with these words" is a love song that ends with a very sad twist. "Catnap" is a cabaret-style song which finds the poet increasingly absorbed by his cat's behavior. "Scotch and Snow" is introspective, as the poet gazes out his window, sips a beverage and contemplates inspiration. The musical style of "The Dinner Bell" is reminiscent of an old-timey television commercial. Here, the poet puts his spin on "chicken of the sea" and ultimately exercises admirable(!) self-control. The performers on this recording are tenor Scott Piper and pianist Nancy Hueber. Duration 14.5 min.
Cellgames 2.0
The classic "shell game" involves hiding an object beneath one of several shells or cups. The trick is to guess under which shell or cup that object can be found, once the positioning of the shells or cups has been changed. In Cellgames 2.0, musical motives ("cells") are "hidden", juxtaposed and appear in a wide range of transformations. The "2.0" in the title refers to the fact this wind ensemble piece uses musical material from an earlier composition for trumpet ensemble simply entitled Cellgame. Cellgames 2.0 was premiered by the Truman State Wind Symphony under the direction of Dan Peterson at Truman State University in February of 2008. It received its "off-campus premiere" at the 2008 Collegiate Band Directors National Association conference in Kansas City the following month. This recording features the Truman State Wind Symphony under the direction of Dan Peterson. Duration ca. 8.5 min.
Nocturne in 4-3
Nocturne in 4-3 for cello and piano takes, as its point of departure, certain elements of the Chopin nocturne. First, the composition is indeed atmospheric and evocative. Second, it features a long-breathed melodic line. Finally, it employs an undulating, repetitive accompaniment figure. After a brief introduction, the primary melodic material is heard first in the cello and is then passed between the cello and piano. Various motives drawn from this melody are then developed before and during energetic and aggressive musical passages that alternate with reflective sections. The melody then returns late in the piece, followed by a coda. Each of Chopin's twenty-one nocturnes is identified by a number and/or a key: "Nocturne in E-flat Major", for example. While Nocturne in 4-3 is not tonally-based, it is indeed centric music, drawing upon a source tone row that makes heavy use of Set Class 4-3 (the 0134 tetrachord)-- hence the second part of the title for this work. Interval patterns drawn from this tetrachord saturate the piece in both obvious and subtle ways. This performance features the Murasaki Duo: Eric Kutz (cello) and Miko Kominami (piano). Duration 11 min.
The Harvest Moon
The Harvest Moon uses as its text a lovely, evocative poem of the same name by Henry Wadsworth Longfellow. the short choral piece attempts to capture the mystic and somewhat melancholy tone of this multi-layered poem. The chord C-D-G-B (in various permutations) is musically significant throughout. The composition, like the poem, is divided into three sections and reflects subtle use of internal symmetry. Originally published by Moon of Hope Publications, copyright has reverted to the composer. This recording was made by "Cantoria" of Truman State University, under the direction of Mark Jennings. Duration 6 min.