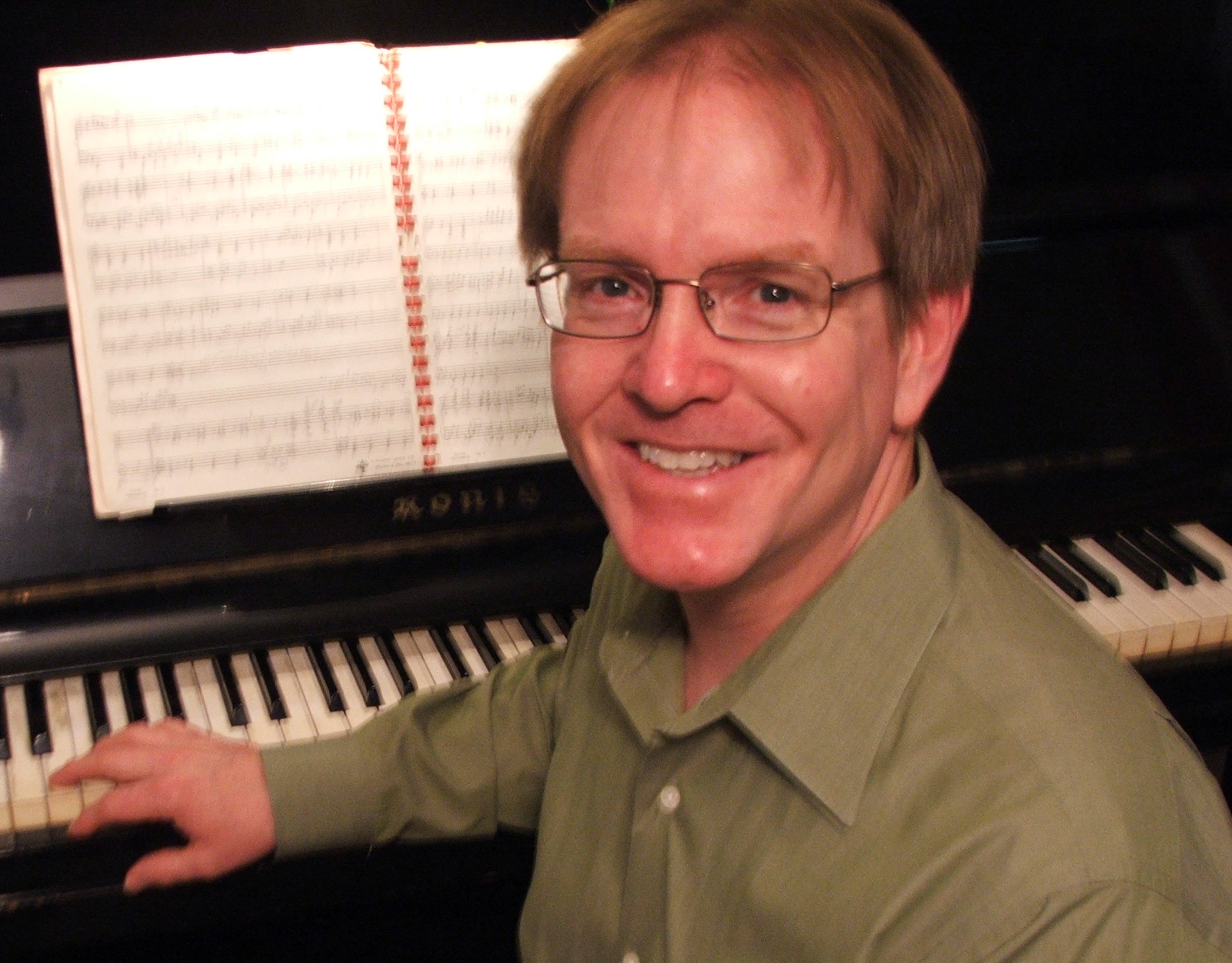 R o g e r L o w e
Roger Lowe has written music for orchestra, chamber groups, piano, organ, guitar, choir, solo voice, electronic, and rock ensemble. He holds a BM, Music Composition from Gardner-Webb University (2013). He studied composition with Dr. Frank McCarty at The University of North Carolina at Greensboro and Dr. Matt Whitfield at Gardner-Webb University. He has studied piano, organ, flute and guitar. Roger played keyboards in Christian Rock groups from 1981-1987 and has been a church organist since 1992. He is currently organist at First United Methodist Church in Forest City, NC.
LIST OF PUBLICLY PERFORMED WORKS
PREVIOUS MUSIC (1981)
Instrumentation: piano
Duration: 5:20
Performed at University of North Carolina at Greensboro in 1981 and Gardner-Webb University in 2011 (with additional percussion)
HEAVEN'S LOVE (1985)
Music for the 1986 Word Records release Sacred Fire
Instrumentation: band, soloist with backing vocals
Duration: 4:18
Radio single for the album
BORN FROM A DREAM (2005)
Music for anthem commemorating the Gardner-Webb University centennial in 2005 with lyrics by C. Douglas Bryan
Instrumentation: SATB with piano
Duration: 3:28
Four performances in 2005
HAPPY TO BE PART OF THE TEAM (2006)
Words and music for one-act musical comedy
Instrumentation: band with some additional instruments or keyboards, soloists with chorus
Duration (of musical): 1 hour
Written for class MUS400 Writing the Musical
Staged reading at Gardner-Webb University in 2006
REJOICE IN THE LORD (1980; revised 2007)
Instrumentation: soprano and piano
Duration: 3:40
Performed at Gardner-Webb University, Fall 2011
CUBICLE! (2008)
Music and some lyrics for full-length musical comedy
Instrumentation: orchestra, soloists with chorus
Duration (of musical): 2 hours
Staged reading at Gardner-Webb University in 2009
THE ONE LAMB (2008)
Music for film soundtrack
Instrumentation: orchestral with additional instruments; performed on keyboards
Duration (of film): 2 hours
Proceeds from film go to charity
Limited national theater release in 2009; available on DVD
BLESS HIS HOLY NAME (1992; revised 2007/2011)
Words and music including an arrangement of the hymn Holy, Holy, Holy
Instrumentation: SATB with Piano
Duration: 3:28
Performed by the Gardner-Webb University Concert Choir on their Spring 2012 tour
SUNRISE AT ROANOKE (2012)
Instrumentation: flute and harp
Duration: 4:41
Performed at Gardner-Webb University, Spring 2012
SIR DIGBY CHICKEN CAESAR: SOME KIND OF WALTZ (2012)
Instrumentation: alto sax, trombone and piano
Duration: 4:00
Performed at Gardner-Webb University, Spring 2012
SYMPHONY NO. 1 (2012)
Music for orchestra in four movements
Instrumentation: full orchestra with drums and electric bass
Duration: 24:00
Senior project for Bachelor's in Music, Music Composition
Performed at Gardner-Webb University, Spring 2013
THE ONE FOR GUITAR AND BRASS (2013)
Instrumentation: guitar, trumpet, trombone, bass and drums
Duration: 4:47
Performed at Gardner-Webb University, Spring 2014
THE SILENT MOON RISES (2018)
A 1960s doo-wop arrangement of Der Mond kommt still gegangen Op. 13 No. 4 by Clara Schumann (1843). Arrangement and additional music/lyrics by Roger Lowe.
Instrumentation: lead/background vocals, bass, drums, piano, sax. (guitarist not available for performance)
Duration: 3:43
Performed at Gardner-Webb University, Celebrating 200 Years of Clara Schuman
GWU Chapter of Society of Composers, Inc. OMG Recital Hall September 24, 2019
VARIOUS HYMN ARRANGEMENTS
Instrumentation: piano, organ and orchestra
Durations: 2:30-3:30
Performances: preludes and offertories for worship services, 1992 to present
Compositions
Symphony No. 2 Movement 1 (completed 2018)
This work reflects the unrest and division in the United States, and in the world. There is a section representing the hope for peace near the end, but the final section brings us back to the drums of war.
Symphony No. 2, Movement 2 (2019)
This movement represents the rapid pace of news events in the era of Trump. There was no time to process what just happened before the next thing hit, in normal times any one of which would have been a story that defined the decade. I discovered you use a lot of material in a hurry with a rapid tempo. Second Movement realized using Finale with: Personal Orchestra 5 (strings, some percussion); EastWest Hollywood Brass and Woodwinds, Goliath, and Spaces II reverb. Some cymbal samples are my own.
Symphony No. 2, Movement 3 (2020)
From disbelief and sadness, to hopefulness, and now watching everything fall apart, this music expresses how I have felt about the past four years. The opening motif on the piccolo is the song of the Carolina Chickadee. If you listen to the birds, you have heard its song. The painting is van Gogh's "Sorrowing Old Man." I added the flag. Music composed in Finale and rendered using Garritan Personal Orchestra 5, EastWest Goliath, Hollywood Woodwinds and Brass. Spaces II reverb. Mixed in Adobe Audition
A Dream Within A Dream