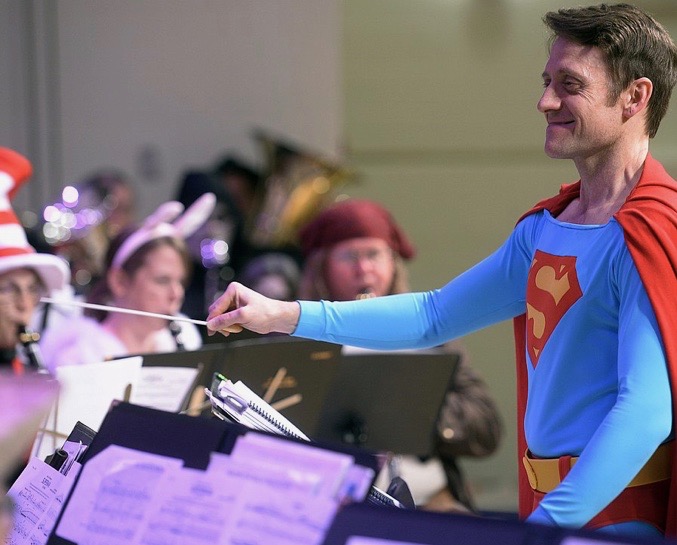 Ralph Raymond Hays is an adjunct professor of music at SUNY Adirondack in Queensbury, NY. Past employers include the College of Saint Rose in Albany, Schenectady County Community College, and the University of Florida. He was born and raised in Wooster, Ohio and studied at the University of Miami (Florida), where he graduated with a Bachelor of Arts in Music Industry from the School of Music and a Juris Doctorate from the School of Law. He had planned a career in copyright licensing and intellectual property law; however, a number of events -- including the loss of a close friend -- brought him to the realization that life is simply too precious and fleeting to spend in a career to which one's heart and soul are not completely devoted. He then entered Kent State University where he obtained a Master of Arts in Music Composition and completed his certification in Music Education. As a graduate assistant, Ralph taught freshman music theory, and under the inauspicious title, "temporary part-time assistant professor," he taught Music Fundamentals and Saxophone Methods Class. Following graduation from Kent, Ralph taught band and general music in public and private schools throughout northeastern Ohio, and taught woodwinds privately.

Ralph's first suite for symphonc winds and percussion, Jovian Moons has earned a number of awards, including selection for performance in an international call for scores by the California State University Bakersfield Concert Band during its 2003-04 season. In conjunction with this award, Ralph received a Meet the Composer Foundation grant which enabled him to attend the performance and serve briefly as Composer in Residence. His Symphony No.1 was premiered by the Vermont Wind Ensemble and selected as a finalist in the 2006 Penfield Music Commission Project/Wegmans composition contest. His three movement Suite for Woodwind Quintet was selected as a semi-finalist in an international competition held in London. Ralph was commissioned to arrange background vocals for Michael Feinstein's 2005 summer tour, and in 2006 was awarded a commission to compose a symphonic work to commemmorate the 40th anniversary of the founding of Schenectady County Community College. The work, a symphonic suite titled Lux Laureate was premiered in October 2009. Among his recent accomplishment was to orchestrate accompaniments for a concert at the historic Allen Theater in Cleveland, Ohio which featured The North Coast Menís Chorus, the Cleveland Pops Orchestra, and Bernadette Peters. In 2007, Ralph was awarded a commission from the New York Arts in Education Foundation to compose a march titled, Old Iron Springs, commemorating the bicentennial of Ballston Spa, New York. The work was premiered by 116 members of the combined high school and community bands of Ballston Spa, and has received several performances since. His Fanfare and Variations for concert band with audience participation was performed several times by the Ballston Spa High School Wind Ensemble on its Spring 2008 tour of Hawaii. His recent Invocation and Alleluia for symphonic winds and percussion received second place honors in a national call for scores and received its world premier in October 2009 by the Hillcrest Wind Ensemble of San Diego, California. Ralph's Variations on a Children's Song was performed at Disney Magic Music Days in April 2010, and his Fanfare MMX (a truncated version of the work, Vox Laetificus, was one of seven selected from over 80 entries for performance by the Dallas Symphonic Winds in March 2011. Ralph recently conducted the premier of his Canticle for Young Band commissioned and performed by the Niscayuna Sixth Grade Band.

Ralph is a member of ASCAP, The Society of Composers, Inc., the Ballston Spa Community Concert Band,teh Glove City Winds, the SUNY Adirondack Symphonic Band, and the World Adult Wind Orchestra. He currently lives in Gansevoort (upstate) New York.
Selected Works:

Passacaglia on "Be Thou My Vision" (2018), for trumpet and piano.
Canticle for Young Band (2017) commissioned by the Niscayuna Sixth Grade Band.
Alpha Centauri (2016) Symphonic March for Concert Band.
Suite of Miniatures for Wind Octet (2015) Commissioned by Harmonic Music Corp..
Vicenniel Fanfare (2014) Fanfare for Brass (or Symphonic Winds)and Percussion .
Divertimento for Clarinet Quartet/Ensemble (2012) Commissioned by the Sunshine Quartet .
Three Miniatures for Flute Choir (2012)
Vox Laetificus (2011) Fanfare for Symphonic Winds and Percussion.
Fanfare MMX (2010) for Brass and Percussion.
Old Iron Springs (2007) Symphonic March for Concert Band.
Invocation and Alleluia (2006), overture for Symphonic Winds and Percussion.
Symphony No.1 (2003) for Symphonic Winds and Percussion.
Nanaís Blessing (2003), SATB choir, a cappella or with organ accompaniment.
Variations on a Children's Song (2001) for Middle School Concert Band.
Fanfare and Variations (2001) for Middle School Concert Band.
Orpheus: Second Suite for Winds and Percussion (1992).
Requiem (1991), chamber choir SATB, a cappella.
Legacy of the Little Prince (1990), TTBB chorus, alto saxophone, and piano.
Jovian Moons: First Suite for Winds and Percussion (1990).
Blessed Assurance (1988), fantasia on hymn tunes for concert band.
In Heavenly Peace (1986), fantasia on Christmas carols for concert band.
Compositions