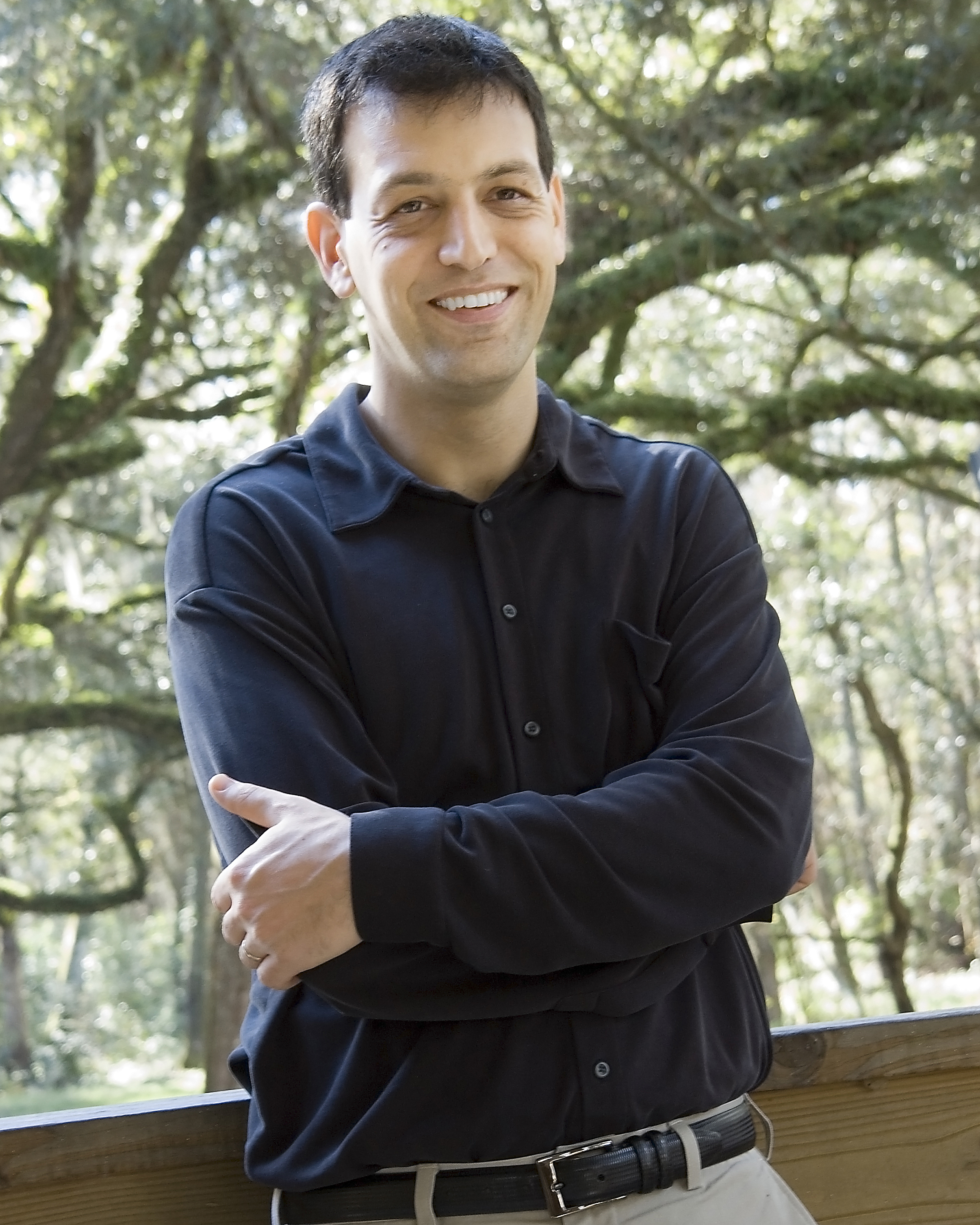 Paul Richards is Research Foundation Professor and Head of Composition at the University of Florida. His works have been heard throughout the United States and internationally on six continents. Awards include Special Distinction in the ASCAP Rudolph Nissim Prize, the Jacksonville Symphony Orchestra's Fresh Ink composition prize, the New Music for Sligo/IMRO composition prize, the Flute New Music Consortium composition prize, and many others. Commissions have come from orchestras, wind ensembles, choirs, and chamber ensembles, and his works have been recorded by Richard Stoltzman, the Slovak Radio Orchestra, the Moravian Philharmonic, and numerous chamber groups. Music by Paul Richards is recorded on the Meyer Media, MMC, Capstone, Mark, Pavane, OAR, and Summit labels, and is published by Carl Fischer Music, TrevCo Music, the International Horn Society Press, Jeanné, Inc., and Margalit Music.
Born in New York City in 1969 to a musical family, composer Paul Richards has been engaged with music since childhood, including forays into various popular styles, the Western canon, and Jewish sacred and secular music through his father, a cantor. All of these experiences inform his creative activities, which have included numerous orchestral, vocal, chamber, and theatrical works, including two full-length operas. Hailed in the press as a composer with "a strong, pure melodic gift, an ear for color, and an appreciation for contrast and variety," and praised for his "fresh approach to movement and beautiful orchestral coloration," his works have been heard in performance throughout the country and internationally on six continents. He has been recognized in numerous competitions, winning the St. Mary's College/Kaplan Foundation Commission Competition, the Columbia Summer Winds Outdoor Composition Contest, the Flute New Music Consortium Composition Competition, the Jacksonville Symphony Orchestra's Fresh Ink Florida Composers' Competition, the International Section of the New Music for Sligo/IMRO Composition Award and the Truman State University/M.A.C.R.O. Composition Competitions. Other honors and awards include Special Distinction in the ASCAP Rudolph Nissim Prize, Finalist in the American Composers Orchestra Whitaker Reading Sessions, Second Prize in the International Horn Society Composition Competition, First Place in the Voices of Change Composers Competition, two First Place prizes in the Guild of Temple Musicians Young Composers Award, and many others. Commissions have come from organizations including the Boston Brass, the Southwest Florida Symphony Orchestra and Chorus, the Jacksonville Symphony Orchestra, Florida State Music Teachers' Association and Music Teacher's National Association, Duo 46, Sonoran Consort, Meet the Composer-Arizona, Arizona Repertory Singers, Arizona Commission on the Arts and Catalina Chamber Orchestra. In addition, many university wind programs have commissioned Richards' work, including those of Baylor, Del Mar, Florida, Illinois – Champaign/Urbana, Michigan, Nevada – Las Vegas, North Carolina – Greensboro, Northern Iowa, Syracuse and Truman State. Richards' theatrical work has included music for dance, plays, film, and two full-length comic operas. "The Loathly Lady" premiered at the University of Pennsylvania in 2006, with Julianne Baird, Thomas Meglioranza, members of Anonymous 4, and a mixed ensemble of period and modern instruments, relating an updated version of Chaucer's "Wife of Bath's Tale" in which a knight travels through time, meeting iconic characters in an effort to answer the question, "what do women want most?" "Biennale" premiered at the Barnes Foundation in 2013 with support from the Mellon Foundation and the Penn Humanities Forum, and a cast including Naomi O'Connell, Christopher Burchett, Caroline Worra, and Jesse Blumberg. Set in Vienna at the world's largest contemporary art festival, it relates a woman's encounter with an art installation, and its artist, in a life-changing moment of self-realization. Music by Paul Richards is recorded on the Meyer Media, Capstone, Mark, Summit, MMC, Raven, and Pavane labels, and his works are published by Carl Fischer Music, TrevCo Music, Jéanne Inc., the International Horn Society Press, and Margalit Music. Currently Research Foundation Professor of Music and head of composition and theory at the University of Florida, where he has been on the faculty since 1999, he served as Visiting Professor at Florida State University in 2016, and previously taught at Baylor University. Richards earned the Doctor of Musical Arts degree in Composition at the University of Texas at Austin, and Bachelor of Music and Master of Music degrees in Theory and Composition at the University of Arizona.
http://paulrichardsmusic.com/
Compositions
Trip Hammer
for orchestra A simple musical figure triggers several contrasting ideas, from the idyllic to the brutal. These ideas are jumbled and juxtaposed throughout the work, sometimes smoothly, sometimes violently, united by a single tempo as well as their common source. As each idea develops somewhat independently, the result is a multiple narrative around a central theme. The title reflects a feature of the medieval waterwheel where simple cams on the driveshaft would trip a hammer, or series of hammers, for a wide variety of industrial uses, from production of clothing to weapons of war. Winner, Jacksonville Symphony Orchestra Fresh Ink 2002 Composers Competition
Walking Towards Caesaria
for marimba and string quartet Walking Toward Caesaria is the title of a poem by Hannah Senesh, an Israeli who volunteered for a rescue mission during World War II and was captured and killed at the age of 23. Usually translated as follows, her words were famously set to music by David Zehavi: Oh Lord, my G-d I pray that these things never end The sand and the sea The rush of the waters The crash of the heavens The prayers of the heart Commissioned by faculty members from The University of Florida in honor of the retirement of Dr. David Kushner, long time head of the musicology area, and dedicated to the memory of his son, Dr. Jeremy Kushner, an accomplished percussionist, the piece is in two parts: an energetic opening featuring passagework for the marimba in dialogue with the string quartet; and a slow section based upon Zehavi's melody. As Dr. Kushner is one of the world's foremost experts on the music of Ernest Bloch, a fragment from Bloch's "Sacred Service" is quoted in this piece as well. As Hannah Senesh also wrote: There are stars whose radiance is visible on earth though they have long been extinct. There are people whose brilliance continues to light the world though they are no longer among the living. These lights are particularly bright when the night is dark. They light the way for mankind.
Crossbow
for solo violin, solo erhu, and string quartet Both the western violin and the erhu (Chinese violin) appear to have originated from the same source - a string instrument from ancient north Asia. Separated by centuries of differing lineages and instrumental traditions, they have been reunited in the 6ixwire Project, and this departure and return inspired the form and content of Crossbow. Commissioned in 2012 by the Master Players Concert Series of the University of Delaware for the 6ixwire Project.
Falling on Lobsters in the Dark
for violin, guitar, and piano "Falling on Lobsters in the Dark" deals with music often associated with fears, taking its title from Dave Barry: "All of us are born with a set of instinctive fears – of falling, of the dark, of lobsters, of falling on lobsters in the dark, or speaking before a Rotary Club, and of the words 'Some Assembly Required.'" Commissioned by Duo46 and pianist Nathanael May