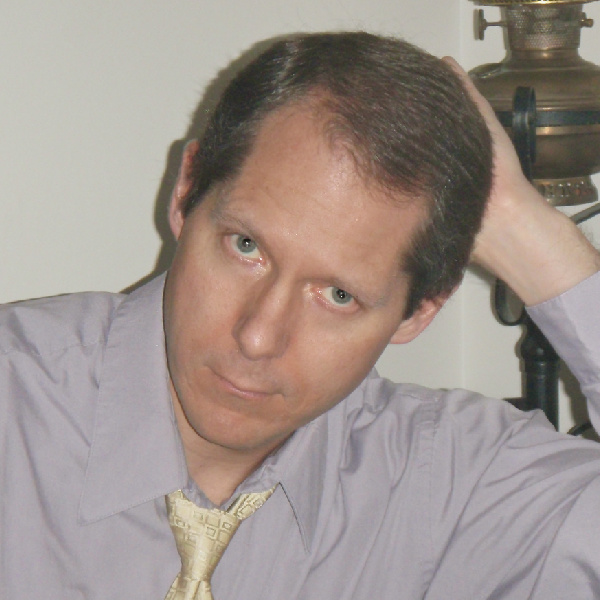 For an extensive website for Timothy Melbinger, including many .mp3 and .pdf files, longer biography, complete list of works and recordings, résumé, program notes, see timothymelbinger.com
Timothy Melbinger lives with his wife and children in Hollidaysburg, Pennsylvania. His music can be heard on Centaur, Albany and Nine Winds Records. Performances throughout the United States have featured such ensembles as Speculum Musicae, Alea III, the Radius Ensemble, Time's Arrow, ECCE and Auros Group for New Music and the Altoona Symphony Orchestra. His accolades include an Aaron Copland Award, Alea III Competition finalist, a Massachusetts Music Teachers Association commission, an SCI commission and a California Octagon Prize. He earned a Ph.D. in composition/theory at Brandeis University, where he studied with Martin Boykan, David Rakowski and Yehudi Wyner. He also holds degrees from the University of California at Irvine. He has taught a variety of music courses at Harvard, Boston and Brandeis Universities, Providence College, the University of Massachusetts Dartmouth, and currently at Penn State University Altoona.
Compositions
Masquerades
I wrote the seven movements of Masquerades in the spring of 2014 at my home in Hollidaysburg, Pennsylvania. It was written for and premiered by the ECCE ensemble in Auvillars France, under the direction of Jean-Philip Wertz later that year at the Etchings Festival. The short movements are character sketches of people at a masked ball. They are not who they claim to be, either innocently or mischievously. While a detailed exposition of how exactly I depicted that musically is more than is called for here, perhaps the easiest idea to hear is the epilogue (marked "unmasked"): at the moment the seventh and last movement could reach a cadence, the harp's "pedal buzz" rings instead, and fragments of each movement try, with difficulty, to make their case in the bright light of day.
Sonata for Alto Saxophone and Piano (mvt.3)
This work was completed in the spring of 2003 at my home in Natick, Massachusetts, and is cast in three short movements totaling about nine minutes (this movement lasts 3 minutes). This I dedicated the work to Marcus Monteiro, then a precocious undergrad at the University of Massachusetts Dartmouth, who gave its first performance with pianist Rieko Tanaka in 2003 at Dartmouth.
The Conjugation of the Paramecium
The Conjugation of the Paramecium, for two percussionists, was completed in December of 2003 at my home in Natick, Massachusetts; it lasts about 9 minutes. Robert Schulz and Samuel Z. Solomon gave its premier on February 28th, '03, at the Longy School of Music in Cambridge. Although the collaboration for this performance never came together, it is intended to be music for dance. This is a tone poem; Muriel Rukeyser's short poem is sexual metaphor, and I had hoped to create an evocative and ultimately ecstatic atmosphere, albeit in a quirky cellular world. I chose to utilize the percussion instruments that have the longest sustain, such as the vibraphone with pedal, several kinds of cymbal and wind chimes, and placed the fast-decay percussion instruments in this liquefied environment (this is explicit when one player occasionally drops golf balls into a bucket of water). In order for the paramecium to conjugate, I used polyrhythms; they are symmetrical and seem to exchange their placement with regard to the beat depending on which rhythm one hears as the beat.
The Poet Stumbles upon a Buddha in Gamelands 158 above Tipton, PA
The Poet Stumbles upon a Buddha in Gamelands 158 above Tipton, PA is one of six songs of Davis Settings, a song cycle for bass voice and piano, written in the summer of 2013 in both Fullerton, California and Hollidaysburg, Pennsylvania. This song lasts just under 3 minutes, where the whole work lasts about 23 minutes. It was part of a larger project in which I wrote four song cycles, one for each voice type, to be premiered on the same concert in 2014 in Altoona Pennsylvania. The four poets in the project were all on the faculty at Penn State Altoona. I made sure to visit the local sites about which Todd Fleming Davis wrote and get first-hand knowledge of the Pennsylvania flora that populates so much of his work ("Jack in the Pulpit", "Black Oak", etc) and Tipton is a 20-minute drive. I had known well the sound of James White's voice in a baritone role, but he asked that I include the lowest notes of his (also my) range as we rarely hear these in the art song literature. In order to write something more meaningful to the ordained minister White, I included some of Davis' poems with spiritual references. This song begins on p.21 of the attached pdf