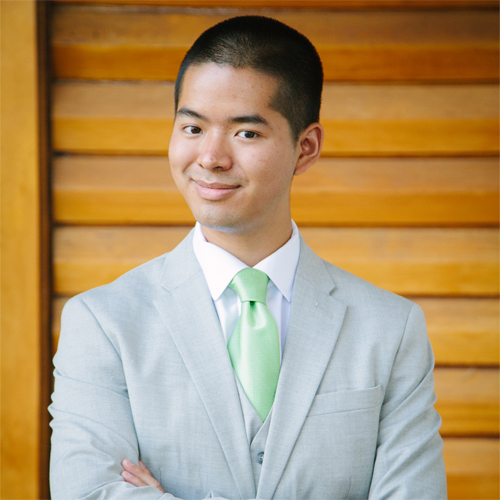 Please Visit my Composer Website: www.thomasbyee.com
Bio: Some composers found their love of music at the symphony hearing Brahms or Beethoven—Thomas discovered his from the 8-bit beeps and boops of the family Super Nintendo. Though his musical adventures have since broadened from slaying virtual dragons, he has carried the music's power of narrative with him ever since. Whether exploring what outer space might sound like, depicting the Hero's Journey with the colors of the orchestra, or fighting against genocide with the song of the mythological Leviathan, Thomas strives to connect with listeners' hearts through musical storytelling. In addition to composing, he reads and listens to analytic philosophy (often at the same time!) and can frequently be found cooking restaurant-worthy cuisine with his wife Tori. He dreams of collecting all the world's pens that have unconventional features—though he frequently has to start from square one when they fall out of his pockets.
Selected Awards: Thomas' score for the short film "Currency" received the "Best Score" award at the Pepperdine Media Arts Showcase 2013, and the film won the overall Grand Prize award at the Reel Stories Film Festival 2013. In August 2013, the Mary Pickford Foundation approached Thomas to compose a new score to a classic, "So Near, Yet So Far," starring silent film legend Mary Pickford, and the piece was performed publicly to picture in April 2014. In May 2015, Thomas was selected as the winner of the Collegiate division of the Texas Young Composers' Project Composition Competition for his work for solo Flute, "Kristallnacht." He is currently pursuing graduate studies in Composition at the Butler School of Music within the University of Texas at Austin, where his composition "The Illumina Sextet" (see below) for Pierrot Ensemble + Percussion won the Hear No Evil 2016 Call for Scores and was performed by Hear No Evil on their Spring 2016 season concert. The Illumina Sextet was also selected for its premiere performance by the UT New Music Ensemble for its season finale concert.
Compositions
The Illumina Sextet
Light surrounds us. Its presence is essential to our sight and is a foundational building block for all life on Earth. We believe we have harnessed it, tamed it, molded it for our daily purposes at the whim of a switch. Yet, in all its everyday familiarity, do we really know it? Have we even scratched the surface of what light can do? ||||| Our quest begins with Sir Isaac Newton and a chunk of glass—well, two prisms, to be precise. Using the prism, he demonstrated that a ray of "white" light actually contained within it every color known to man—once light hits the prism, each color refracts out into its own distinct identity. In the early 20th century, Albert Einstein's work on the Photoelectric Effect paved the way for light to be recognized as being both a particle and a wave— a fact with implications that are still being fleshed out today. And though these breakthroughs may be common knowledge today, there are still plenty of light phenomena that astound all, but that few will ever witness. ||||| In the planet's deepest, blackest oceans—where no sunlight can penetrate—ethereal forests of light glimmer forth from the bodies of creatures that reside there. On a specific February evening each year, the water of Yosemite's majestic Horsetail Falls is stained a furious orange-red by the setting sun, seeming to light it ablaze. In frigid remote regions of the north, sometimes the sky itself flows with vibrant streams of green, pink, red, yellow, blue, and violet—the Aurora Borealis. ||||| And some testimonies even report, though this is far proven, that these Northern Lights even sing—a sound as otherworldly as the sight. One can scarcely imagine it: the music of light itself...