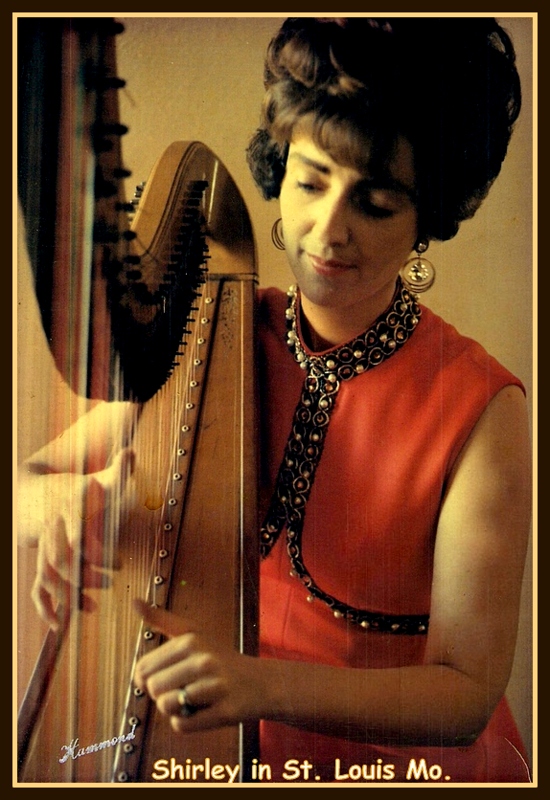 Dr. Shirley Meyer Blankenship
harpist/composer/pianist/violinist
Harp notation consultant
Harp Score Editing for Composers
Scores for which I have assisted in the creation of viable harp notation include: The Owl and the Pussycat for flute and harp by Robert J. Martin, an opera entitled The Dream Maker by Domenic Guastaferro, Quinquagenarium for orchestra and continuum by Rudolf Haken, Veni Creator Spiritus for harp and chorus and a harp solo entitled Meditation by David Dolatowski, Shadows for harp, flute and clarinet, Almost Home for trumpet, jazz quartet and orchestra, Mourning Dove for soprano and chamber ensemble, and Journey To Kuwa'hi for orchestra by Timothy Lee Miller, Liturgie Rouge for SATB, recorder and harp by Devon Yasamune Toyotomi, Progeny of Memory for cello and harp by Matthew H. Fields, Kelevsma, a ritual piece for clarinet, harp and double bass by Randolph L. Partain, Le Synchronisme for solo harp by Monica Lynn, Kirsty's Harp Solo, Ballade for flute and harp and Pasacaglia by Jerry Bezdek, Veni Emmanuel for orchestra, organ and chorus by Jesse Ayers, A Mighty Handful for wind ensemble by Geoffrey Peterson, Lullaby for Mom by Michael Reed Krein,and prettygirlproblems for solo harp by Elizabeth Kennedy Bayer. All of the scores that I edit and for which I am a consultant are included in a special section of the University of Illinois Music Library entitled: The Harp Legacy Project where they are used as source material for other composers. Via skype, I now offer Harpinars to classes or groups of composers.
Notable Harp Performances
Introduction and Allegro by Ravel, Alla Rustica for flute + harp by Jolivet, Ceremony of Carols by Britten, Trio for flute, viola + harp by Debussy, Serenade for flute + harp by Persichetti, Serenade for Woodwind Quintet + Harp by Addison, 4 Hymns from the Rig Veda by Holst, Non Sequitur VI for computer tape + ensemble by Herbert Brun, The Owl and The Pussycat for flute + harp by Martin, Les Gestes, a harp solo by Bernard Rands, The Fantastiks, and Pastorales de Noel for bassoon, flute + harp by Jolivet.
http://www.theharplegacyproject.com/shirley/recordings.html
Metamorphosis - Collaboration III
http://www.cdbaby.com/cd/beauportclassical5
Compositions
Dr. Blankenship was the first woman to receive a doctorate degree in music composition from the University of Illinois. Harp solos: Metaphysical Waltz and Peace for Guidosan. Videos: Fantasy I, Fantasy II (for viola + harp) and Metaphysical Waltz. Songs for soprano and piano: The Trees Stand, Do Not Go Gentle, Squirrels and Nuts. 3 trios based on the music of jazz saxophonist and composer Guido Sinclair: Sagileo, Shirley's Delight and Be Careful. Chansons Innocentes for soprano + ensemble based on poetry by e.e.cummings, Terse trio for violin, viola + cello, Duo for violin + cello, Visions and Revisions for large ensemble.
https://soundcloud.com/drshirley/shirley-blankenship-chansons-innocentes-1971-i-just-spring?in=drshirley/sets/shirley
Compositions
Metaphysical Waltz
A work for solo harp performed by Shirley Meyer Blankenship at the Krannert Center for the Performing Arts
Fantasy II
The pdf is the score to Fantasy II for viola and harp recorded in 2015 with Shirley Meyer Blankenship, harpist and Rudolf Haken, violist. Fantasy II was filmed at the Brun House courtesy of the Herbert Brun Society. There is also a video of our performance of Fantasy I on my website: www.theharplegacyproject.com/shirley/shirley.html