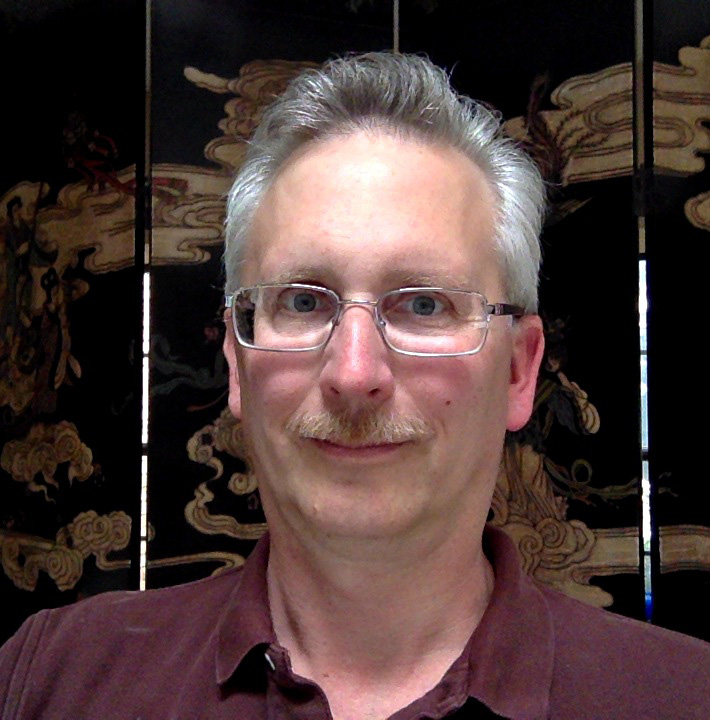 Robert J. Frank (b. 1961) holds degrees from Minnesota State University, Mankato and the University of North Texas. His music has won awards from ASCAP, the Civic Orchestra of Chicago, Theodore Presser New Choral Music Competition, and been performed around the world. His orchestral works have received numerous commissions and performances by ensembles including I Palpiti, the Meadows Symphony, the Richardson Symphony, Clemson Symphony, Dallas Wind Symphony and the Civic Orchestra of Chicago. His music has been frequently performed on conferences and festivals throughout the world, including the Viva Vivaldi International Arts Festival in Mexico City;Regional, National and International conferences of the College Music Society; Bowling Green (Ohio) New Music & Arts Festival, Setkani Theatre Festival in the Czech Republic, International Computer Music Conferences in Beijing, Hong Kong, and Miami; International Trumpet Guild, National Flute Association (USA), Percussive Arts International Conference, the Lwow (Ukraine) Music Festival; International Festival of Contemporary Music "Nauryz-21" (Kazakhstan), and the Mozarteum Summer Music Program under the auspices of the Salzburg Summer Music Festival. His music is published by Brixton Publications and www.robertfrankmusic.com and recorded on several CD labels. He is also author of Beyond the Common Practice: Concepts and Performance Practices for Contemorary Instrumental Music (Linus Publications, Deer Park, NY, USA). He is also co-author with Kenneth Metz of Fundamentals for the Aspiring Musician (Routledge, New York, London). He is currently Associate Professor and Co-ordinator of Music Composition Studies at Southern Methodist University in Dallas, Texas.
As a composer, I am guided by two principles: "Whatever you do, do it by intent , not out of ignorance" and "Write music that you would really like to hear." I enjoy composing for all mediums; vocal, dramatic, chamber, orchestral, and electronic, although even in the last category I prefer to include the spontaneous and expressive element of a live performer. The 20th Century has seen a great deal of exploration and experimentation. As a 21st Century composer, I attempt to glean and unify the languages and idioms I find most interesting into a universal, coherent and expressive statement. Consonant or dissonant harmonies, precisely metered or aleatorically free rhythms; I see them all as existing as different degrees on the same scale. The music I find most interesting is that which smoothly and gracefully moves along this scale, morphing and transforming from one level to another in a balanced, aesthetically pleasing manner. I strive to write challenging but idiomatic music with some element of freedom so that the performer's expressive capabilities are allowed to come through, yet never surrendering authorship of the music itself. My hope is that my music inspires both the performer's and listener's imaginations with imagery and metaphors conveying those feelings and ideas that go beyond the capacity of words to express: that which compels one to compose.
Compositions
Figaronacht Overture - for string orchestra
Figaronacht Overture
combines themes from two of Mozart's most endearing works: The Overture to "Figaro" and Eine Kleine Nachtmusic into a new, exciting work celebrating the 250th Anniversary of this great composer's birth. Composed during an intense period of seven days, this work merges and layers numerous themes from these two favorites two, three, four and even five at a time, contrapuntally entwining them into a fresh tapestry of sound for the Twenty-First Century. Figaronacht Overture was composed for Maestro Eduard Schmieder and Young Artists International and premiered on the opening concert of the 2005 Mozarteum Summer Academy in Salzburg, Austria, and has been featured on cncerts and festivals around the world. A shorter version,
Figaronacht
was selected in the 2006 Homage to Mozart International Blitz-Competition for Composers, and performed in Carnegie Hall by the Kremlin Chamber Orchestra. See
composer's web site
for more details.
Zymurgy - Fixed Eletro-Acoustic Music
Zymurgy
(the chemistry of fermentation, as applied to brewing) celebrates the process by which simple grain and water are transformed into one of the world's most popular beverages. Using only the sampled sounds of grain, water, a metal pan, a grinder and bottling equipment, the composition follows the same form as the process of brewing. Pure water is heated to a boil. Then grain is ground and added. After the boil has extracted the essence of the grain, it is cooked and yeast is added. The yeast digests the mixture, releasing tiny bubbles of gas and transforms the "wort" into brew. When captured in bottles, the bubbles accumulate and the yeast, becoming drunk on their own alcohol, carbonate the beverage in a wild, yeasty hoe-down. Listen responsibly.
Zymurgy
was composed in the Electronic Music Studio at Southern Methodist University. It has been performed on the opening concerts of the 1999 International Computer Music Association's Annual Conference (Beijing) and the National Conference of SEAMUS (the Society for Electro Acoustic Music in the United States) and over 30 times on concerts around the world. See
composer's web site
for more details.