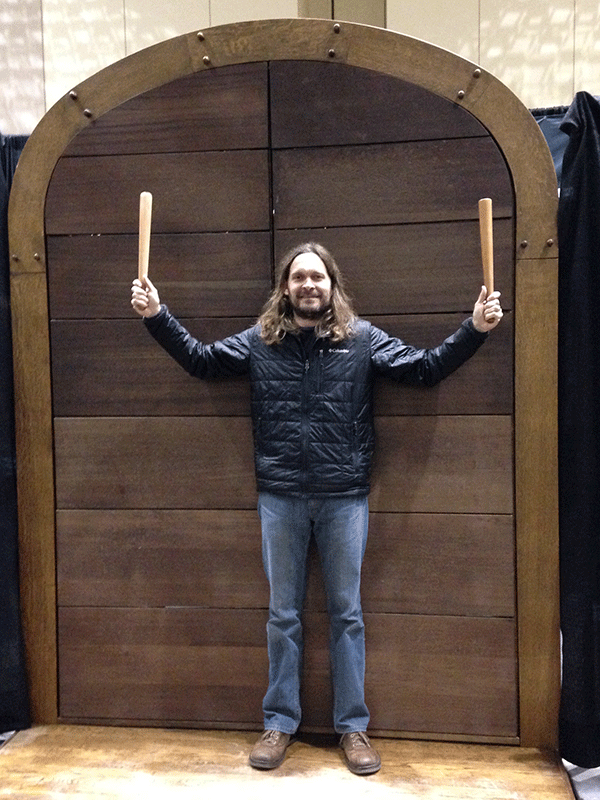 at Stockhausen's Heaven's Gate.
COMPOSING IS THE WAY I explore the imagination, my way to invent and share delicate aural spaces.

I am particularly attracted to sounds that shift and bend at the edges of perception. I create unhurried music, using slow-moving shapes and a free sense of time. My works often explore repetition with subtle variations in gestural pace, instrumental character, and tuning. I hope to craft personal, intimate music that invites listeners to focus on momentary details while a larger structure unfolds in ways that they may not quite grasp. I employ electronics extensively in my work, as technology allows me to alter instrumental timbres and shift tunings by tiny amounts – changes that listeners may not actively perceive but which can foster a sense of uncertainty and wonderment.

My compositions have been described as "colorful…darkly atmospheric" (New York Times), "hypnotic" (mainlypiano.com), and "incredibly soft, beautiful, and delicate" (Computer Music Journal).

I am active as a collaborator in a range of musical styles, including with my sleepy rock/ ambient project Bell Monks; with the heavy metal band Realmbuilder; as a laptop composer/ improviser with Skewed and Such; and as a film composer on the 2015 existential horror western, Bone Tomahawk.

I am a Professor of Music at the University of Wisconsin at Whitewater, where I am the coordinator of the Media Arts and Game Development Program and teach courses in music composition, audio, multimedia, and music technology.
Compositions
Liquid Folds
for glockenspiel and live electronics. co-composed with percussionist Trevor Saint.
Our music is developed jointly through rehearsal and experimentation. The specifics change for each piece, though the general outline is the same – one of us gets excited about some new idea or sound, and after sharing it with the other in rehearsal, we jointly develop it into some sort of form. Liquid Folds is the first piece we co-composed, and it grew primarily out of the fact that we both love the sound of bowed glockenspiel.
https://skewedandsuch.bandcamp.com/
swarms of light in metal
for glockenspiel and electronics (fixed media)

In swarms of light in metal, the interaction between performer and electronics is intended to mirror the interdependence between different elements in an ecosystem. Individual components of ecosystems may by themselves seem simple, but the inter-relationships between them are highly complex and infinitely variable. In the same way, this piece focuses on small, subtle sounds and minute variations in timbre, both in the percussion and the electronics. The relationships between these sounds reflect our ecology, as small changes in any part of the piece affect the meaning and significance of the others. swarms of light in metal was composed for percussionist Trevor Saint as part of his quest to commission and present fascinating modern literature for solo bells.
scenes from out on the water
for wind ensemble and electronics (fixed media)

scenes from out on the water attempts to evoke mysteries of the sea. I have recently been attracted to the stories of early weird fiction authors including Algernon Blackwood, Clark Ashton Smith, and William Hope Hodgson, each of whom dealt with water in their writing. In particular, I am fascinated by the manner in which they suggest ideas, sounds, and sights at the edges of perception. scenes from out on the water relates most specifically to Hodgson's The Boats of the 'Glen Carrig', in which the sea seemed to acquire a life of its own. This is the second recent piece of mine arising from my interest in speculative fiction; I composed the stereo piece, Cloud Carriage, in homage to the works of early science-fiction authors H.G. Wells and Jules Verne.

Many members of the UW-Whitewater Symphonic Wind Ensemble assisted me in the creation of the sound samples heard throughout the piece. Thanks to them for their assistance - especially percussionist, Eric Sheffield, who gave much of his time to help me put this project together. I composed scenes from out on the water during Spring and Summer of 2005.