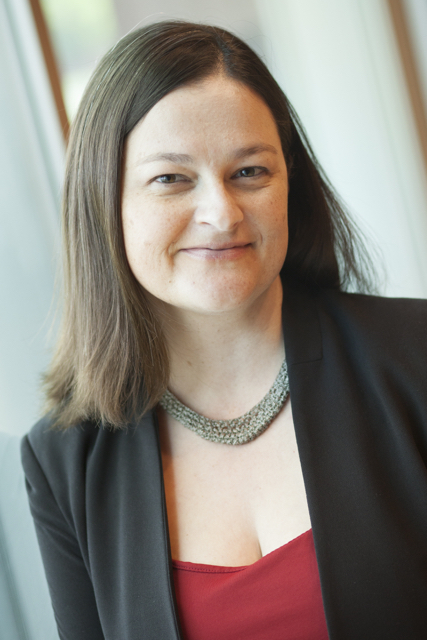 The music of American composer Andrea Reinkemeyer explores "a reverent sound world that hovers just above the brink of silence" (Second Inversion) and expresses "a gamut of emotions... from reverence and supplication to mournfulness and despair" (textura); it is "clever, funky, jazzy and virtuosic" (Schenectady Daily Gazette) and "hauntingly melodic and fun, dancing and almost running its way forward... whimsical" (Fanfare Magazine). Her current musical explorations focus on intersectionality, natural phenomena, home and grief.
Reinkemeyer's music is distributed by the ADJ•ective Composers' Collective and featured on recordings by: In Mulieribus, Idit Shner, A/B Duo, and Post-Haste Reed Duo. Upcoming projects include new works for flutist Abigail Sperling with generous support of the Oregon Arts Commission and a wind band consortium led by Brant Stai and the Sherwood High School Bands. Recent commissions include: League of American Orchestras and Louisiana Philharmonic Orchestra with generous support from the Virginia B. Toulmin Foundation, Albany (NY) Symphony Orchestra, H. Robert Reynolds and The Detroit Chamber Winds & Strings, Fear No Music, Lacroute Arts Series at Linfield College, Rodney Dorsey for the University of Oregon Wind Ensemble and University Singers, Miller Asbill and the Texas Tech University Concert Band, The Wild Swan Theater, Iowa Music Teachers' Association, Jeffrey Heisler for the Primary Colors Trio, and many performers and visual artists. Her works are regularly performed nationally and internationally; featured performances include: the American Composers Orchestra Underwood New Music Readings, North-South Consonance Chamber Orchestra, Great Noise Ensemble, Thailand International Composition Festival, and conferences of the Society of Composers, Inc. (SCI) and Society of Electro-Acoustic Music in the United States (SEAMUS).
Dr. Reinkemeyer enjoys exploring music with students of all ages. In 2014, she joined the faculty of Linfield College in McMinnville, Oregon as Assistant Professor of Music Composition & Theory. Previously, she served as a Part-time Lecturer in the Mahidol University International College, in Salaya, Thailand (2011-12) and as an Adjunct Assistant Professor of Composition, Theory and Technology at Bowling Green State University, Ohio (2005-10). Reinkemeyer has been the Composer-in-Residence with the: Michigan Philharmonic's, "The Composer in Me!" Education Pilot Program (2010-11), American-Romanian Festival's Fusion Project (2011), and Burns Park Elementary School (2004, 2005, 2010). She has mentored public school students through outreach programs with the Detroit Chamber Winds & Strings (2007) and Michigan Mentorship Program (2002, 2004). Her work with young musicians has been supported by a Meet the Composer/MetLife Creative Connections Grant.
Dr. Reinkemeyer holds degrees in music composition from the University of Michigan (MM 2001, DMA 2005) and University of Oregon (BM 1999). Her primary composition teachers include: Michael Daugherty, Bright Sheng, Evan Chambers, Susan Botti, James Aikman, Robert Kyr, Jack Boss and Harold Owen. She was the 2018-19 recipient of the Julie Olds and Thomas L. Hellie Faculty Award for Creative Achievement at Linfield College. While a student, her work was recognized with the prestigious Rackham Predoctoral Fellowship, Regents' Fellowship, Christine Rinaldo Memorial Scholarship, Graduate Student Instructor position in electronic music composition, the Ruth Lorraine Close Musical Fellows and Outstanding Creativity in Composition Award.
Born and raised in Oregon, she has also lived in Ann Arbor, Michigan and Bangkok, Thailand. More information: https://www.andreareinkemeyer.com/
Compositions
The Thaw for Soprano, Tenor, Mixed Choir, Wind Ensemble (2016)
The Thaw
for Soprano, Tenor, Mixed Choir and Wind Ensemble (2016) was commissioned by Rodney Dorsey for the University of Oregon Wind Ensemble and University Singers who premiered the piece on May 28, 2016 in the Silva Concert Hall at the Hult Center for the Performing Arts (Eugene, Oregon). The work is dedicated to the memory of University of Oregon mentors Anne Dhu McLucas, Lawrence Maves, Steven Larsen, and Charles Dowd.
I was drawn to the vivid detail and sensuality of Artis Henderson's writing style, especially her honest portrayal of emotional pain and healing. Her poem, The Thaw, was written for this project; it draws upon imagery from Oregon's rich, natural beauty to explore themes of love, loss and healing. The form of the musical work follows the text from a stunned and frozen stasis through the warming of spring.
The Thaw
I am the bud curled tight against the cold.
I am the bulb beneath the snow.
I am the white sky, the long night, the crack and shudder of ice.
I wait beside the adder's tongue, the cobra lily, the purple hyacinth
for the soil to stir and the river to swell.
I wait through mist and hail.
I am fog and breath and cloud.
I am the cherries on the branches, too green.
I am rain.
And rain.
And rain.
And then --
I am the windows flung open to catch the sun,
my mouth like cherries,
the heat building in me.
I am leaf-touched, sun-tasted, petal-kissed.
I am wind and light and sky.
I am the cleft in the ridge; I am the river --
roaring, roaring,
flooded with rain.

-- Artis Henderson

Copyright © 2014 Artis Henderson.
Used by permission of Artis Henderson.
NaamJai (Liquid Heart for Orchestra (2015)
Wild Silk for Baritone Saxophone, Percussion & Piano (2009)
Wild Silk
for Baritone Saxophone, Percussion and Piano (2009) was commissioned by Jeffrey Heisler for the Primary Colors Trio, who premiered the work during the thirtieth annual Bowling Green State University New Music Festival at Bryan Recital Hall, Bowling Green, Ohio on October 24, 2009. While composing this work, I found inspiration in the strikingly beautiful and elusive Luna Moth. The form of this piece loosely follows the three stages of its life cycle from egg to caterpillar, pupa, and adult moth. Apart from the constant threat of predators, the violence at each stage surprised me. As the caterpillar grows, it must break through its own skin five times. The pupa wriggles from within the cocoon during metamorphosis. The adult moth is deprived of a mouth, meaning there is an evolutionary preference for beautiful wings to attract a mate over personal survival. Without a way to nourish itself, the hours and days following eclosion are focused on the crazed goal of propagation. Perhaps it is a metaphor for the artist, who must completely renew and reinvent themselves over and again.
Many thanks to Jeffrey Heisler, Isabelle Huang, I-Chen Yeh, and Brian Amer for their artistic support. Duration, ca. 10:00.
News: Wild Silk was recognized with an Honorable Mention for the Theodore Front Prize from the International Alliance of Women in Music's 2011 Search for New Music.