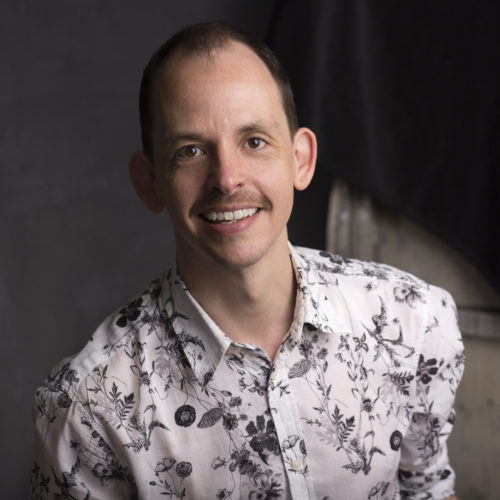 Composer William J. Lackey found his love of sound and motion on club dance floors at an early age. His continued exploration of acoustic/electronic/electroacoustic sounds and the movement of those sounds can be heard in the form of concert works, installations, theatrical pieces, and on the dance floor.
Currently, he serves as Vice President of Programs at the American Composers Forum. Most recently, Lackey was an Assistant Teaching Professor of Composition at the University of Missouri. From 2009-2016, he served as Managing Director of the Mizzou New Music Initiative (MNMI), overseeing an array of programs that helped establish the MU School of Music as a leading center for the creation and performance of new music.
Lackey was selected as a 2011 McKnight Visiting Composer with the American Composers Forum. He won the New York Art Ensemble's Young Composers Competition (now the Tribeca New Music Young Composer Competition). His music was featured at the Beijing Modern Music Festival, Etchings Festival for Contemporary Music (Auvillar, France), the International Double Reed Society Annual Conference, Studio 300 Digital Art and Music Festival, Region 4 Conference of the North American Saxophone Alliance, Great Plains Regional Tuba-Euphonium Conference, Festival of New American Music (Sacramento, CA), and the University of Central Missouri New Music Festival. Lackey's music has been performed by The California E.A.R. Unit, New York Art Ensemble, newEar contemporary chamber ensemble, Odyssey Chamber Music Series, and Quixotic Performance Fusion. He received numerous scholarships and fellowships to participate in Troika Ranch's Live – I Workshop held at the 3LD Art and Technology Center (New York, NY), Bowdoin International Summer Music Festival, Dartington International Summer School's Advanced Composition Seminar (Devon, England), and the Chamber Music Conference and Composers' Forum of the East (Bennington, VT).
He holds the MM and DMA in music composition from the Conservatory of Music and Dance at the University of Missouri - Kansas City. While at UMKC, he studied composition with James Mobberley, Paul Rudy, Chen Yi, and Zhou Long. Lackey received the BM in theory/composition from Christopher Newport University (Newport News, VA) where he studied composition with Jennifer Margaret Barker. Lackey also studied composition with Samuel Adler, Justin Dello Joio, Dinu D. Ghezzo, Stephen Jaffe, Robert Rowe, and Errollyn Wallen. He received further training at the Walden School's Teachers Training Institute and New York University.
Lackey is an avid music educator, concert producer, adjudicator, and arts administrator. Prior to his work at ACF and joining the faculty at MU, he taught composition at the Conservatory of Music and Dance University of Missouri – Kansas City, Paseo Academy for the Arts, Ruskin High School, Mill Valley High School, and Liberty Middle School. He has served as an adjudicator for New Music USA, Chamber Music America/American Society of Composers, Authors and Publishers (CMA/ASCAP), Society of Composers, Inc. (SCI), Missouri Music Teachers Association (MMTA), Music Teachers National Association (MTNA), and the Parent Teacher Association's (PTA) Reflections Music Composition Competition (Virginia and Missouri).  Lackey served as a member of the board of directors for the newEar contemporary chamber ensemble (Kansas City, MO), Odyssey Chamber Music Series (Columbia, MO), and the Kansas City Electronic Music and Arts Alliance.
"If one were summing William Lackey's personality in a word, the best adjective would be "exuberant." Assistant teaching professor at the University of Missouri School of Music and managing director of the Mizzou New Music Initiative, he radiates enthusiasm about what he does. An educator, composer and collaborator, he is fascinated by individuals' relationships to sound, by technology and by the connections to just about everything that can be made through music." – Amy Wilder, Columbia Tribune - August 26, 2012