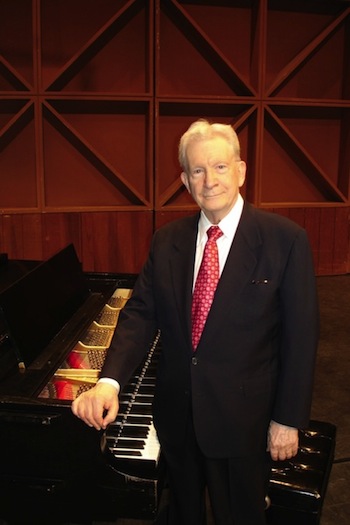 Wallace De Pue was born on October 1, 1932, in Columbus, Ohio, to Oscar and Lillian De Pue. Because he was musically gifted, his cousin, Johnny Murphy, taught him to tap dance. Since Wallace possessed an extraordinary singing voice, he was featured in dance reviews and amateur shows as a boy soprano. In the fifth grade, he attended the Columbus Boy Choir School, now known as the American Boy Choir School. Concurrently, Eldon Howells and Frank Murphy taught him to become a concert pianist. In the 1950s, he won contests to appear on the Arthur Godfrey and Horace Heidt shows.

In Ohio State University High School, Wallace studied oil painting. He also learned about script writing and wrote a series of radio shows that were broadcast. In addition, he wrote his first operetta libretto and a song for the graduation ceremony of his class.

Capital University accepted Wallace De Pue. He completed two bachelor degrees within five years, one in music education (BME) and another in music composition (BM). At Ohio State University, he completed a Master of Arts degree (MA). He earned a Ph.D. in music composition and theory at Michigan State University. Dr. H. Owen Reed was his major professor.

High school vocal music positions in Leetonia, and Dover, Ohio, provided Wallace De Pue with teaching experience. His next position was at The Toledo Museum of Art as curator of music.

In 1965, Wallace De Pue was married to Linda Kallman. In 1966, he joined the faculty of Bowling Green State University in Bowling Green, Ohio. More than fifty of his works (for nearly all media) have been published by other publishers besides Picardie Court Publications. Three of his operas have been produced: Dr. Jekyll and Mr. Hyde, (recorded on cassette by Oceans Records, Los Gatos, CA.), Something Special (televised several times), and The True Story of the Three Little Pigs (published by MMB, St. Louis and performed over 1200 times). The Wonderful Witch of Oz, his new musical, is aimed at pre-school children and is written on the subject of ecology. Dr. De Pue has won 25 consecutive ASCAP awards for the creation and performances of his music. His works have won awards at both the state and national levels.
Wallace and Linda De Pue had four sons. All were taught music by their parents. Dr. De Pue began each son's career as a violinist. All were blessed with extraordinary talent for playing and singing. Mrs. De Pue was killed in an accident in 1986, so Dr. De Pue raised the family until he remarried in 1990. His second wife was formerly, Elaine Markopoulos. Their sons are known as The De Pue Brothers. They have played on national television. Wallace, Jr. plays in the Philadelphia Pops and Opera orchestras; Alexander is the two-time world fiddling champion; Jason is in the first violin section of the Philadelphia Orchestra; and Zachary is the concert master of the Indianapolis Symphony.


Since 1998, Wallace De Pue is a professor emeritus from Bowling Green State University. Currently, he continues to develop his own licensed publishing company, Picardie Court Publications. Works for sale are for the following media: Choral works (all vocal combinations, a cappella and accompanied); orchestral works; pieces for multiple violins (2-4, some accompanied by piano); songs (for all voice qualities, with piano accompaniment); keyboard works; percussion works; operas; organ works; and harpsichord pieces. Dr. De Pue completed Creative Music Theory Skills, a book concerning beginning music theory for potential composers. His textbook was used successfully at Bowling Green State University. It is also for sale. Samples of Picardie Court Publications may be obtained by calling (419) 352-4372, by email, or by writing to Picardie Court Publications, 5 Picardie Court, Bowling Green, Ohio 43402.
Compositions