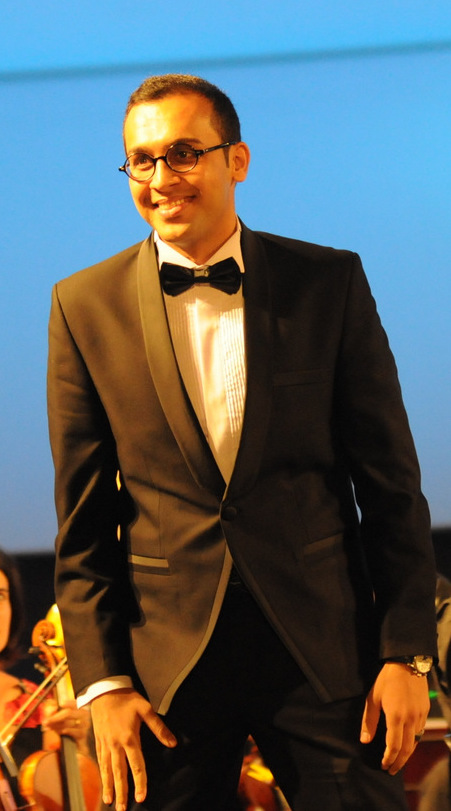 More info at www.vahidjahandari.com
VAHID JAHANDARI is an award-winning composer of acoustic and electronic music, inspired by social-political culture and interactive technology, with projects ranging from concert works to interdisciplinary and film scores. As an Iranian artist involved with major social issues, Jahandari seeks to promote intercultural communication through his works. Active in a diverse array of genres and interested in music as a documentary, Jahandari's works have been performed and recorded in the United States, Europe, and the Middle East, and he has received several awards for his music including first prizes at 2Agosto and Pejman competitions for his orchestral and chamber music, as well as the winner of PUBLIQ Access. ​Jahandari's music has also been selected and performed at numerous festivals including ISCM World Music Days, World Saxophone Congress, SEAMUS, International Saxophone Symposium​, Electroacoustic Barn Dance, EMS60 at UIUC, ElectroAcousticMiniFest, West Fork New Music Festival, EE+F, Fusebox Festival, Sound In Sculpture, LaTex Festival, EARS and many more. ​
​Currently pursuing his Composition PhD as a Graduate Assistant at the University of Florida, Jahandari holds degrees in Composition from the Art University of Tehran (B.M.) as well as from University of Texas at Austin (M.M.), where he served as a Teaching Assistant in Digital Music. His portfolio includes works for electronic media, mixed chamber ensembles, symphonic orchestra, wind ensemble, choir, and solo instruments.
Compositions
"The Vulture" for double bass and electronics
"The Vulture" is inspired by the Pulitzer Prize-winning photograph, "The Vulture and the Little Girl," taken by South African photojournalist Kevin Carter. The photograph, in which a vulture stands in the dirt behind an emaciated child, apparently waiting for it to die, hauntingly captures the desperation and misery of the famine that hit the horn of Africa in 1993. All the sounds used in "The Vulture" were derived from a solo double bass, performed by Rhys Gates. At certain points during the piece, the goal has been to distance the sound from the actual timbre of the double bass, and to engage the imagination of the listeners in considering different possible sources for the sounds. | Premiered on October 25th, 2016 at The University of Texas at Austin
"The Robosax" for saxophone quartet
While composing "The Robosax", I reflected on how I would find myself entirely surrendered by computers and other types of technological devices. I realized how dependent we are, on technology in our contemporary times, while at the same time being almost cut off from nature and our natural state as human beings because of this dependency. "The Robosax" can perhaps remind us of the type of electronic music that can be heard at clubs around the world. As a teaching assistant in Digital Music at the University of Texas, while I was writing the piece, I was busy grading many student composition projects that were entirely composed by popular music elements. The poem dovetails with my composition's overall message, in that it addresses the fact that humanity, across time, has yet to discover happiness on a large scale, while advances in technology have allowed us to look at worlds far beyond our own. Within the text I have used, a duality exists in terms of it being sung by robots, while later it is sung by humans. I achieved this by reversing the text of the poem, which conveys an unknown and odd feeling of the language. Also, there are several foot/kickable percussion performed by the saxophonists themselves, which, in a way, indicates how far robots are able to advance in terms of various performance abilities; however, the one thing they are all lacking, and which comes across in the piece during its robotic-sounding moments, is a clear lack of soul.| Premiered at Fusebox Festival on April 20, 2018
"And, I Speak To You" for clarinet and string quartet
The first prize at PEJMAN Composition Contest | Premiered at Vahdat Hall, Tehran, 5th February 2015 | "… And, I Speak To You" is written based on the Persian traditional modes and rhythms, incorporated into western contemporary techniques. The title is borrowed from a verse by the Iranian poet, Ahmad Shamlou, in his poem "Public Love": "Tree speaks to Jungle, Grass to Desert, Star to Galaxy, … And, I speak to you"
"The Checkered City" for narrator and symphonic orchestra
The first prize at 2AGOSTO International Composition Competition, 21st edition, 2015 | Premiered by Del Teatro Comunale Orchestra in Bologna, Italy | Broadcasted by Rai3 Radio and Rai5 TV