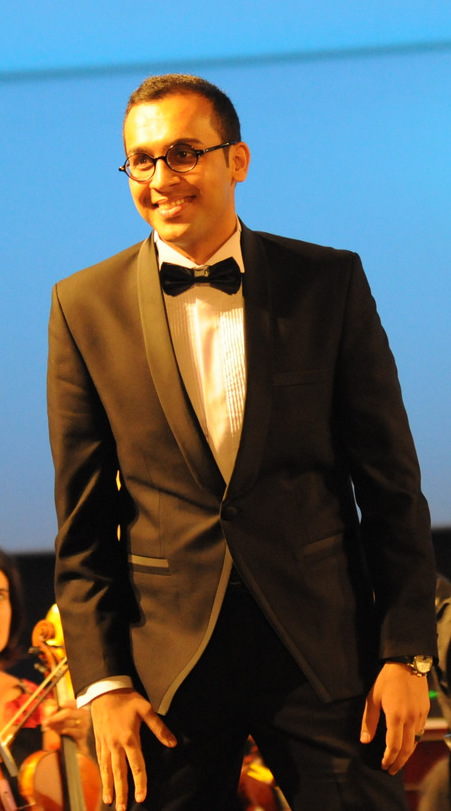 More info at www.vahidjahandari.com
Reviewed as "...eerie" and "...glowering", Jahandari's music has been selected and performed at numerous festivals including ISCM World Music Days in Estonia, World Saxophone Congress in Croatia, South by Southwest, SEAMUS, International Saxophone Symposium​, SPLICE, Electroacoustic Barn Dance, EMS60, ElectroAcousticMiniFest, Midwest Composers Symposium at IU, West Fork New Music, EE+F, Fusebox, Sound In Sculpture, LaTex, EARS and many more. A composer of acoustic and electronic music with projects ranging from concert works to interdisciplinary and film scores, Jahandari's works have been performed and recorded in the United States, Canada, Europe, Asia, and the Middle East, and he has received awards including first prizes at 2Agosto and Pejman competitions for his orchestral and chamber music, and commissioning includes from the Grammy nominee ensemble, PubliQuartet. ​
Currently pursuing a Ph.D at UC San Diego, Jahandari holds degrees in Composition from the Art University of Tehran (B.M.) as well as from the University of Texas at Austin (M.M.), where he served as a Teaching Assistant in Digital Music. His portfolio includes works for electronic media, mixed chamber ensembles, symphonic orchestra, wind ensemble, choir, and solo instruments.
Compositions
"The Vulture" for fixed media
"Vahid Jahandari excelled in his innovative use of electronics. Jahandari's mixed media work The Vulture transformed double bass samples into bird calls, with reverberant sustains creating a barren landscape. The creaking of bow overpressure gave way to an elegiac bass soliloquy before any remnants of acoustic sound were swallowed by eerie, electronically-manipulated timbres." I CARE IF YOU LISTEN "Vahid Jahandari's fixed media The Vulture was arguably the most impressive work on the programme. Inspired by photojournalist Kevin Carter's famous troubling image of a vulture lurking near a starving girl, Jahandari's soundscape transformed sounds from a double bass into an immersive, deeply threatening soundscape. There was something distinctly plaintive lurking within, though, heard in higher register material and fragments of melody, ghostly remnants and traces that seemed doomed in such a glowering environment, and which ultimately disappeared into their own reverb." 5:4 The year is 1993 and famine has hit the horn of Africa. The desperation and misery of that time is hauntingly captured in a Pulitzer Prize winning photograph, "The vulture and the little girl," taken by South African photojournalist Kevin Carter. In the picture, a vulture stands in the dirt behind an emaciated child, apparently waiting for it to die. My composition, was inspired by this photograph. All the sounds used in The Vulture were derived from a solo double bass, performed by Rhys Gates. At certain points during the piece, the goal has been to distance the sound from the actual timbre of the double bass, and to engage the imagination of the listeners in considering different possible sources for the sounds. Premiered at Ears , on October 25th, 2016 at The University of Texas at Austin Other performances: ISCM World Music Days on May 2, 2019 in Tallinn, Estonia​ SEAMUS on March 21, 2019 at Berklee College of Music Electroacoustic Barn Dance Festival on November 8, 2018 at Jacksonville University, FL Ears, Eyes + Feet on May 5-6, 2017 at The University of Texas at Austin
"Shapes" for string quartet
Shapes is an observation of an imaginary landscape that forms with an initial spark, and changes with slight vibrations that agitate the stretched strings and modulate their shades of color, the most variable quality in the piece. Performed by JACK Quartet March 11, 2020 Voxman Concert Hall
"And, I Speak To You" for clarinet and string quartet
The first prize at PEJMAN Composition Contest Vahdat Hall, Tehran | Premiered on 5th February 2015 "… And, I Speak To You" is written based on the Persian traditional modes and rhythms, incorporated into western contemporary techniques. The title is borrowed from a verse by the Iranian poet, Ahmad Shamlou, in his poem "Public Love": "Tree speaks to Jungle Grass to Desert Star to Galaxy … And, I speak to you"
"The Checkered City" for symphonic orchestra
The first prize at 2AGOSTO International Composition Competition, 21st edition, 2015 | Premiered by Del Teatro Comunale Orchestra in Bologna, Italy | Broadcasted by Rai3 Radio and Rai5 TV