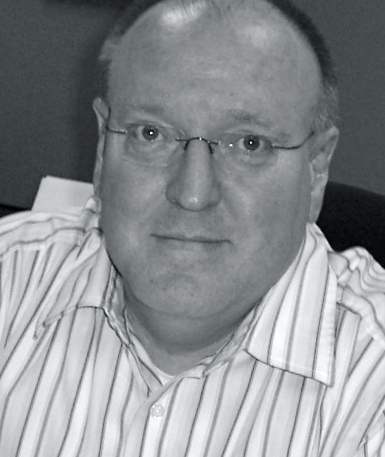 Timothy Lee Miller, composer
Timothy Lee Miller is an American composer writing contemporary concert music for chamber ensembles, orchestra, wind ensemble, and voice, as well as jazz music. He has also written for several small film and television projects, however, his primary focus is concert music. He has earned degrees from the University of Tennessee (BS Music Ed, 1984), the University of Miami (MM Media Writing and Production, 1990) and Vermont College of Fine Arts (MFA Composition, 2013). His principle composition teachers have been John Anthony Lennon, James Progris, Tamar Diesendruck, Jonathan Bailey Holland, Andy Jaffe, John Fitz Rogers and Roger Zahab. He has received numerous commissions and awards, including several ASCAP awards. His works have been performed throughout the US and Europe. His music is recorded on ERMMedia, PARMA Records and Phoenix Classics. He lives in Mahwah, New Jersey with his wife and son.

In November 2015, Miller was part of the PARMA Recordings venture to Havana, Cuba to record several jazz works with musicians in Havana under the People to People humanitarian program. The trip presented the opportunity for several composers to be among the first American composers to travel to Cuba since the US government eased travel restrictions to the country. Two of his big band jazz pieces, Hot Miami Nights and On An Autumn Day, were recorded with the Puerto Padre Big Band, one of the top bands in Cuba. His music is recorded on ERMMedia, PARMA and Phoenix Classic Records and is distributed exclusively through Tomato Lettuce Mustard Music Publishing.

WORKS BY GENRE

ORCHESTRA

Maverick: An Epic American Overture, orchestra (1988)
Chase The Wind, string orchestra and piano (1989)
Alone: Suite from the Original Film Score, orchestra (1989; arr. 2001)
Kidís Play: A Fun Suite for Orchestra (2001)
- Fantasia: School Days
- Minuet: Joy and Innocence
- March: On The Playground
- Lullabye: And So To Sleep
- Scherzo: Fun and Frolic
Almost Home for trumpet, jazz quartet and orchestra (2013)
The Journey to Kuwa'hi (2014)
Traveler: Music for Chamber Orchestra (2014)

BAND/WIND ENSEMBLE

Bread and Wine, band (2009)
Circus Minimus, wind ensemble (2000; arr. 2010 from original work for wind octet)
- Circus on Parade
- Under The Big Top
- Flying Circus
- Sleepy Clowns
- Carousel Rag
- Bears, Elephants, Lions & Tigers
- The Big Finale
Ruff Stuff, wind ensemble (arr. 2010)
A Christmas Celebration, wind ensemble (2010)
A Fool Grows Wise (2015)

JAZZ ENSEMBLE

On An Autumn Day, big band (1991), sextet (arr. 2011)
Hot Miami Nights, jazz ensemble/big band (1989/2001)
Serengeti Waltz, jazz ensemble/big band (2001)
City Streets, jazz ensemble/big band (2004)
Harlem River Blues (2011) big band
What Child Is This? (2011) big band
Miles To Go Before I Sleep (2012) big band
Winter (2012) big band
A Day In The Park (2013) ten-tet
Sweat Tea (2013) Octet
Traffic Circle (2014) big band
Poochie's Waltz (2015) big band
Something More (2015) jazz quintet
Ruby in the Ruff (2015) jazz quintet

CHORAL

Wind on a Prairie, chorus (1984)
The Garden of Dreams, chorus (2009) [text: based on a poem by Madison J. Cawein]
Tears, chorus (2010) [text: based on a poem by Walt Whitman]
The Day is Done, soprano, chorus and piano (2010) [text: based on a poem by Henry Wadsworth Longfellow]
Sir Christemas (2012) Traditional text
Song on May Morning (2013) Text by Milton
Jubilate Deo (2013) Psalm 100 (Latin)
Past The Sun (2014) Text by Linda Marcus and Julie I. Myers
Be Near (2015) Text by Jo-Hannah Reynolds

CHAMBER

The Piper, woodwind quintet and percussion (1976)
- also arr. for woodwind quartet: piccolo, oboe, horn, bassoon
- also arr. for brass quintet and percussion
Dawn, brass quintet and percussion (1984)
Chorale, brass quintet (1985)
Marche ala Rondeau, brass quintet (1987)
Chase the Wind, string orchestra and piano (1989)
- arr. 2001 for bassoon, horn, cello and piano
- arr. 2009 for string quintet (2 violin, viola, cello, double bass) and marimba
- arr. 2011 for marimba quartet
Circus Minimus, flute, oboe, clarinet, bassoon, horn, trumpet in C, trombone and tuba (2000) [also arr. for wind ensemble]
- Circus on Parade
- Under The Big Top
- Flying Circus
- Sleepy Clowns
- Carousel Rag
- Bears, Elephants, Lions & Tigers
- The Big Finale
The Wayward Cowboy, 2 bassoons (2000) [arr. 2002]
No Way Home, bassoon, horn, cello and piano (arr. 2001)
String Quartet No. 1 (2009)
Tango in Polka Dots, flute, clarinet, bass clarinet, alto sax, horn, tuba, accordion, piano and percussion (2009)
Traveler: Music for Six, flute, oboe, clarinet, violin, cello and piano (2009; rev. 2011)
The Birds & the Bees, flute, oboe, clarinet, alto saxophone and bassoon (2010)
Triptych of the American Frontier, woodwind quintet (2010)
Sonata for Bassoon and Piano, bassoon and piano (2010)
Miles From Home: Adagio for Eight Bassoons, 7 bassoons and contrabassoon (2010)
String Quartet No. 2 (2011)
Shadows, flute, clarinet and harp (2011)
A Bushel of Baked Bassoons, 6 (or more) bassoons (2011)
Leviathan (2011) for Pierrot ensemble
String Quartet No. 3 "The Appalachian" (2012)
The Callithumpian Duck (2013 woodwind quintet
Three Miniatures for Woodwind Trio (2014)
Four for Four (2015) percussion quartet
Three Steps in Time (2015) piano trio
224 slices of pi (2015) flute, cello, piano and percussion
Serengeti Waltz for 12 percussionists (2015)

PIANO
Meditations: 18 Melodic Studies for Piano (1984-2009)
Intervals: Sonata for piano (2015)

VOCAL

The Piper, voice and piano (1976)
Three Poems of Henry Wadsworth Longfellow, for soprano and piano (2014)
Winter, for baritone and marimba (2014)
Mourning Dove, for soprano and chamber ensemble (2015)
Stopping by Woods on a Snowy Evening, for soprano and piano (2015)

INCIDENTAL/FILM

Alone, film score, electronic (1989)
Doubles, film score, electronic [for jazz ensemble] (1990 - Hemdale Productions)
Never My Love, film score, electronic (1991)
Checked Out, film score, electronic (1991)
Pursuit of Happiness, film score, electronic (1992)
The Maniac Chase, film score (2009) [music for the 1904 film by Thomas A. Edison, ERMMedia/Lionís Gate Entertainment]

TIMOTHY LEE MILLER LINKS

Composer's website . . . contact Timothy Miller: here

Timothy Lee Miller @ American Composers Forum
Timothy Lee Miller @ American Music Center
Timothy Lee Miller @ Facebook
Timothy Lee Miller @ Google Profiles
Timothy Lee Miller @ LinkedIn
Timothy Lee Miller @ ReverbNation
Timothy Lee Miller @ Society of Composers

Publisher
Timothy Lee Miller @ Composer's website

Streaming Audio
Timothy Lee Miller @ Composer's website - check under individual work listings also here

Timothy Lee Miller @ Facebook
Timothy Lee Miller @ ReverbNation
Recordings
Timothy Lee Miller @ Amazon.com
Timothy Lee Miller @ ArkivMusic
Timothy Lee Miller @ CD Universe