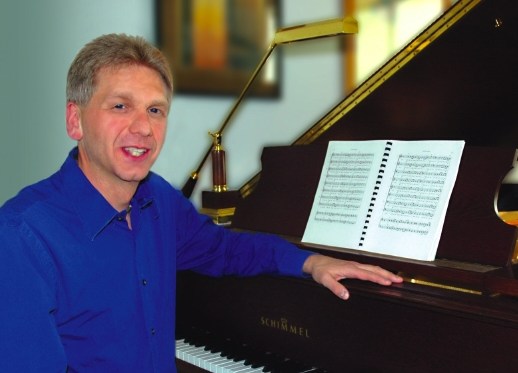 Timothy Brown
PO Box 460455
Denver, CO 80246
303.753.8696
composer@timothyjbrown.net
http://www.timothyjbrown.net
Timothy J. Brown holds a doctoral degree in Music Theory and Composition from the University of Northern Colorado, where he was awarded the Graduate Dean's Citation for Outstanding Dissertation. He also holds degrees from the State University of New York at Fredonia and Goddard College, and has studied privately with composer John Corigliano. His compositions span a variety of media and styles, ranging from art songs and full orchestral works to unaccompanied choral pieces and chamber works. Dr. Brown was a 2012 composer for the Atlanta Opera 24-Hour Opera Project, writing a 10-minute opera in 12 hours with librettist Chadwick Hagan. He co-presented with Dr. Liana Valente on composer-singer collaboration at the 2011 Phenomenon of Singing International Voice Symposium in St. John's, Newfoundland. His CD "Infinity" was released in 2005 and "Songs of Light, Songs of Shadows" in 2006. In 2008, excerpts from his song cycle for chamber ensemble, "In Flanders Fields," were released. He has been named a recipient of ASCAP PLUS Awards annually since 2005. He received a Meet the Composer Grant in 2009. Dr. Brown has held fellowships at the Virginia Center for the Creative Arts, The Millay Colony for the Arts, and The Melodious Accord. His music has been heard in the United States, the Czech Republic, Austria, Germany, Belgium, Canada, Brazil, and France. He is the musical director for Cabaret Otaku, an ensemble that performs short, fully-staged operas in bars. A fluent speaker of French, he also pursued graduate studies in translation at SUNY Binghamton. His article on living Flemish choral composers appeared in the April 2011 International Choral Bulletin. He is a National Board Certified Music Teacher. He has made presentations at meetings of the College Music Society, the Society of Composers, the Mississippi Music Educators Association, and others. Coming performances include vocal music in Lakeland, Florida and New York City; an opera in New Orleans and Denver; and choral music in Ghent, Belgium, as well as Denver.