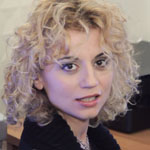 Susanna Quagliariello, composer
Welcome to my SCI page.
I'm a composer from Rome, Italy. I work primarily in the multimedia industry, writing cinematic music for advertisements.
I'll add a complete bio in english and upload some of my personal compositions as soon as possible, meanwhile if you can read italian (that is, apart from "fortissimo" and "tutti") you can learn more about me at my site musica-digitale.it where I publish articles, commentaries and instructional lessons tied to the tools I use everyday in digital music production, from Sibelius to Logic Pro X.
I'm especially focused in teaching composizione musicale, that is "musical composition" for cinema and new media to help out all the passionate composers that lack solid music theory grounds or ignore the most recent studies about film music.
Bio and Education
I'm a piano player, earned the three-year teaching license in music theory for musicians and composers from the National Conservatory of Music "Domenico Cimarosa" of Avellino in 1996.
As nepewh of songwriter and film composer Francesco Saverio Mangieri – award winning orchestral composer and Piano Maestro – I was immersed in music and began studying piano since an early age.
Fourteen years later, much to everyone surprise, I decided to pursue film theory studies instead of completing my music degree and then spent seven years at LUMSA and La Sapienza universities to obtain a Master of Science.
In 2003, after earning my M.Sc. in History and Critique of Cinema I got back to my everlasting love for composing music, and especially film music, focusing on classic composition and orchestration. Later, I earned Berklee's specialist certificate in composing and orchestrating music for film and videogames and am a certified digital notation instructor.
I teach orchestral music and film scoring in Italy's first and most renowned online school, Accademia VFX Wizard and had the pleasure to teach the core and the nuances of film scoring to professional composers, musicians and "Maestro"s.
I'm also associate producer for the Oscar qualified theatrical movie "Score", featuring James Cameron, Hans Zimmer, Howard Shore, Danny Elfman and most Hollywood composers.