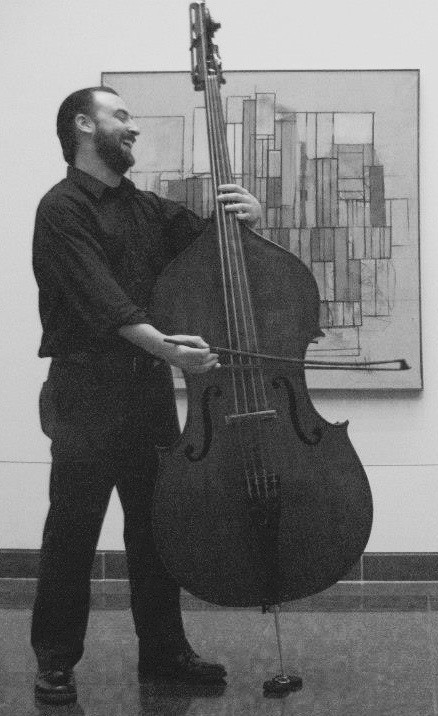 for more information please visit: http://slandismusic.com
BIO As a composer, Steven Landis works with many mediums including solo instrumental, mixed chamber groups, large ensembles, digital and mixed media, as well as film and theater. As a double bassist, Steven performs in solo, chamber, and orchestral settings. Steven earned his DMA in Composition at The University of Missouri-Kansas City Conservatory, where he studied composition with Chen Yi, Zhou Long, and James Mobberley, and studied double bass with Jeffery Kail. Steven earned an MM in Composition from The University of North Carolina at Greensboro, where he studied with Mark Engebretson and Alejandro Rutty. He previously earned an MM in Double Bass Performance and a BM in Composition from The University of Florida, where he studied double bass with Kevin Casseday and composition with Paul Richards and James Paul Sain. Currently, Steven is the bassist for the North Carolina Improvisatory New Music collective COLLAPSS, teaches double bass at the Music Academy of North Carolina, and is an Adjunct Instructor of music theory at UNCG. Steven is a recent recipient of the Millay Colony, the Virginia Center for Creative Arts, and Wildacres Artist Retreat.
Compositions
SWARM!!! for saxophone quartet
SWARM!!! pays homage to the raw and, at times, sobering beauty of nature. The first tale of many recent strange adventures, this quartet is an aural memento of a fascinating yet horrifying experience with a swarm of yellow jackets. Undaunted, unafraid, and highly organized, they did their job in protecting their hive (all too well – I was stung twelve times and broke my foot during my escape!). The frenetic quality of the music captures the psychological state of the moment while highlighting the coordinated efforts of the swarm.
BOOM!!! ...for Real!
BOOM!!! ...for Real! chamber concerto for alto/tenor sax and mixed chamber ensemble (2017) Cadenza II. Litanies of Samo III. BOOM!!! ...for Real!