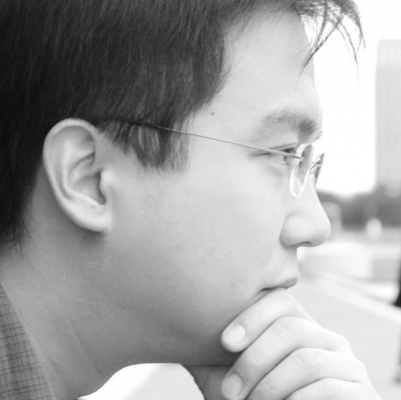 Stephen Yip
16015 Langbrook Ct,
Houston, TX 77084
(281) 855-0044 (Home)
(281) 798-9868 (Cell)
email:yshukin@mac.com
Stephen Yip (1971) was born in Hong Kong, and currently lives in Houston, Texas. He obtained music degrees, DMA (2001) and MM (1997) from Rice University, with mentors Arthur Gottschalk and Ellsworth Milburn and BFA (1996) from the Hong Kong Academy for Performing Arts with mentors Law Wing-fai, Clarence Mak and Yip Wing-sie (conducting). He has attended music festivals such as: the Aspen Music Festival, Colorado; the Asian Composers' League, Philippines; the California E.A.R. Unit Composer Seminar, the June in Buffalo, New York; the Music X Festivals, Ohio; the 13th International Summer Program, Czech Republic, the IMPULS Ensemble Akademie, Austria, the Atlantic Center for the Arts, Florida, the Kimmel Harding Nelson Center for the Arts, Nebraka, and the Virginia Center for the Creative Arts, Amherst, Virginia.

YYip's works have been performed in the United States, Canada, Costa Rica, Israel, Austria, Croatia, Czech Republic, Hong Kong, China, and Philippines. He was the finalist in the 2001 Composition Competition of the international New Music Consortium, and the Foundation Orchestra Association's International composition Competition; received "Honorable Mentions" in the 1st International EPICMUSIC Composition Prize, and 2004 International Biennial Competition, by the Debussy Trio Music Foundation and won the "Haifa International Composition Prize", Molinari Quartet's Third International Composition Competition, the 2006 NODUS/New Music Miami Festival Composition Competition, the Accent/Music05 composition competition, "ERM Masterworks" composition prize, the 2007 St. Paul Chamber Orchestra Emerging Composers Competition, the ALEA III composition Competition.

His works are recorded in the label of ERM-Media compact disc series, "Masterworks of the New Era" and the ATMA Classique label performed by Molinari Quartet. His music has been selected in the program of several major music conferences and festivals such as: National Society of Composers Conference, College Music Society International Conference, CMS South Central Annual Meeting, Los Angeles Chapter, the National Association of Composers/USA, New Mexico Composers' Symposium and SCI Region VII conference, ISCM World Music Days 2005, in Zagreb, Croatia and 2005, 2006 Musicarama new music festival, Hong Kong, and Hong Kong Art Festival.

Yip is a member of the Hong Kong Composers' Guild, Society of Composers, College Music Society and the American Society of Composer, Authors and Publishers. Yip has served as music director and organist at catholic churches in 1999 to 2005. He has also served as the music panelists for the Cultural Arts Council of Houston in 2001 to 2003. Currently, he serves music faculty at Houston Community College.
Major Compositions:



Orchestral:
. Raining in Autumn (1996) for Violin Concerto
. Kaph (1998) for Chamber Orchestra
. Infinite Rain (2000) for Chamber Orchestra (or 14 players)
. Shun (2003) for Flute and String Orchestra
. Novela (A Little Story) (2005) for Orchestra (Commissioned by Hong Kong Art Festival)
. Shadow of Golconda (2005-06) for Chamber Orchestra (or 13 players)
. Shadow of Golconda II (2006) for 15 players



Chamber:
. Pentagon (2002) for Piano Quintet
. Song of Seagull (2002-04) for Saxophone Quartet
. "Yi Bi"- Lotus Flower (2003-04) for Violin, Cello and Piano
. Trio, Ghost Orchid (2004) for Flute, Bassoon and Piano
. Yi Ch'i – Po Mo (2004) for Bb Clarinet, Cello and Piano
. String Quartet "Yi Bi" (2004) for 2 Violins, Viola and Cello
. Thousands of Words (2005) for Flute, Violin, and Cello
. Gorintou - Five Rings of Pagoda (2006) for Flute, Bass Clarinet, Piano, Percussion, Violin and Cello
. Karma (2007) for Flute, Bass Clarinet, Piano, Percussion, Violin and Cello
. In the Garden (2007) for Flute, Bass Clarinet, Piano, 2 Violins, Viola, Cello and Double Bass.



Solo Music:
. Garden of Delights (1992) for Piano solo
. Fung Bridge in the Night (1997) for Piano solo
. Tsu (1998) for Violin solo
. Toccata (1999) for Marimba solo
. Sonic Grove (Short Piece for Bass Clarinet) (2006) for Bass Clarinet



Electronic Music:
. The Way III (Purification) (1994) for ARP, X-3, and PC computer sound program
. Music for Amplified Violin and Tape (1995)
. Yin III (1995) for Amplified cello and Tape
. White Wood (1995) Tape Music (CSound program)
. Ronin (1996) Flute and live computer
. Song of the Whale (1998) Tape Music (Analog Synthesizer and Sampling)



Vocal/Choral:
. Silence Died (but he never knew) (1995) for Baritone solo, S.A.T.B. and Piano
. Moonlight (1995) for Soprano, Oboe, and String Quartet
. Four Haiku (1998) for Soprano, Alto, and Harp
. Lux Aeterna (1998) for 8-voice mixed choir
. Mass of Notre Dame (2001) for 4-voice and Organ
. Psalm 128: Blest are those who love you (2001) for solo voice, 2-part choir and Piano
. The Lord is Kind and Merciful (2002) for solo voice, 2-part choir and Piano



Dance and Theater Music:
. Moonlight (1995) for Soprano, Oboe, and String Quartet
. The Way (1996) for Chinese bamboo flute (or shakuhachi) and tape

Compositions
Thousands of Words
Thousands of Words (2005). This trio, "Thousands of Words" was composed for Flute, Violin and Cello. I was inspired by a Chinese brushwork master, Hwai Su's piece which was written the "Tsao" or "Grass" style, a script much sketchier and more simplified almost like shorthand in the period of T'ang dynasty (7th century). In his work, I have found he had a well balance of contrast like: dry and rich in color, thick and thin in texture, and strong and weak in energy. The entire work was brushed a thousand of different words. Hwai Su created a continuous manner of writing, that is, he wrote an entire column of script without lifting his brush, producing a sort of spiral, word by word, from top to bottom. This technique gives an undistributed one-breath feeling to the whole composition. In this single movement piece of mine, I tried to create continuous musical phrases in different lengths, timings and rhythms, but I unified musical phrases in one gesture to express on breath feeling like Hwai Su's brushwork. Besides, in each musical line, I used different note values and rhythms to make the music goes gradually and suddenly fast and slow to show some Hwai Su's brushing techniques such as: swirling and rotating movement, making different stops and "prolonging and elaborating" or "shorting and simplifying" on different turning points.
Fung Bridge in the Night
Fung Bridge in the Night (1998). This piano piece is inspired by one of the Chinese 300 Tang Poems, "Fung Bridge in the Night" is primarily atmospheric and descriptive. We see a fisherman parking his boat under the bridge to rest for the night. The night comes alive with a brilliant moon, singing birds, leaves falling on the river, bells tolling from the temple. Enchanted by the night sounds the fisherman remains awake for the entire night. The music attempts to capture the lonesome quiet of the poem. The general characteristic of the music is slow and quiet. The first section features sustained high notes combined with periodic ascending gestures. The second section introduces descending gestures, combined with continually expanding melodic gestures, eventually returning to the stillness of the opening.
Yi Bi - Lotus Flower
Yi Bi – Lotus Flower (2004). This piano trio, "Yi Bi – Lotus" was composed for Violin, Cello, and Piano. I was inspired by Chinese brushwork in calligraphy and painting. The Chinese word, "Yi Bi" in English means "One Brush". Lotus Flower is the first piece in the series of Yi Bi. The lotus flower is the best subject for illustrating the Chinese brushwork. The painting is clear, simple and direct. One brush is one of the Chinese brushing techniques. There is different balance, density, and depth could be produce by different applications of brushing technique. I employed the numeral idea into this music such as "three". There are three basic stages of Chinese brushwork, "down-pull-up" to paint all different kinds of brushwork. The lotus is consisted of three main parts: lotus root, leaves, and flowers. The instrumentation of this piece is for three instruments; there are three main sections in the entire piece; and the motivic elements are based in three note-sets. I was inspired by many aesthetics and techniques of Chinese brushwork into this piece such as concepts of dots and lines as musical short notes and melodic long lines, density and looseness as texture, dark and light contrast as tone color, host and guests as dominant and secondary subjects, and space as empty measures and rests.
Ghost Orchid
Ghost Orchid (2004). This trio, Ghost Orchid was composed for Flute, Bassoon, and Piano. I was inspired by a Japanese floral design exhibition, "Origin of Ikenobo" in Houston, Texas. One of the floral design in Ikenobo's style is "Shoka" which origins in the 18th century. It is simple and tradition. However, it has unlimited possibility to create natural beauty. It uses only one theme with three materials: flower, leaves, and branches to express life's perpetual change and renewal. Through leaves, branches, buds, and open blossoms to suggest the flow of time from past, to present, to future. In this composition, flute, bassoon, and piano are my basic materials. And I tried to employ only a single theme, but in different gestures, timings, and colors to create unlimited varieties. There are four sections linked together in this piece, without break. In the first section, it starts in a moderate and flowing tempo with different long and short melodic lines. The section is more sustained, simple and siciliana dance style. The third section is fast and emotion. It has a contrasting idea, which emphasizes on short notes. The final section is slow and calm.