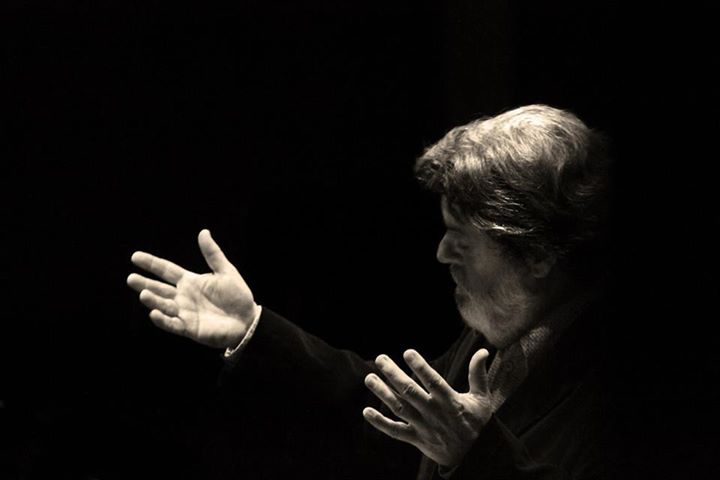 VOCAL: SATB
For Thou Hast Delivered My Soul From Death » 2016, SATB a cappella.
Et souviens-toi… » 2012-2013, SATB a cappella.
Noël s'en vient à nous (a cappella) 2013.
A Time To Dance (w/ piano) 2012.
Now Is The Time To Love (a cappella) 2012.
For Everything... (w/ piano) 2012.
Movin' (a cappella) 2011. Canadian Portraits (TTBB - piano) 2008.
Réjean Marois teaches at Capilano University for the Jazz Studies Program. He conducts two vocal ensembles, NiteCap and Capital Jazz, and teaches improvisation and instrumental and vocal arranging in the Program. Furthermore, Réjean has been involved for the last 20 years as arranger and conductor for the Cap Jazz Series concerts featuring renowned jazz and world music artists from around the world. In May 2012, he has received an «Award for Empowering Learning» from Capilano University. His recent composition: « Chanson Ubuesque » for alto and chamber ensemble has been selected by Vancouver Pro Musica's Sonic Boom 2017 Festival and will be premiered on March 19, 2017. « na-lim's prism » for violin and piano was premiered on July 29 in Milna, Island of Braç, Croatia as part of the Upbeat 2016 Masterclass in Composition. « Sospeso » for flute, clarinet, percussion, piano, violin and cello was premiered on September 25, 2016 by the ensemble TEMPO at California State University, Northridge (Los Angeles). « Bone & Bass » for trombone and electric bass was performed by Vancouver Pro Musica's Sonic Boom 2016 Festival on March 19 in Vancouver. His compositions « Bergère » and « In The Scope Of Time » have been performed by the Erato Ensemble, the Chamber Musicians of Kamloops and by the Keene State College Ensemble in New-Hampshire. « Dream Reflection » for chamber orchestra has been premiered by the « Turning Point Ensemble » in Vancouver. For fourteen years, he was the artistic coordinator of the Jazz Singing Workshop at Domaine Forget, St. Irénée in the magnificent Charlevoix region of Québec. For the last 25 years, he has been in demand throughout Canada and the U.S. as a clinician, adjudicator, conductor, music advisor and arranger. Born in Thetford-Mines, Québec, Réjean Marois moved to British Columbia in 1988. Before, he worked in Québec as a composer, arranger, trombonist, publisher, educator and performed all across North America and Europe. In 1983 he was nominated for a Genie Award (Canadian Academy of Cinema) for his original soundtrack for the movie "Les Doux Aveux".
INSTRUMENTAL:
Chanson Ubuesque - 2016, for alto, flute, clarinet, cello & piano.
na-lim's prism - 2016, for violin & piano.
Sospesos - 2016, for violin, cello, clarinet, flute, piano & percussion.
Wind 5tet #1 - 2016, for flute, oboe, clarinet, fr. horn and bassoon.
Kinesis - 2016, for flute, violin and piano.
Bone & Bass - 2015, for trombone and electric bass.
Bonéoles - 2015, for trombone quartet.
 Dream Reflection - 2015, for flute, oboe, clarinet, bassoon, f- horn, trumpet, trombone, violins I & II, viola, cello, contrabass and piano.
In The Scope Of Time - 2014, for flute, trumpet, trombone, bass trombone, percussion, violin viola, cello and piano.
In The Scope Of Time - 2014, trio version, for flute, violin and piano.
Bergère - 2013, for tenor, flute, clarinet, violin, cello and piano.
Where Waters Touch - 1990, for Concert Band.
Variations on: À St-Malo, Beauport-de-Mer - 1983, for Concert Band.
http://maroismusic.com
Compositions