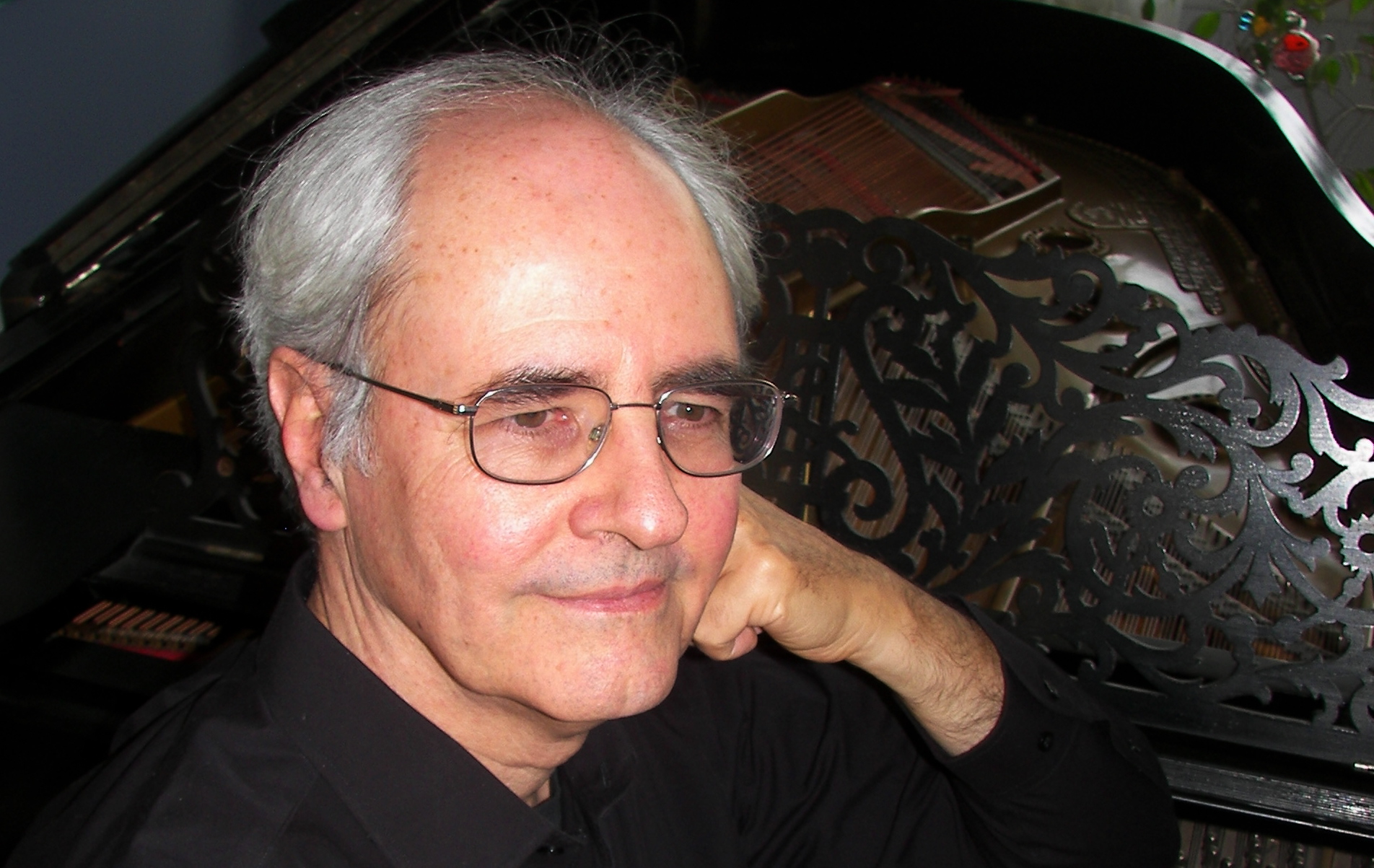 At the piano -- email: daugmuse@hotmail.com
BIOGRAPHICAL SKETCH - R. Michael Daugherty's catalog of compositions contains over 300 works, including song cycles, choral works and pieces for orchestra, band, chamber ensembles and solo instruments. His vocal music is text-driven, where the music enhances the meaning of the written word, and his instrumental music strives for accessibility within the context of pantonal techniques. Performances in the 2016-2017 season included "Spirit of God" in Buffalo, New York, "From Fits and Starts" on the CSU-Fresno campus, "Before the Paling of the Stars" at the TUTTI Denison Festival in Granville, Ohio, "Reunion/Reminiscence," at the Jureit Musicales in Stuart, Florida, and A Color Palette at the Southeastern Composers League Forum in Lexington, Virginia. All the above were world premieres. In addition, his orchestra work, Nothing Bitter Suite, had two performances by the Space Coast Symphony Orchestra in Vero Beach and in Melbourne, Florida, and "Spirit of God" had an additional performance at Denison University. Premiere performances in the 2017-2018 season include "Trombone Soup" at the International Trombone Festival in Redlands, California and "Love's Philosophy" at Ithaca College in Ithaca, New York. Additionally, three song cycles based on texts by Emily Dickinson (Visions of Eternity, A Wagtail Dance and Emily in Love…Emily Alone [premiere]) were performed at the University of Minnesota-Duluth. Dr. Daugherty holds a B.A. degree from Denison University, studying with Eliot Borishansky and M.M. and D.M.A. degrees from The Ohio State University studying with Marshall Barnes. He taught music theory at Coastal Carolina Community College in Jacksonville, North Carolina, for over thirty years, retiring in 2011. He now lives in Vero Beach, Florida, with his wife Lorraine. They enjoy the rich cultural life of the Treasure Coast, as well as the many beaches and parks. More than half of the works in his catalog have been composed since his retirement.
Recent Compositions -- Orchestral: Celebration Overture (9/21/17) for orchestra [2+1 2+1 2 2, 4 3 3 1, timp, 3 perc, harp, strings] Songs of Love and Joy (1/11/17) for SATB choir and orchestra [2 2 2 2, 4 2 3 1, timp., 3 perc. and strings] Band: Spirit of the Rockies (12/28/17) for concert band Echoes of Kennesaw Mountain (6/14/17) for large brass ensemble Chamber Music: American Salute (3/2/18) for two trumpets, trombone and tuba Hope and Courage (2/26/18) for two bassoons Ionic Motion in Alkali Borate Glass (2/10/18) for oboe, English horn, clarinet and marimba Joie de vivre (1/28/18) for piano four-hands Sheraja Lashadachka i Bulba (1/22/18) for clarinet, violin viola and cello Allegro Quartet (1/16/18) for clarinet, violin viola and cello City Life (1/5/18) for clarinet, violin, cello and piano Meditation Upon Dutch Boy General Purpose Paste Flux (12/14/17) for soprano, clarinet, piano accordion and cello Two on Five (11/22/17) for percussion duo on timpani, marimba, snare drum, suspended cymbals and triangle Little Symphonette (8/6/17) for woodwind quartet and timpani 1902 (7/16/17) for piano quartet Semper Fi (7/3/17) for Flute, trumpet, 2 trombones, tuba, cello and 4 percussion or (1/25/14) for brass sextet Rapunzel (5/16/17) for narrator and string quartet The Wolf and the Seven Kids (4/27/17) for narrator and woodwind quintet At Play in the Park (4/18/17) for flute quartet Winds on the Ridge (4/10/17) for oboe, clarinet and bassoon Embedded Counterpoint (3/20/17) for oboe, clarinet and bassoon Solo Instrumental Works: Morning Musings (5/2/17) for solo flute Sarabande (4/3/17) for pipe organ Sonata for Bassoon and Piano (1/31/17)
Small-Scale Choral: Nunc dimittis (2/20/18) for SATB a cappella choir Pied Beauty (10/16/17) for SATB choir and piano What would I sacrifice for God? (7/21/17) for a cappella SATB Choir 'Tis the Season of Joy (6/5/17) for a cappella SATB choir Love's Philosophy (1/2/17) for SATB choir and piano
Compositions
Lux Perpetua
This is the premiere performance of this prize-winning piece by the Ars Nova Chamber Orchestra in Washington, DC. The work is a symphonic poem. In the program, the strings represent the "everlasting light," while the woodwinds offer a plea for mercy and the brass, a fear that as humans we are unworthy of the protection of the light.
Southern Landscapes
This recording is the third and fourth movements of my first string quartet. (As of this posting, I have composed eight string quartets.) It was recorded by the Ciompi String Quartet of Duke University in a performance at Coastal Carolina Community College in Jacksonville, North Carolina, in 1991.
"Town Gossip" from Love's Shades of Gray
Marquerite Krull, soprano, and Craig Ketter, piano. The text is by contemporary poet Rob Smith.
If I Take the Wings of the Morning
Psalm 139 with additional text by the composer. This is a performance by the Cape Fear Chorale, Jerry Cribbs, Director.