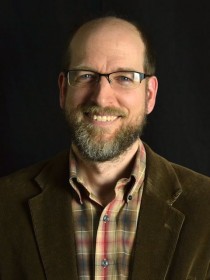 Photo by Blake Tyson
The music of Paul Dickinson is characterized by a dramatic contrast of musical ideas integrated into organic formal structures. Art, literature, and music of all eras influence his diverse musical output. Dickinson began his musical studies on piano at age eleven, and composition at age twelve. His teachers include Tomas Svoboda, Joseph Schwantner, Warren Benson, Samuel Adler, Alan Stout and Gerhard Stäbler. He received degrees from the Eastman School of Music and Northwestern University. Among his honors and awards are grants from the Fromm Music Foundation, the Arkansas Arts Council, the DAAD (German Academic Exchange Service), a BMI Award, and numerous commissions. His music has been performed throughout North and South America, Asia and Europe and has been recorded on Capstone Records. Dickinson is an Associate Professor of Music Theory and Composition at the University of Central Arkansas.
Compositions
Five Haiku
Five Haiku was written for my wife, who requested some short piano pieces with an Asian influence, and using extended techniques. I was also able to include some other interests of mine: birds, and the relation between text and music. Each piece is based on a haiku and two quote birdsong. The characteristic line structure of haiku is reflected in the form of the pieces--seventeen measures divided into three sections, 5+7+5. On a more abstract level, the twelve notes of the chromatic scale are divided into groups of five and seven notes. However, the way they are combined varies from piece to piece. Overall, I tried to compose pieces that are evocative of nature, Eastern as well as Western culture, and are fun to play.