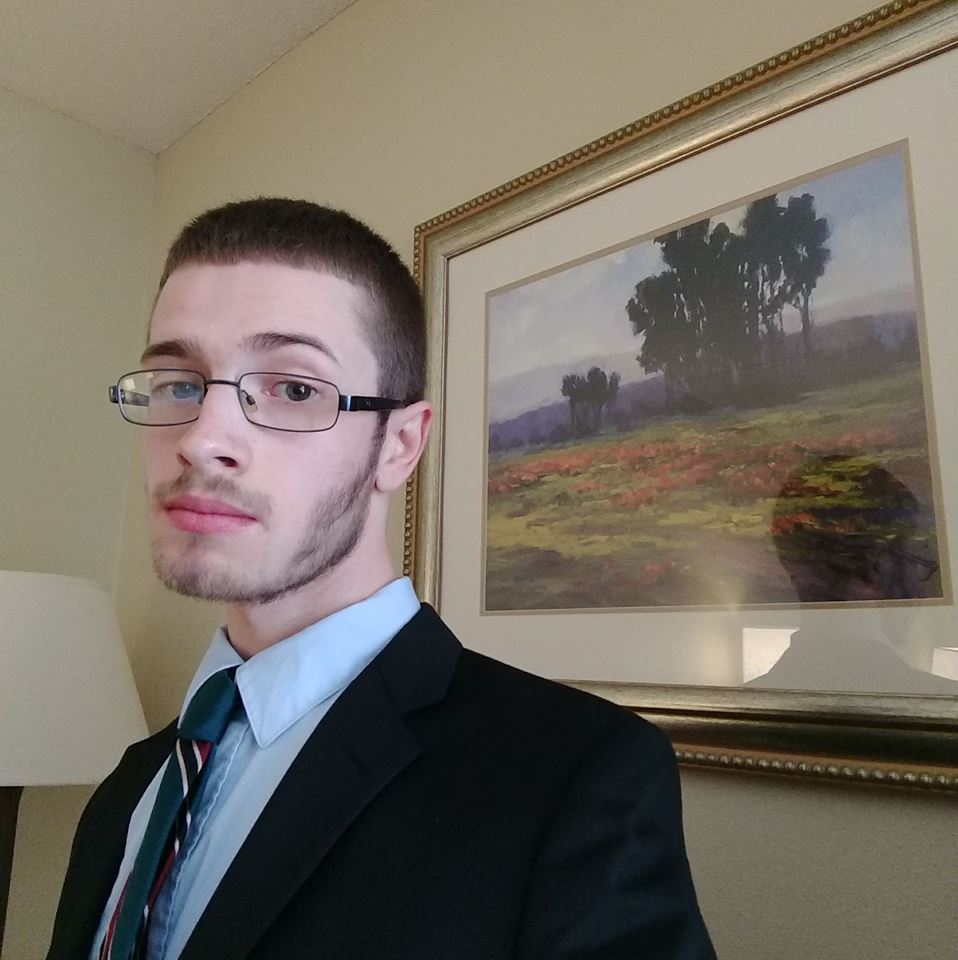 Nicholas Edward Martens Osborn (b. 1995) is currently a senior at Central Michigan University (CMU) studying music composition. He grew up in Grand Ledge, Michigan, just outside Lansing. In high school, he performed in many honors bands such the Michigan Youth Arts Festival Orchestra. Concurrently, he began to arrange video game music for various ensembles. Gradually, he began to explore his voice through composing. During his senior year, he began composition lessons with, a graduate student at Michigan State University.
Since enrolling at CMU, his works have been programmed in over a dozen times, in the school of music, for a solo recital, and for a student film. He has taken lessons with Dr. David Gillingham, Dr. Scott Harding, Dr. Jay Batzner, and he currently studies with Dr. Evan Ware. Nicholas is a member of the American Society of Authors Composers and Publishers under the publishing name LYRE OF GOLD RECORDS. Additionally, Nicholas has played in CMU's Chippewa Marching Band, on alto saxophone, and is now the interim second oboist and principal oboist CMU's Symphonic Wind Ensemble and Wind Symphony respectively. In the CMU's chapter of the international, professional music fraternity, Delta Omicron, he holds the position of secretary.
Links
Compositions
Unity
Made in collaboration with film and dance students, Unity is a film that embodies many forces coming together to accomplish a common goal. Working in collaboration with other arts during this project has opened my mind up to new interdisciplinary possibilities that I hope to explore in the future. The final video product is linked above.
Fixed Media
Venue: Celebration Cinema: Mount Pleasant, MI
Date: Thursday, May 4, 2016
Nothing Gold Can Stay
Robert Frost's poem, "Nothing Gold Can Stay," conveys to me the concept of the impermanence of our universe. Likewise, it can seem the only constant in our existence is change. The piece, virtually throughout, is a call and response between the vocalist and oboe. The texture is filled out by the bass drum, which symbolizes a beating heart. Growing in volume throughout, the piece concludes with the only instance of all three voices sounding at once. The continuous increase in volume conveys a building of emotions as one comes to terms with the harsh truth that everything they know will, one day, cease to exist. As I went through the change in my life that motivated me to write this piece, I am reminded to cherish that which I have, for it is not guaranteed in the next year, week, day, hour, or even moment.
"Nothing Gold Can Stay"
by Robert Frost,
Nature's first green is gold,
Her hardest hue to hold.
Her early leaf's a flower;
But only so an hour.
Then leaf subsides to leaf,
So Eden sank to grief,
So dawn goes down to day
Nothing gold can stay.
Nicholas Osborn, oboe
Brooke Wilson, mezzo-soprano
Quin Manley, bass drum
Venue: Central Michigan University, School of Music, Staples Family Concert Hall
Concert: Composition Studio Recital
Date: Saturday, April 9, 2016
Groovy Grenadilla
This work is a lively, jazzy chart, reminiscent of the Swing Era. Did you know? Grenadilla wood is frequently used for the bodies of clarinets.
I dedicate this work to my friend, Emma, who is one of the most kindhearted people I know.
Emma Selmon, clarinet
Al Batholomew, piano
Venue: First Presbyterian Church, Alma, MI
Concert: Emma Selmon in Clarinet Recital
Date: Sunday, June 4, 2017
American Horn
Based an original, folk-inspired melody, American Horn is a theme and variations upon that melody. This work attempts to capture the pure American sound of like that of Aaron Copland in his famous work, Appalachian Spring.
I dedicate this work to my friend, the Sass Queen herself, Christina.
Christina Wyrick, horn
David Sorenson, piano
Venue: Central Michigan University, School of Music, Chamichian Recital Hall
Concert: Composition Studio Recital
Date: Sunday, April 9, 2017