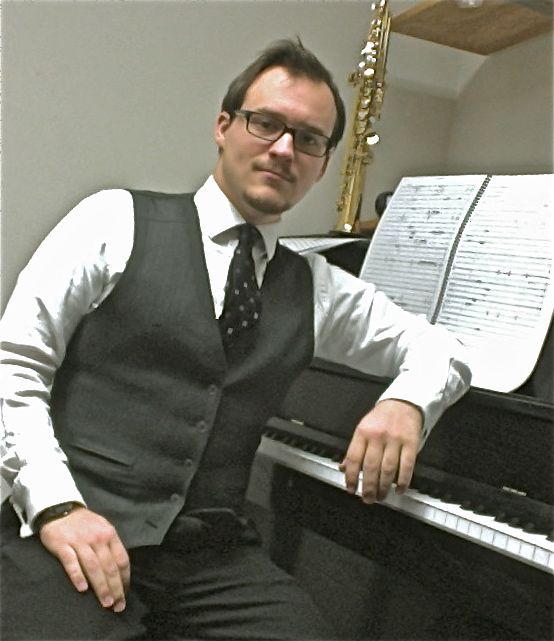 www.nealendicottmusic.com
Biography
Neal Endicott is a composer, saxophonist, and educator based out of the Lansing, Michigan area. Nealís music, which ranges from solo piano works to large-scale symphonic wind and orchestra compositions, is informed by his background in jazz, his modernist harmonic vocabulary, and a zeal for rhythmic and metric complexity largely inspired by his interest in Eastern European folk music.
Notable performances of Nealís work include the premiere of his chamber orchestra composition Digress by the Lviv Philharmonic as a finalist in the 2016 KLK New Music Orient/Occident Composition Competition; the premiere of his string quartet Against the Dying of the Light by the Susan Mayo String Quartet at the 2016 Region VI Conference of the SCI in Wichita, Kansas; Lux Liquida, a work commissioned and premiered by the Traverse City East Middle School Symphony Band; the premiere of Come Slowly, Eden by clarinetist Javier Perez-Garrido as part of the Vox Novus Fifteen-Minutes-of-Fame concert series in Alicante, Spain; and numerous performances by groups at Western Michigan University. Nealís music has also been featured on reading sessions with the WMU Symphony Orchestra, Symphonic Band, Concert Band, Ensemble Dal Niente, and the Mivos Quartet.
Neal currently serves as Professor of Music Composition at Saginaw Valley State University and is pursuing his Doctorate in Composition at Michigan State University where he studies with David Biedenbender. He holds a Masterís of Music degree in Composition from Western Michigan University where he studied under Dr. Richard Adams and served as President of the Western Student Composers Alliance. Neal has also participated in master classes and taken private lessons with Richard Danelpour, John Mackey, Dana Wilson, Dr. James Mobberly, Kathryn Salfelder, Trent Kynaston, and Dr. Scott Boerma. In addition to his degree in composition, Neal holds a Masterís of Business Administration and a Bachelorís of Music in Saxophone Performance from Western Michigan University.
Compositional Portfolio
Large Ensemble
Northsong (2014)
∑ for Wind Ensemble
On the Heroic Archetype (2014)
∑ for orchestra
Lux Liquida (2014)*
∑ for concert band (grade 3)
∑ premiered June 5, 2014 by the East Middle School Symphony Band, Traverse City, MI
Prelude for Orchestra (2014)
Ascension Fanfare (2014)
∑ for symphonic band (grade 4)
Northsong (2014-2015)
∑ for symphonic band (grade 6)
The Only Church (2013 Ė 2014)
∑ for wind ensemble (grade 6)
Odyssey(2013)
∑ for symphonic band (grade 4)
Chamber Ensemble
La Fee Verte de la Belle Epoque (2014)
∑ for woodwind quintet
Against the Dying of the Light (2014)
∑ for String Quartet
Harlequin (2014)
∑ for clarinet and cello
Two Pieces for Woodwind Quintet (2014)
Jump! (2014)
∑ for saxophone quartet (SATB)
Saxophone Quartet no. 2 ďThe FatesĒ (2014)
∑ for saxophone quartet (SATB)
Foldunfold (2014)*
∑ for brass quintet
The New Cult of Dionysus (2013)*
∑ for saxophone quartet (SATB)
Saxophone Quartet no. 1 (2013)*
∑ for saxophone quartet (SATB)
Voice
Three Dickinson Songs (2014)
∑ for baritone and piano
Solo Instrument
Nocturne (2014)
∑ for solo piano
Come Slowly, Eden (2013)*
∑ for solo clarinet
∑ premiered February 28, 2014 by Javier Perez Gariddo in Alicante, Spain
Waters (2013)
∑ for euphonium and piano
Boketto (2013)*
∑ for solo flute
Lt. Kije Fantasy (2013)*
∑ for tenor saxophone and piano
Two Part Invention (2012)*
∑ for solo piano, arranged for flute and alto saxophone
Riverrun (2012)*
∑ for solo alto saxophone
Introduction and Bacchanalle (2012)*
∑ for alto saxophone and piano
Other
Calling All: This Is Our Last Cry Before Our Eternal Silence (2014)
∑ fixed media: modified morse code