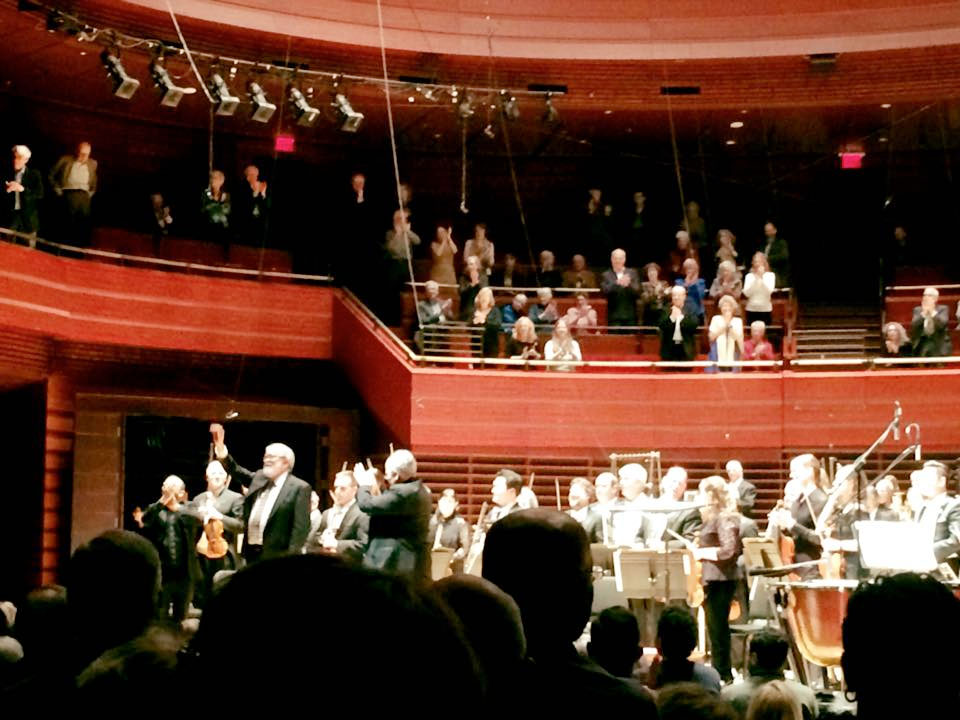 Onstage at Verizon Hall with timpanist Don Liuzzi, music director Yannick Nézet-Séguin, and the Philadelphia Orchestra.
Visit www.mauricewright.org
Maurice Wright's musical life began as a percussionist, when he performed a solo on a toy glockenspiel in a one-room schoolhouse in Buckton, Virginia. Shortly thereafter, he began to study piano, and within two years gave a public recital at the Bethel Community Church, which included "The Daring Young Man On The Flying Trapeze." He also began to experiment with electricity, wiring up a battery-powered telephone that ran from the basement of the family's house outside to an old maple tree. He ended piano lessons as he began to compose, and later began to study the trombone, playing in a brass quartet with friends, and composing short pieces for the group.
At age 13, his family moved to Tampa, Florida. He attended Florida State University's summer music camp, winning its Musicianship Award. While studying the Hindemith Trombone Sonata with Douglas Baer, Principal Trombonist of the Tampa Philharmonic, Wright spent a year with the Tampa Police Dance Band, rehearsing with armed musicians and performing at police social functions across the state. He also experimented with tape recorders, and studied FØRTRAN programming as a continuing education student at the University of South Florida. His compositions began to take on more substance, and, at the urging of a musician friend, he submitted two of them (Sonatina for piano, and Two Preludes for trombone and piano) with his application to Duke University.
A Mary Duke Biddle Scholar at Duke University, he graduated Magna Cum Laude with Distinction in Music, and became a President's Fellow and Harriman Scholar at Columbia University, from which he received his doctorate in 1988. At Columbia, he studied electronic music with Mario Davidovsky and Vladimir Ussachevsky, computer music with Charles Dodge, instrumental composition with Chou Wen-Chung and Charles Wuorinen, music theory with Jacques-Louis Monod, and opera composition with Jack Beeson.
Outstanding ensembles and soloists have performed his work, including the Philadelphia Orchestra, the Boston Symphony Orchestra, the Emerson String Quartet, and the American Brass Quintet. His visual music and electroacoustic music compositions have been performed on five continents. The American Academy of Arts and Letters, the Guggenheim Foundation, the Fromm Music Foundation, the Pennsylvania Council on the Arts, the Independence Foundation, and the National Endowment for the Arts have recognized and supported his work. Recordings of his work appear on New World, Innova, Equilibrium, everglade, CRI, and other labels. His compositions are published by APNM, Theodore Presser, Schott, and by the composer. He is Laura H. Carnell Professor of Music Studies at Temple University's Boyer College Of Music and Dance.