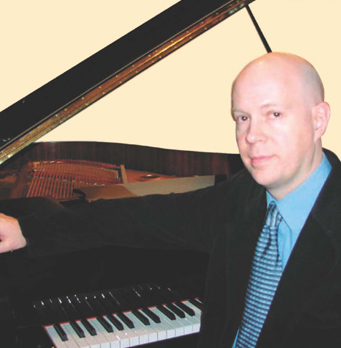 A composer and pianist whose work historically reflects musical cultures around the globe.
ARTIST'S STATEMENT / PROFESSION d'ARTISTE
The influences upon my works encompass almost every country and every culture. The late Romantic view that supposed "originality" is the most important criterion to being an interesting artist does not hold water for me.
Not only is it more emotionally honest to acknowledge one's influences, it produces works of higher caliber in my opinion. The approach of Bach and Shakespeare (two highly unoriginal but extremely profound talents) should be good enough for any of we mere mortals.
*** *** *** *** ***
Les influences sur mes œuvres y inclus presque tous les pays et toutes les cultures. Le point de vu Romantique à la fin de siècle 19e que «l'originalité» censé soit le critère le plus important d'être un artiste intéressant n'est pas valide, à mon avis.
C'est non seulement plus honnête d'admettre la source de vos influences, mais il permet les compositeurs de produire des œuvres d'une meilleure qualité, à mon avis. L'approche de Bach et Shakespeare (deux artistes qui manque vraiment d'originalité, cependant ils sont des artistes extraordinaire) serait assez bien pour nous-mêmes qui ne sommes qu'humain.
What people are saying... / Qu'est-ce qu'on dit...

"...a remarkably talented pianist...as a performer Davidson has few peers..." - Gramophone magazine
"...this new disk by...Matthew Davidson is extraordinary." - Steve O'Keefe, Cadence magazine, from his critique of The Graceful Ghost: Contemporary Piano Rags
"...his [Davidson's] stunning premier performances...mark...this pianist for landmark status and accolades -- adjectives for which one reaches for the Thesaurus: prodigious, consummate, mighty. Well -- sublime." - Max Morath, Vanguard Recording Artist
"He has...achieved a fine reputation as a concert pianist...and...his chamber music experience has given him exceptional insight into the workings of solo and chamber string music."- www.hbdirect.com
"The work of Matthew Davidson is written with intelligence and attention to detail." - Lysandre Hamelin, Musifax (magazine of the Music Teachers Association of Quebec) - Printemps 2011
"…[Davidson's work is]…simultaneously complex and communicative, very original, and with a well-defined identity." - Mauro Carli, ALIAS N.17 April, 2000
"…very charming, sophisticated, and very innovative..." - Prominent violinist of the violinfutura project, Piotr Szewczyk
*** *** *** *** ***
"… un pianiste vraiment doué…comme instrumentiste, Davidson a peu d'égaux..." - Gramophone magazine
"... ce disque de…Matthew Davidson est extraordinaire." - Steve O'Keefe, Cadence magazine, de son critique de The Graceful Ghost: Contemporary Piano Rags
"Il a…obtenu une bonne réputation comme pianiste de concert…et…son expérience en jouant la musique à chambre lui a donné un aperçu exceptionnel aux rouages subtil de la musique de cordes à chambre et en solo." - www.hbdirect.com
"…très charmant, raffiné, et très innovant..." – violoniste du projet violinfutura, Piotr Szewczyk
"L'œuvre de Matthew Davidson est écrite avec intelligence et minutie." - Lysandre Hamelin, Musifax (le journal de l'association des professeurs de musique du Québec) - Printemps 2011
«... [L'œuvre de Davidson est] ... à la fois complexe et communicative, très original, et avec une identité bien définie.» - Mauro Carli, ALIAS N.17 Avril 2000
À contacter / Matthew Davidson may be contacted at the following address: siamoisdesyeuxbleus@gmail.com
LIST OF WORKS / Une liste des œuvres:
2016: "Winnsboro Cottonmill Blues" (transcription of piano-two-hand version by Frederic Rzewski) for piano four hands (c. 11")
2014: "Symphony No. 1 in 20 Keys ('Letter to the World')" for large orchestra (c. 35")
2013: "Bergamasques" for solo violin (c. 14")
2012: "Trio Sonata" for flute, viola, and harp (c. 15")
2012: "Quatre mélodies québécoises" Music set to four poems by three Québécois authors: Albert Lozeau, Blanche Lamontagne-Beauregard, and Émile Nelligan (c. 12")
2012: QUARTETTO DELL'ARTE - String Quartet in Five Movements – (c. 25")
2012: "THE SINGING LESSON" – Chamber Opera in Three Acts Based on the short stories of Katherine Mansfield (PD) for 2 Lyric Sopranos, 2 Dramatic Mezzo-Sopranos, 1 Lyric Contralto, 1 Tenor Buffo, 1 Basso Buffo, and small chamber orchestra : Cl in Bb, Bsn, Tpt in C, Bs Tbn, Vln, Cb, and Perc (1-2): wind chimes, triangle, sleigh bells, cowbell, tam-tam, vibraslap, wood block, glockenspiel, xylophone, vibraphone, marimba, tubular bells, snare drum, bass drum, and celesta. (c. 1 hr 30")
2011: Zwei Motetten for SATB choir (c. 4'')
2011: Music for Viola & Orchestra (c. 15'')
2011: "Robert Schumann / Symphony No. 5" [Orchestration of Schumann's Piano Quintet in Eb, Op. 44] (c. 30'')
2008: Sonatine Pastorale pour le piano (c. 11'')
2008: Papillons (15 short pieces for piano solo) (c. 20'')
2008: Music for Piano with Orchestra (c. 30'')
2008: Menuetto (piano arrangement of Mov't 3 of Schubert's 5th symphony) (c.3")
2006: Music for String Trio (Violin, Viola, Violoncello) (c. 15")
2006: Music for Viola and Piano (c. 15")
2006: Nonsense Music (Mezzo Soprano and Piano) (c. 4")
2002: Six Chorale Preludes for piano solo (c. 12")
2000: After Brahms: Nine Concert Tangos for piano four hands (c. 9")
1999: Trois Oeuvres de Rameau - for Orchestra [arrangements of harpsichord works by Jean Philippe Rameau] [revised slightly 2009] (c. 10")
1997: Nicklettes (orchestral suite for children) (10")
1996: Nicklettes (solo piano suite for children) (10")
1995: In the Land of Wonderful Dreams (five movement suite for solo piano) (c. 25")
1993: Stolen Music for a flute player solo flute and/or piccolo (10")
1993: Etudes for Piano, Book I (five movements, c. 14")
1993: Etudes for Piano, Book II (five movements, c. 25")
1992: Millet Music for as many musicians as possible
(work for multiple percussionists) (Indeterminate length)
1991: "#5" for analog tape (6")
1991: I had five long years for string quartet (8")
1990: The Minute Passacaglia for analog tape (1")
1990: Three Elusive Rags for piano solo (10")
1989: Le Poème Inattendu for Large Orchestra [Revised & re-orchestrated 2009] (c.13")
1988: Signor Grinderino for analog tape (7:45")
1988: Between the Lines for analog tape (8:02")
1988: Music for String Quartet (revised 1996) (6")
1988: Deux Plaisanteries for (Eb) alto sax and piano (5")
1985: Magyar Rondo for solo viola (6")
1984: Five Vignettes for piano solo (10")
Compositions