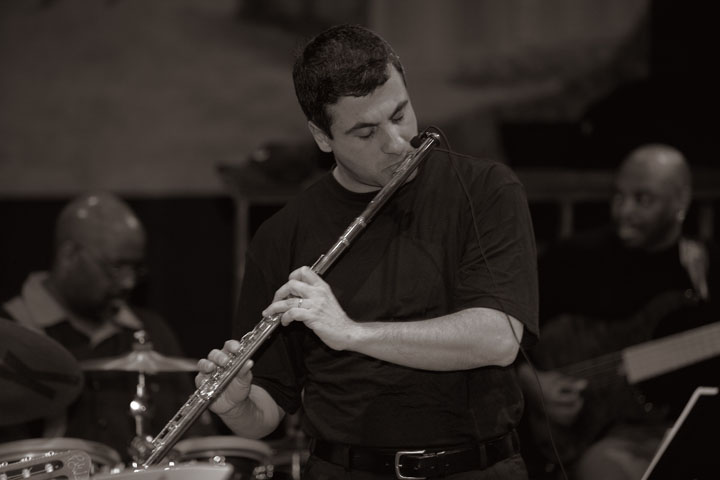 Marco is a scientist, composer and flutist at the University of North Texas
Marco Buongiorno Nardelli is University Distinguished Research Professor at the University of North Texas, a computational materials physicist, a composer, flutist and a member of iARTA, the Initiative for Advanced Research in Technology and the Arts. He is a Fellow of the American Physical Society and of the Institute of Physics, a founding member of the AFLOW Consortium and a Parma Recordings artist. His music has been premiered, among others, by the New York Miniaturist Ensemble, London's C.O.M.A. group, the Accessible Contemporary Music ensemble of Chicago, the Raleigh Civic Chamber Orchestra, GaTech's Sonic Generator, ICMC and University of North Texas NOVA Ensemble. Among his awards, the composition "Tzolk'in" for three marimbas was the winner of the 2010 Volta Trio Composition Competition. As a member of Ecco La Musica, he has released the critically acclaimed CD "Morning Moon" (Big Round Records, 2012).
Music and Data

In my most recent compositional project I explore the aesthetic potential of big data as artistic objects. Starting from the sonification and remix of complex data streams, my pieces reflect different approaches to data-driven composition and improvisation. Using the computer aided data-driven composition environment materialssoundmusic, the incoming data are manipulated with a broad palette of musical and esthetic choices before being finally engraved in the score. The music is born of a process like that of a sculptor who uses clay (the raw data) to mold any object or create any design, and embodies the continuous flowing of data all around us in a dialogue that ultimately reflects, in an artistic way, the binary nature of information.
Compositions