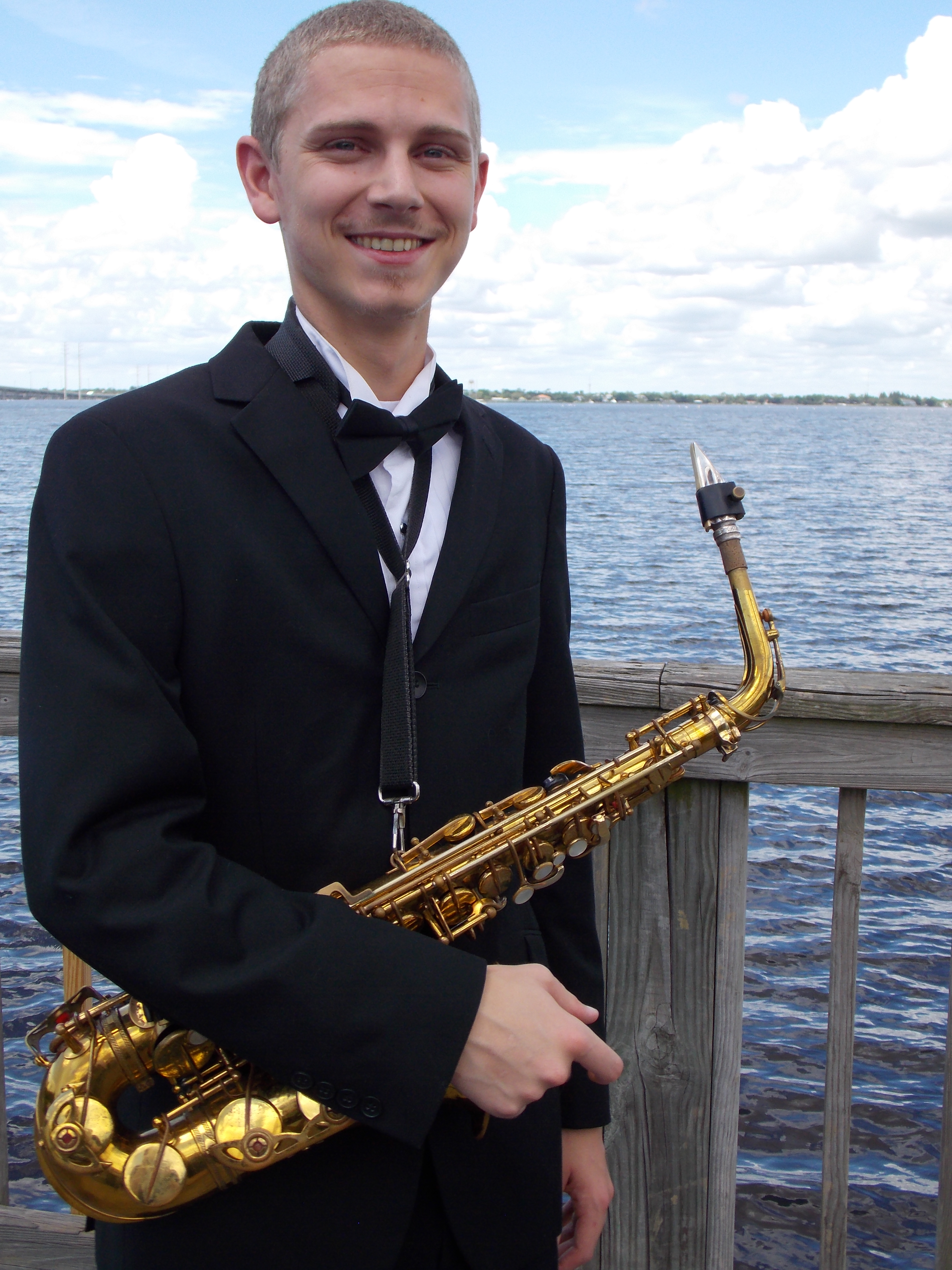 About Me: Kenneth A. Carter II (b.1992 Port Charlotte, FL) Currently attending Florida Gulf Coast University for a Degree in Music Education. Starting arranging while in High school for a student run group. Mr. Carter is currently studying Music Composition with Dr. Jason Bahr at Florida Gulf Coast University. Has composed mostly chamber works with a premiere of his first Wind Band piece in 2016. His piece "Nightmare for Saxophone Quartet and percussion" took first prize in FGCU'S 24 Hour festival. While not composing Mr. Carter enjoys spending time with his fiance and playing saxophone.
Works in Progress: "Children's Suite" for Concert Band "Seven Deadly Sins" for Saxophone (2 of 7 are completed) "A.L.Z." for solo Piano "Age of Industry" For Woodwind Quintet and Percussion
Completed Works: "Nightmare for Saxophone Quartet and Percussion" "Anarchy" for Two Saxophone "The Inventor at Work" for Saxophone Quartet "Erinnerungen aus dem Krieg" ("Memories from the War") for B-flat Clarinet, Cello, and Piano "North Port Rag" for Concert Band (to be premiered in 2016) "Concerto for Alto Saxophone" with SATB Saxophone Quartet "Wrath" For Saxophone Quartet "Lust" for Tenor Saxophone and Piano "Nothing Gold Can Stay" SATB Choir "Miniatures" for Bass Saxophone and Piano
Compositions
"Nightmare for Saxophone Quartet and Percussion"
Program Note: Nightmare for Saxophone Quartet was written for the "Red Tie" Saxophone Quartet during the 24 Hour Festival at Florida Gulf Coast University. Nightmare, takes you on an adventure through your subconscious to exploit, and exacerbate your greatest fears. The beginning portrays falling into a deep sleep with interjections from the soprano and alto saxophone signaling the nightmare coming on.The nightmare begins with a growling chord and sends the piece off to a frightening dance that leaves you wondering when this Nightmare will end….