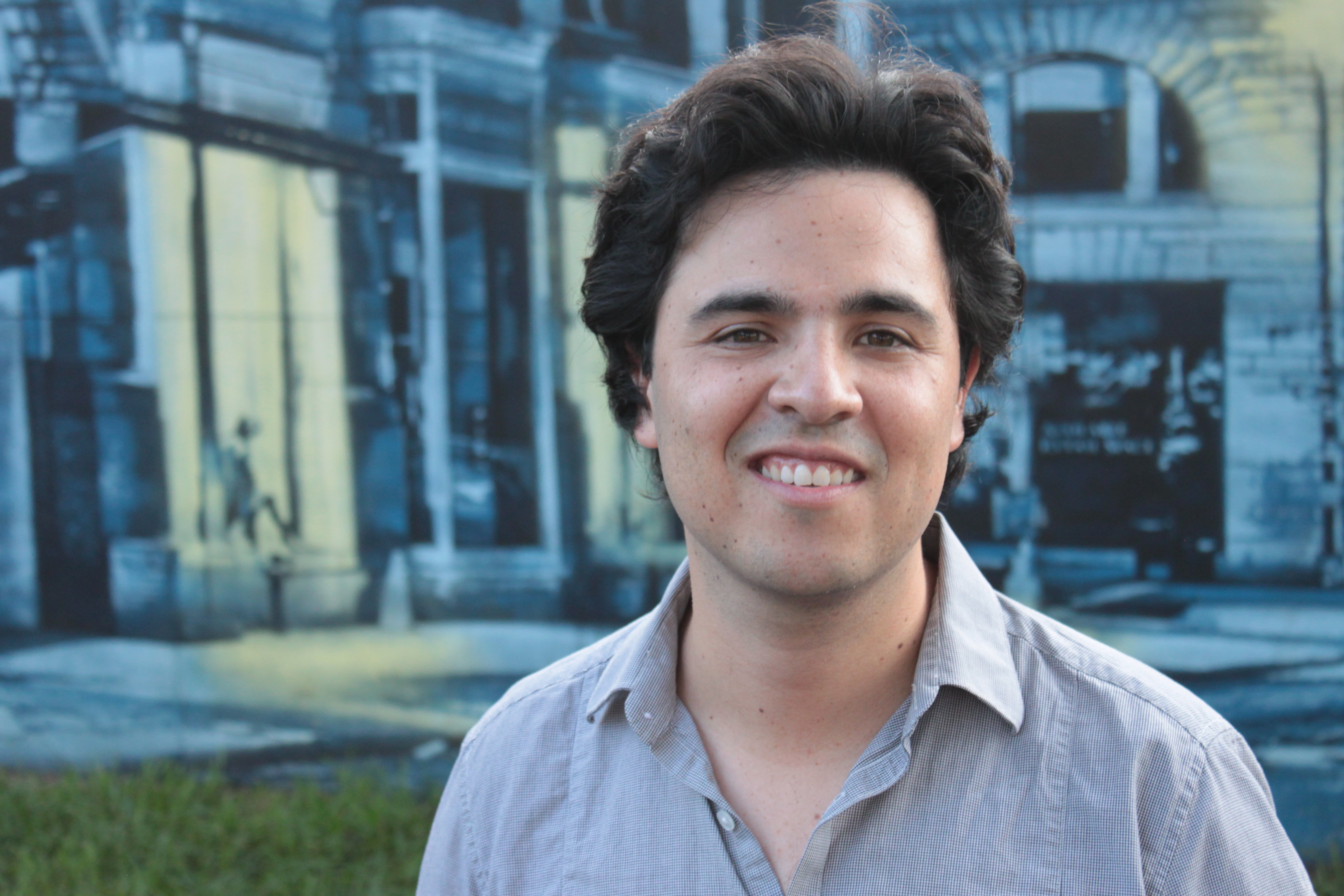 Julián Brijaldo
Julián Brijaldo (1983) grew up surrounded by a diversity of folk rhythms and popular music from different regions in Colombia. His first experiences writing music were as an arranger of his father's salsa band, where he was also the electric bass player. His first contact with classical music was when he decided to pursue an undergraduate degree in music and started his studies in classical guitar and composition. His portfolio covers a broad spectrum, going from contemporary classical music to film scores and popular songs. His most recent works include Memorias perdidas, for a capella mixed choir; SIMON, for symphony orchestra; Anatomy of Sur, for pierrot ensemble; the incidental music for the promotional video Vogue Thailand; the score for Neon, a short-film produced in Savannah, GA, by director Amin Shaikh; and the music for Forked Up, a web series developed in Los Angeles, CA. Alongside his recent work as a composer, Brijaldo also works as an arranger. Among others, he has arranged music for Rattette Jazz Band (Boca Raton, FL), and the Colombian Ministry of Culture (National Music Day, in 2012).
Find more of my music on www.julianbrijaldo.com
Brijaldo's music has been recorded and performed in different music scenes across the US, Colombia and Europe. Among others, his works have been performed at the soundSCAPE Music Festival (Italy), the 12 Neum Animated Film Festival NAFF 2017 (Bosnia and Herzegovina), the 2017 Cleveland Orchestra's season at the Adrienne Arsht Center for the Performing Arts (FL), the 2017 SCI National Conference (MI), and the FredBrass Institute (VA), where he was the 2017 Composer in Residence. His most recent awards include the 2017 Presser Graduate Music Award, the 2016 UM Concerto Competition in the composition category, and an Honorable Mention in the 2016 Colombian Composition Prize. Upcoming projects include the commission of a guitar concerto by Miami-based Cuban Guitarist Rafael Padrón; a violin solo piece for Violinist Eun-young Jung; and the commercial release of Anatomy of Sur, recorded by the Brno Philharmonic Virtuosi in Brno (Czech Republic) and Ablaze Records, and to be distributed by Naxos of America, Albany Music Distributions, Amazon and iTunes. He is presently a DMA Candidate in Composition at the University of Miami Frost School of Music, where he is also a Doctoral Teaching Assistant and a Senator in the Graduate Student Association. He holds a Master of Music from Florida Atlantic University, where he received the FAU Graduate Fellowship for Academic Excellence. Prior the start of his graduate studies, he also received the COLFUTURO scholarship; an academic recognition awarded to the most outstanding students pursuing graduate degrees abroad his native Colombia. Brijaldo earned his Bachelor of Music at Pontificia Universidad Javeriana (Bogotá, Colombia), where he worked as Music Theory Faculty from 2009 to 2013 and published different music theory textbooks in conjunction with other faculty and the Music Theory Department.
Compositions
SIMON, for orchestra
Simon Bolivar was proclaimed as "El Libertador" in 1813. Yet, the end of the war kept proving elusive, despite the recurring mention of its proximity in his notes and letters. It was not until 1824 that he achieved his final victory in Alto Perú (modern-day Bolivia); the last of the five countries liberated by him. Bolivar became the first president of Gran Colombia (a nation comprised of Venezuela, Nueva Granada and Ecuador) in 1821 and governed until 1830. A failed assassination attempt in 1828 and several rebellions led him to resign in 1830. Although his plan was to find exile and live his final days in Europe, his journey ended before setting sail, shortly after he reached the coast of Santa Marta, Nueva Granada (modern-day Colombia). On December 17, Bolivar passed away in the peaceful Quinta de San Pedro Alejandrino, just a few months after stepping down from the presidency. Drawing inspiration from Gabriel Garcia Marquez's El general en su laberinto, SIMON musically channels an imaginary of Bolivar's own perspective on his life and dreams of unifying South America. The primary melodic material is based on Marcha Libertadora (presumably Gran Colombia's national anthem), and the three main moments of Bolivar´s life are evoked in the main sections; the endless independence war, the assassination attempt in 1828 and the last months of his life, ending with the faint breeze of the sea and the rumor of the waves.
La paz es de todos, for a capella choir
Throughout more than sixty years the Colombian conflict has been described as a clash between different sides: the guerrillas, the state's army, the government, the paramilitares, and the drug traffickers. All of them have specific points of view, opposed to "the others'." However, a great number of anonymous voices have been inevitably trapped in the middle of the conflict, and have been presented only as simple dramatic anecdotes, collateral damage, and isolated victims of the war. Additionally, these voices have been highly affected by the war economic policies, necessary to achieve the end of the war. La paz es de todos is based on a crowd's march in the capital, protesting during the 2016 national strike. It calls for a peace with social changes that benefit everybody. Text and translation: La paz es de todos Claro que queremos la paz, y los que estamos aquí así lo decimos. (La paz de unos pocos no es de todos) Pero creemos que esa paz debe estar acompañada de los cambios sociales que tanto necesita el país. Text inspired by the 2016 national strike in Colombia: https://www.youtube.com/watch?v=OLq96RrFuWs Translation: Of course we want peace, and all the people here want it (A few peoples's peace is not everyones') but we believe that this peace must be accompanied by the social changes that the country desperately needs.
Conganess, for percussion quartet
What makes a conga drum what it is? What gives it its distinctive round, earthy sound? Would it be possible to turn any instrument into a conga drum? CONGANESS plays with these questions, and sets out to make a conga drum out of the combination of all the instruments in this percussion quartet. The foundation of CONGANESS was the spectrographic analysis of the four strokes found in a conga-drum salsa pattern: a tumbadora open stroke, a conga-drum open stroke, a conga-drum slap stroke and a conga-drum muffled stroke. The most prominent frequencies of each of these sounds were approximated to the closest pitches available, becoming the palette of sounds with which the piece was built. In CONGANESS, the lines of each instrument are intertwined in an imitation game, where the conga drums propose different musical ideas, which are echoed with variations by the rest of the instruments. As the imitations get closer together, patterns grow in complexity and density, progressively breaking down, spreading out through the ensemble. The four instruments converge as part of a blurred instrumental mass from which the conga drums break free, sprinting towards the end in an ostinato pattern, cheered on by every other instrument's newly attained conganess.
Atravesa'o, for solo violin and live electronics
ATRAVESA'O, for solo violin and delay pedal, is inspired in the Colombo-Venezuelan Joropo, a rhythmic dance that mixes syncopated fast rhythms in 3/4 and 6/8. Specifically, atravesa'o is a synonym of corri'o, one of the two Joropo variants. Both words represent a 'shifted' rhythmic accentuation. The delay effect generates a cloudy atmosphere, enhancing the dream-like harmonic sonority of the piece.