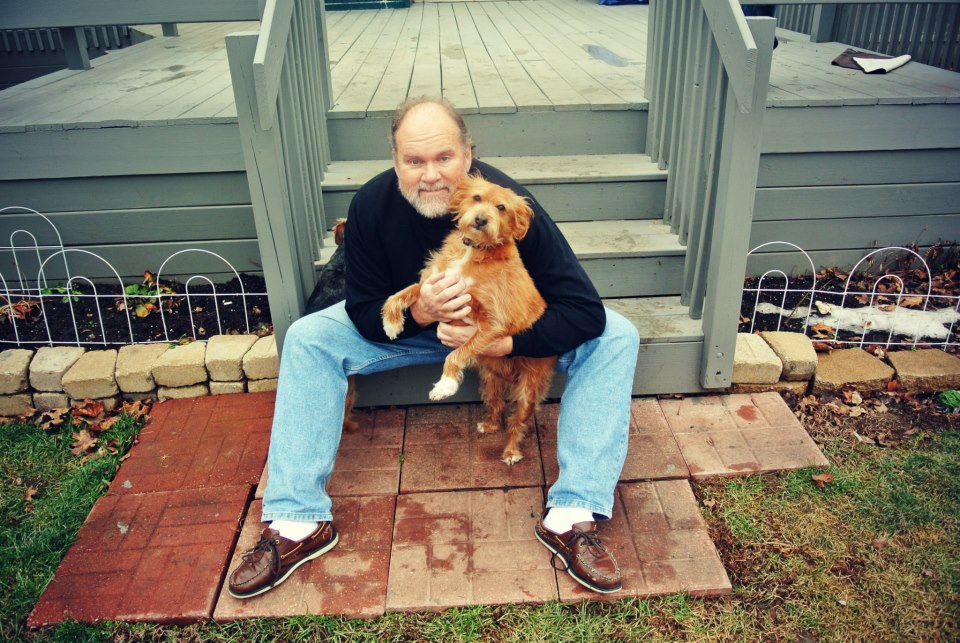 Boo Boo and Daddy, Christmas 2012
Jonathan Clarke Schwabe (DMA University of South Carolina) is Professor of Theory and Composition, and chairs the composition and theory area at the University of Northern Iowa. His works have been performed at the World Saxophone Congress, the Spoleto Festival, the Eastman School of Music, the SCI Midwest Festival, the Conductor's Institute , and the Midwest Band and Orchestra Festival. His orchestral work As I Remember was performed at the Kennedy Center in the summer of 1999 and has received numerous subsequent performances in the United States and Europe. In 2000 and 2004, his operas The Hard Years (in collaboration with librettist Beth Webb Hart), and The Sojourner (based on the Carson McCullers short story) were premiered at the Maude Powell Music Festival under the direction of Kevin MacMahon. In 2007 he composed songs for the musical comedy The Bake Shop Ghost in collaboration with author Jaqueline Ogburn. In 2010 he composed the work "Follow" for wind symphony and SATB choir to commemorate a visit by the Dalai Lama. His principal teachers include Samuel Adler, John Anthony Lennon, Dick Goodwin, and Peter Hesterman. He has participated in masterclasses with David Diamond, David Amram, and Karel Husa among others. His music is published by Musikverlag Bruno Uetz and Alafia Press. email : schwabe@uni.edu.
Compositions
End of Act One
This work, for viola and piano, was written in 2006. The duration is ca. 7 minutes. The piece starts out in an introspective mood, becoming gradually more aggressive. After a short cadenza,there is a return to the initial tranquil feeling.
Whirlybird
This is a rather short and grumpy piece for organ. This cut comes from the Forgotten Fantasies CD by my colleague Kui-Im Lee.
This is Thy Hour O' Soul
This is Thy Hour O'Soul is the third of a four-song cycle for tenor and orchestra (on poems of Whitman). Soloist here is my colleague Jeffrey Brich. Rebecca Burkhardt conducts the University of Northern Iowa SO.
Follow
This work for wind symphony and Chorus, was written to commemorate a visit to UNI by the Dalai Lama in 2010. The text is taken from the Dhammapada, with translation by Thomas Byrom.