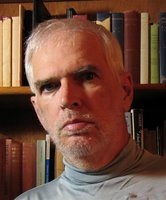 About Jon Corelis

Jon Corelis was born in California and grew up in and around Chicago, where he earned a degree in Classical Languages and Literatures at the College of the University of Chicago. He later took a doctorate in Classics at Stanford, and taught Classics and Humanities at Stanford, the University of California, and the University of Minnesota. After a subsequent career as a software specialist in Silicon Valley, he moved to Northeastern Wisconsin.

His poetry, criticism, essays, reviews, and translations have been published in books, magazines, newspapers, and web sites in nine countries, and he has given lectures and readings by invitation in America and Europe.

He has also written a performance version of Euripides' Hippolytos. He more recently has turned to composing songs and instrumental pieces. His music has been featured on the web site The Flexible Persona, has been performed in concert by the Wisconsin ensemble a very small consortium and by the New York State flute quartet Party of Four, and has been recorded by flutist Robin Meiksins for her YouTube recording project 365 Days of Flute, and by clarinetist Emily Mehigh for her YouTube recording project The Miniature Month of May.

For more information, links to his works on line, and a contact method, please see his web site.
A note to Society of Composers members:

It's with some trepidation that I present myself on the Society of Composers web site, since I'm frankly an amateur and self-taught composer with as yet no performance history, though I can claim a modest but respectable publication record as of writer of poetry and other genres. But a few professional composers and musicians with whom I've communicated have said that my work is of some interest.

Since I don't yet have performers to work with, and my own instrumental ability is rudimentary, all my compositions are currently in the form of pdf scores and mp3 sound files produced with software, with sound files of songs using either synth la-la voices or instruments to simulate vocals. But I don't consider myself just a writer of computer music: I hope that my works are performable and eventually will be performed.

My compositions are housed on various internet sites; probably the best place to find them all is on my Soundcloud pages.

Here's an overview to help people decide they might be interested in looking at my pieces, which fall into the following categories:

• Small ensemble instrumental arrangements of folk melodies (mostly Celtic) and French chansons.

• My own musical settings (sometimes based on folk melodies) of famous poems by great poets of the past. Most of these are in a style which would qualify them as art songs. The sound files of these use either synth la-la vocals or instruments to simulate vocals.

• Original songs with my own words and music, though again some of the melodies are based on traditional ones. Though some of these could be considered art songs, many are in popular genres like folk, blues, or novelty. For these pieces also, the sound files of these use either synth la-la vocals or instruments to simulate vocals.

• A few eccentricities, like songs based on ancient Greek tonal and metrical values.

• I've also written a translation of the ancient Greek tragedy Hippolytos by Euripides, in which the choral odes take the form of songs set to melodies from the medieval secular song repertoire. This is available on line (with sound files).


On Songwriting

Musicologist Robert Spencer wrote of the songs of Thomas Campion that his priorities were of the order "poem, melody, and lastly singer," and Campion himself defended the deliberate simplicity of his technique thus: "A naked Ayre without guide, or prop, or colour but his owne, is easily censured of everies eare, and requires so much the more invention to make it please." These comments well describe my own assumptions as a poet songwriter.





The Celtic Melody Library

Apart from my own work, a web site I've created which may interest some members of the Society of Composers is the Celtic Melody Library, a collection of well over one hundred traditional Scottish, Irish, Welsh, Cornish, Manx, and Breton folk tunes, given in simple monadic scores and brief sound files, which is intended among other uses to help composers looking for traditional Celtic tunes to include in their own compositions. The site, which is non-commercial, ad-free, and accessible without subscription or registration, is here.




Book reviews on Amazon


Folk Songs of Greece

Folksongs Of Britain And Ireland

Ancient Irish Airs and Dances: 201 Classic Tunes Arranged for Piano

Songs of American Sailormen

American Ballads and Folk Songs

A Medieval Songbook: Troubadour & Trouvere

Complete Country Dance Tunes from Playford's Dancing Master
Compositions