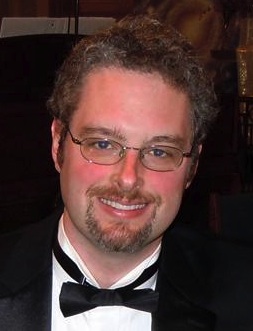 Headshot for the Kalamazoo Singers
John C. Griffin is a professor of music at Western Michigan University and Associate Director of Music at St. Catherine of Siena Church in Portage, Michigan. Griffin earned his Ph.D. in music composition from the University of Iowa, where he studied with David Gompper. He received his BM and MM in music from Western Michigan University. While at WMU, he studied piano with Lori Sims and composition with Richard Adams, C. Curtis-Smith, and Robert Ricci. Besides accompanying the Kalamazoo Singers, he has performed with the new music ensembles Opus 21 and Birds on a Wire, and has played for the Michigan Festival of Sacred Music. As a composer, his music has been featured at numerous conferences and festivals, including the Imagine 2 Electroacoustic Music Festival, the Electroacoustic Juke Joint, the UA-Huntsville New Music Festival, the Kentucky New Music Festival, the Boston New Music Initiative Concert Series, the National Flute Association Convention, and the Society of Composers, Inc. National Conference, as well as College Music Society International Conferences in Croatia (2009), South Korea (2011), Argentina (2013), and Scandinavia (2015). He also served as Composition Committee Chair for the 2015 CMS International Conference in Scandinavia. Griffin is a Finalist of the International Music Prize for Excellence in Composition 2011 and semi-finalist for the American Prize in Composition, and his music has been featured in the SCI Journal of Music Scores. His commissioned works were included in pianist Nicholas Phillips's "American Vernacular" album, and pianist Phoenix Park-Kim's "Memories & Variations" album. More information can be found at www.johncgriffin.com.
Compositions
Aggravated Avians
Commissioned by the Birds on a Wire new music ensemble at WMU, the piece features several different birdcalls imitated by the instruments. A sedate introduction and conclusion bookend an active and energetic middle section that includes canonic imitation in the strings.
Follow Your Gliss
Commissioned by flutist Tammy Evans Yonce, this work is for glissando headjoint flute and piano.
Lux Luceat
The phrase "Lux Luceat" translates from Latin as "Let the light shine." This piece embodies a sense of optimism during dark and difficult times. While an overall sense of hope prevails, there are moments in the work where harsh reality intrudes. Two up-tempo "A" sections bookend a reflective "B" section that begins with a romantic theme that is transformed into a sullen dirge. The romantic element reappears before the return of the upbeat "A" section. The piece concludes in a hopeful spirit with light ultimately prevailing over darkness. Lux Luceat was commissioned by the University of Wisconsin - Eau Claire Wind Symphony and conductor John R. Stewart.