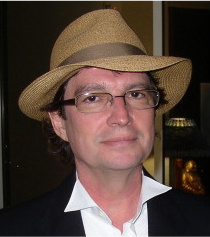 John's music, like a fine blended whisky, is a complex blend with hints of Fernyhough, Ives, Messiaen, and Baudino. Yet it retains that unmistakable Carolloian essence and is thoroughly original. This music is exciting, challenging, and fresh. A must hear. Three thumbs up! ~Robert Wehrman~
John was born in Torino, Italy and brought to the U.S. by his adoptive parents. When he was in grade school, studying classical piano and singing in the church choir, his musical friends were listening to English folk-rock music, mostly Fairport Convention and The Pentangle. Moving from Oil City, Pennsylvania to San Diego, California, he attended college, taking courses in music and psychology. During this time, John took piano lessons and began composing his first piano works. He graduated from San Diego State University with a Masters Degree in Psychology. Shortly after, he moved to Honolulu, began a full-time mental health career for the State of Hawaii and began taking private composition lessons with Dr. Robert Wehrman. John's first composition under Bob's tutelage was a piano suite in six parts. Following this effort, Robert encouraged John to compose an atonal work entitled Frenetic Unfoldings for Solo Violin. After completing this large work, John focused his energies on compositions which incorporated various instrumentation.
Music should express the drama of life. It seldom repeats. It is not always beautiful, nor is it always tragic, but filled with various splendid delights. All we need to do is be attentive.
Compositions