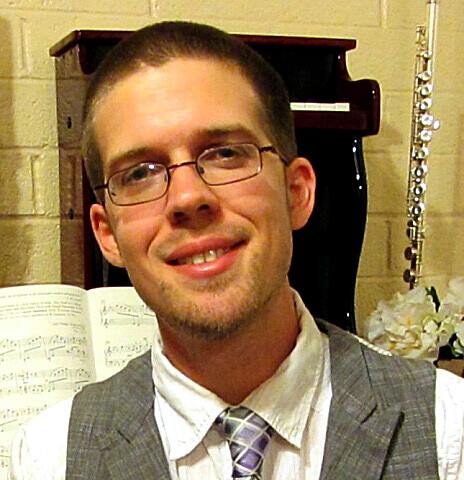 Known for opus numbering all of his Facebook status updates, Jeff is quite the prolific composer...
Jeff has played clarinet since 1993 and studied privately with Christian Ellenwood and Jana Starling. His favorite clarinets are the alto, bass, and contrabass. Jeff is a self-taught recorder player and has experience on sopranino, soprano, alto, and tenor recorders. While an active member of the Whitewater Early Music Ensemble and ASU Baroque Ensemble, he has performed various sonatas, cantatas, and ensemble music. He has even featured his own solo recorder work with the Phoenix Early Music Society. He currently plays saxophone with the Arizona Wind Symphony and bass flute with Desert Echoes Flute Project.
Jeffrey Ouper is an emerging neotonal composer of the southwest, influenced primarily by the music of Ravel, Stravinsky, Bernstein, Barber, and Rorem. He recently graduated with a D.M.A. in Music Composition at Arizona State University and has a M.M. in Music Composition from Arizona State University and a B.M. in Music History/Theory from the University of Wisconsin Whitewater. Jeff has written several works in many different genres ranging from traditional wind band settings to choreographed solo pieces with video and has been commissioned to write original works and arrangements. His music has been performed locally by community ensembles like the Arizona Wind Symphony and nationwide by similar ensembles. In addition to composition Jeff teaches private music lessons to many students young and old throughout the Phoenix metro area through his independent small business Dr. Jeff Music Lessons. www.jeffouper.com
Jeff's doctoral dissertation From Machine to Instrument: A composer's Perspective of Turntables Composition is one of the first comprehensive guides to incorporating turntables with traditional classical instruments. It includes information drawn from interviews with important turntables composers Nicole Lizee, Gabriel Prokofiev, and Paul Leary. Various notation methods, approaches to composition, historical background, information about the instrument, and challenges faced by composers are discussed with the goal that this knowledge will guide future composers in writing for the instrument from a more informed perspective.
Compositions
Embers (for Wind Ensemble)
Originally written for clarinet ensemble, Embers was first performed in the Whitewater First United Methodist Church on December 4th, 2005 and was transcribed for band and orchestra shortly after its premiere. I was sitting peacefully with my mother enjoying the comfort of a warm beautiful fire when the opening melody (a sort of lullaby) surfaced in my mind. I named it Embers so that I would remember the glowing embers of the fire I enjoyed and the solitude my mother and I shared that night. The continuous rich low textures emulate the warmth of the fire until, for a moment, we are reminded of the fragile lullaby in high woodwinds. Embers reaches its climax in D-flat major as the last log is set on the fire and the flames gradually engulf the wood in a surge of warmth and beauty. The fire dies down to reveal the glowing embers of a different color, until the fire burns out completely.
Finale from Sonata for Three Clarinets
The atypical instrumentation of this piece was inspired by the untransposed performance of simple Christmas trios using clarinets in different keys. I concocted this idea in the moment during a fundraiser, and we were all highly amused by the different character that repossessed the Christmas tunes. The idea of creating a sonata of varying movements originated from my interest in Francis Poulenc's Sonata for Two Clarinets, which utilizes clarinets in both A and B-flat. I perceive the final movement of my Sonata for Three Clarinets as a musical rant relating to my dislike for cellphones. While the clarinets do not specifically imitate the sounds of ringing cellphones, the short imitative motivic cells shared by all the clarinets represent the spread of popular annoying ringtones. The rhythmic character of Poulenc's 1st movement in his Sonata for Two Clarinets was the initial inspiration for the primary theme of my final movement. The other movements of this sonata are in various stages of completion. They include a prelude, elegy, and a polytonal fugue with a sarabande-like subject. In the fugue, I used the traditional intervallic relationship between subject and answers, but I left the parts untransposed, building on my experience performing the Christmas trios. The prelude is fashioned to explore the unique personalities and timbres of these instruments, while the elegy brings all three clarinets together to form a chromatic cohesive lament.