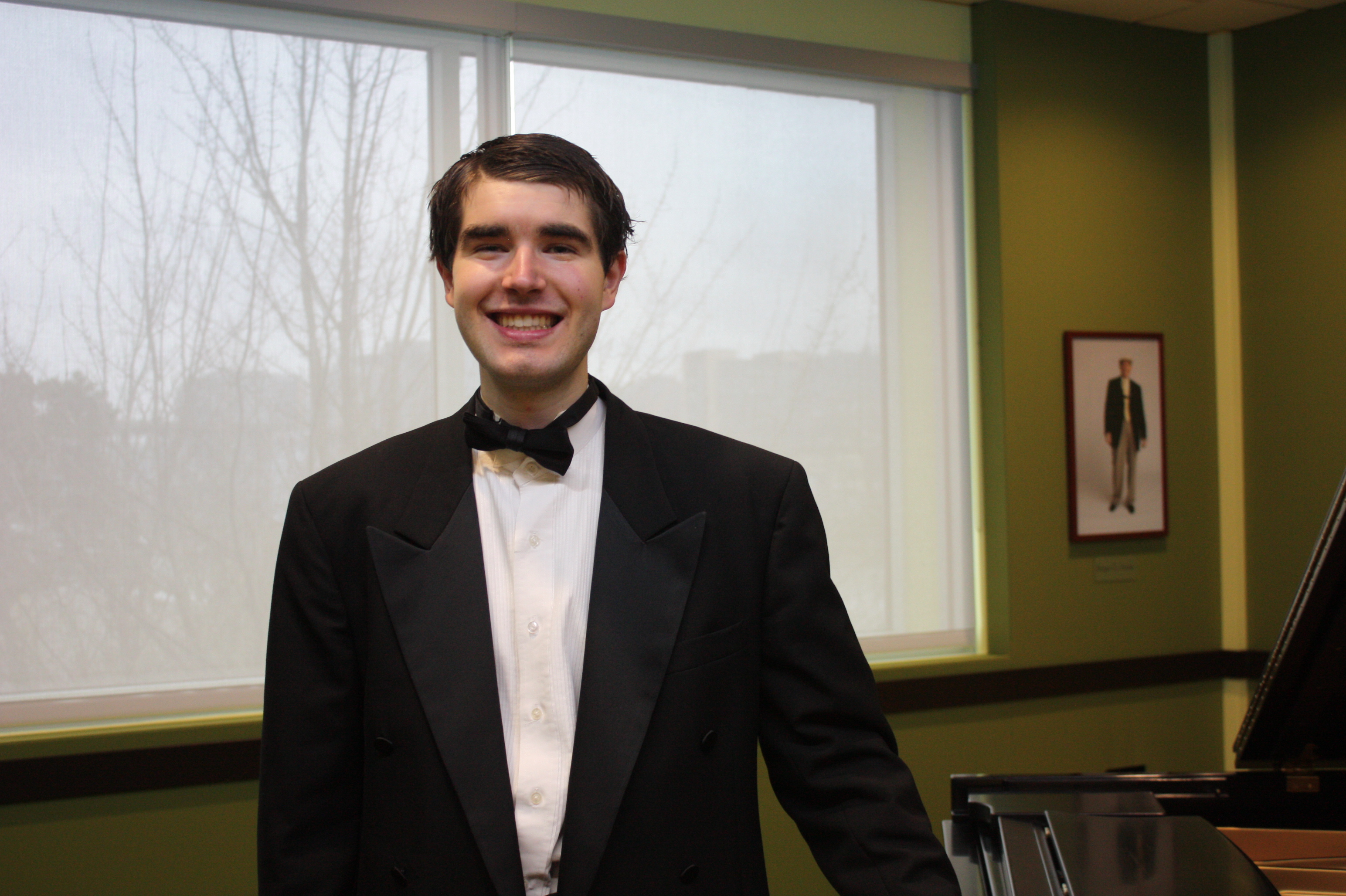 Ian Evans Guthrie also loves performing solo and collaboratively on the piano.
Hello fellow composers! Thank you for visiting my page! I have included some of my latest works on this page; however, since I can only include a select few pieces, I also encourage you to visit my website at ianguthriecomposer.com for more information - like my CV, biography, list and recordings of compositions, and business!
Ian Evans Guthrie (b. 1992) is quickly emerging as a tour-de-force American composer. He has recently received 1st prize for the Arcady Composition Competition and 2nd prize for the American Prize in addition to his many other composition and performance prizes and recognition from ASCAP, SCI, MTNA, National Federation of Music Clubs, Webster Community Music School, and other nationally- and regionally-recognized music organizations and clubs. In addition, many of his works have been performed publicly around the nation from groups such as fEARnoMUSIC, Portlandís Metropolitan Youth Symphony, the Northwest Symphony Orchestra, the Moore Philharmonic Orchestra, March Music Moderne, the Atlantic Music Festival, the Charlotte New Music Festival, the Clear Creek Music Festival, the Oregon Bach Festival, and the 2014 Pierrot Lunaire Project. His latest commissioned works include an extended work for flutist Erik Drescher. He has served on various committees, including the Society of Composers, Inc., where he has served as the Region VI Student Representative since 2015. Guthrie is an equally accomplished pianist and began playing the piano at the age of seven. He began accompanying choirs and soloists at nine, and two years later later appeared on the Vancouver Seafarerís Concert. Most recently, he has won and 2nd prize in the Great Composers Competition: Music of America and many other top prizes from GCC competitions. He has also won the 2013-14 Oregon MTNA young artistís competition, the 2014 Brookings-Harbor Friends of Music scholarship, and 1st prize in the college-level OMTA scholarship competition in 2012. In September 2008, under the instruction of teacher Barbara Roberts, he and fellow student Mary Stone performed Saint-SaŽnsí Carnival of the Animals with Portlandís Columbia Symphony Orchestra. He has studied piano with John Owings (2015-16), Gloria Lin (2014-15), Renato Fabbro (2010-14), and Barbara Roberts (2004-10), among others. Guthrie is currently pursuing his Doctor of Music at Florida State University and is scheduled to graduate in Spring 2020. He received his Master of Music in Composition under a graduate teaching assistantship at Texas Christian University, where he studied with Till Meyn and Martin Blessinger. He has also studied composition with Martin Kennedy (2014-17), Blaise Ferrandino (2014), John Paul (2012-14), and Robert Priest (2006-09), among others. Guthrie has also been mentored by John Mackey, Dmitri Tymoczko, Amy Beth Kirsten, George Tsontakis, Robert Paterson, Martin Kennedy, and others; and performers such as Sheila Allen (Yeomans) and Sarah Dunham. For more information about Ian Guthrie and his music, please visit ianguthriecomposer.com.
Compositions
A Farewell Elegy (2017)
This is my most recent work for piano. As with many pieces, the title is actually more open-ended than it sounds, and you are free to come up with the most suitable image for you.
String Quartet no. 1 (2016-17)
The two movements of this work come from two commissions: one from the highSCORE Festival and the other from the Red Note Festival. Since the first movement was to be performed in a resounding cathedral, I wanted to use elements of plainchant along with my more post-tonal and metrical idiosyncrasies.
Erebus (2016)
Erebus is both the Greek god of darkness (descended from the god Chaos) and the most active volcano south of the equator. Both are crazy, in my opinion. This piece was my first attempt at live music with electronics.
Journey Through Cascadia (2014-15) - excerpt
Thanks to the collaboration with coloratura Sarah Dunham, this work has become one of my greatest successes and was much fun. It last nearly a half-hour, so I just have an excerpt on here. I encourage you to listen to the entire cycle at https://soundcloud.com/ian-guthrie-composer/sets/journey-through-cascadia.