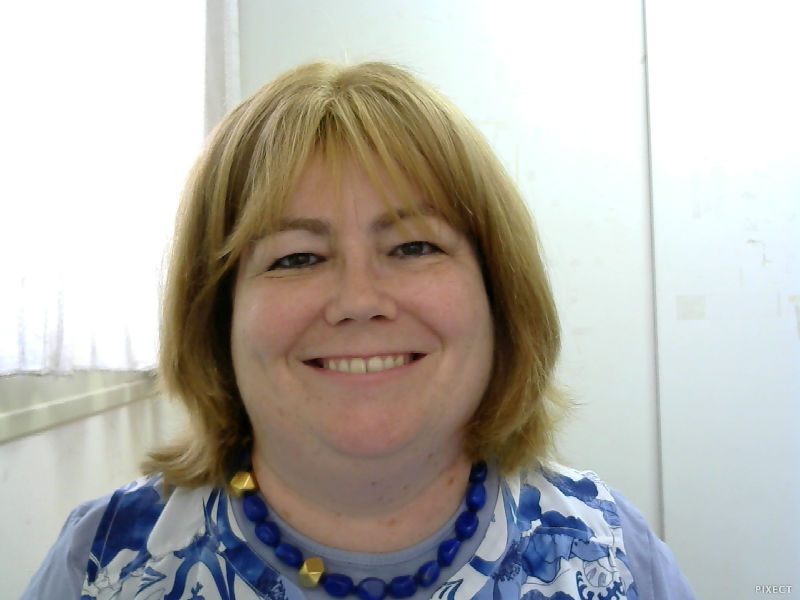 Gila's personal webpage is www.carcas.net
Born in England in 1963, Gila (known outside Israel as Gillian) Carcas has composed over fifty pieces of music, ranging from solo and small chamber works to full orchestral pieces and a chamber opera. Compositional studies were undertaken with Sebastian Forbes, John Casken, Erika Fox and with Peter Manning for electroacoustic music. Qualifications include a PhD in Composition from Durham University, which was received in 1996. Performances of Gila's work have been given by many artists and ensembles, including Jane Chapman, Gemini, EOS, Double Image, the Bingham Quartet, Musica Mundi, the New London Chamber Choir, the West Sussex Philharmonic Choir, the Durham Singers, Jane's Minstrels, Rosy Voices, Ensemble Alternance and Synchronia. Since moving to Israel in 2004, Gila has also arranged many Jewish melodies for ensemble. In the past, Gila has taught theory and composition at the Royal College of Music in London and also spent a year as Visiting Lecturer of Composition at Southampton University. She continues to teach privately. Gila's music is atmospheric, evocative, dramatic and lyrical. A review of her orchestral piece "In Search of Loriel" in its performance by EOS described it as "music which seems to come from the space between the space between the stars. . .It is a glowing, sensitive work we should hear much more of." (Peter Buchan, West Sussex County Times, 27 June 1997). She has recently completed a CD of instrumental music composed by her, entitled "Transformations".
See press release for Gila's CD "Transformations" at www.musicandmediaconsulting.com/download/MMC109%20%20-%20Transformations%20-%20Music%20by%20Gila%20Carcas%20%20PRESS%20RELEASE.pdf Copies of the CD are available to purchase through Music and Media Consulting.
Compositions
Magma [solo piano]
When I was still living in England, I often enjoyed watching the Royal Institution Christmas Lectures which featured a scientist talking to young people about his or her area of specialization, with many interesting experiments to go along with the explanations. In December 1995 I was fascinated by the series on tectonic plates and volcanoes. There are two main types of volcano, depending on the nature of the movement of the earth's surface at the tectonic plate, violent exploding ones such as Mount St Helen's or those oozing lava such as Mt Etna. In this piece, which was premiered by John Thwaites in 1996 and was a co-winner of the Cornelius Cardew Composition Prize at the end of that year when it was played by Stephen Gutman, I sought to characterize both varieties of volcano with sharp explosive chords interspersing fast passages of low unison playing suggesting menacingly fast-flowing lava. There is a slower and quieter middle section which gradually builds up steam to reach the final part that is almost an exact mirror image of the first. So the actual shape of the piece is conceived as cone-shaped in construction, reflecting the typical form most associated with a volcano. The performer on this recording, which is included in my CD "Transformations" is Ofra Yitzhaki.
Indigo Dreams [solo double bass]
"Indigo Dreams" for solo double bass, premiered by Danny Felsteiner in 2010 who also plays the piece on the recording, was composed in 2001. The ideas explored originally stem from an earlier work from 1991 – "Suite in Gold and Blue" - when a solo double bass was used to imitate the sound of an Australian didgeridoo in a short movement entitled "Nighttime Dreaming", referring to the Aboriginal concept of "Dreaming" which evokes the sacredness of the earth. Hence the title of this piece, "Indigo Dreams": in this later work the techniques of shifting from bowing normally to the wispy sounds of bowing as close as possible to the bridge (sul ponticello) and back again, the use of microtones, harmonics and glissandi are explored much more thoroughly and expansively but still hark back conceptually to the earlier "Dreaming".
Cissbury Ring [clarinet in A, violin, cello and piano]
One of the two "Rings" on the South Downs, Cissbury Ring, the largest hill fort in my home county of Sussex in England, is about sixty-five acres in size and has a history dating back over 5000 years. It is a place I often liked to visit and it has wonderful views of the sea only a few miles away. This piece was commissioned in 1995 by South East Arts, Horsham District Arts Council and Horsham Music Circle for a premiere by the ensemble Gemini, which took place in November of that year. I used my imagination of the long history of the site, from the time of Neolithic farmers to what would have been impressive walls and ditches built in the Iron Age, to its crumbling into disuse but still with a clear presence, in constructing the music. Musically there is a deliberate and gradual transformation to an open chord on E in the middle of the piece, a pitch which for me, with its connections to the bright key of E major, is full of light, before more notes are added back into the music evolving into a downward progression of melodies culminating in the repeated struck harmonics on the piano strings which also open the piece. This piece is included on my CD "Transformations" and is also uploaded onto youtube. [https://www.youtube.com/watch?v=bXkKsnL_hl0] The performers are Danny Erdman (clarinet), Yael Barolsky (violin), Ella Toovy (cello) and Imri Talgam (piano).
String Quartet no. 3: "Encountering the Creator" [2 violins, viola and cello]
This string quartet was composed over a period of about three years and was completed in 2009. It is rather less experimental than most of my earlier works and is presented in a relatively traditional three movement format of a faster movement followed by a slower movement and concluded with a fast finale. There are thematic connections between all three movements and the musical language is largely based on focal pitches of E and D, with strong modal and tonal resonances in the way the music is constructed. The inspiration for this piece is the Temple Mount in Jerusalem, the holiest site of all for the Jewish people, and a deeply personal spiritual and life-changing experience I was privileged to have just underneath it at the Western Wall. Personally, I have never entirely recovered from a totally unexpected and utterly overwhelming visionary experience of being in the presence of G-d that I experienced there just after Pesach in 2004. Words do not begin to express that night, the sense of rising above the clouds, of being in the stars, of 'seeing' that all there really is is G-d and being completely embraced by the infinite Creator. Although music can reach to places that words cannot, it still cannot reach anywhere close to that night. Nevertheless as a composer, I believe I have the right and perhaps also the duty to make an attempt. Hence the overall title of the work, 'Encountering the Creator'. The first movement, 'Standing on the Temple Mount' relates to visiting and standing physically on the Temple Mount for the first time in 2003 and imagining something of the Temple services that took place two thousand and more years ago. However the music sounds rather more English than Jewish, because my musical style essentially harks from the English pastoral tradition. It is the second movement that contains my attempt to express in music at least some small part of the unbelievable infinite love and reality of G-d that I experienced that incredible night in 2004. Entitled 'Infinite Embrace', there is a gradual musical build-up to fortissimo before the sound dies away into the distance. The Infinite Embrace still exists even though it is largely hidden once more. For the finale, 'Entering the Temple', I am looking forward to the future prophesied in the Tanach when the Temple has been restored and there is much joyful pleasure for all humanity in the openly revealed loving presence of the Creator. Near the end of the movement there is a short return of the main musical theme of the second movement, and a final resonant chord of D major completes the work. The whole world openly celebrates the wonderful miracle of life given to us by G-d, and the worship of the Creator of us all is focussed on the rebuilt Temple as prophesied by Isaiah (chapter 56 verse 7): "For my House will be called a house of prayer for all peoples". The recording here is of the second movement of the Quartet, which has also been uploaded onto youtube. [https://www.youtube.com/watch?v=O5xvy1rBePM] Additionally, the first two pages of the score of this movement can be viewed using the pdf link above. The performers are Natasha Sher (violin 1), Eddie Reznik (violin 2), Andrea Hallam (viola) and Avigail Arad (cello).