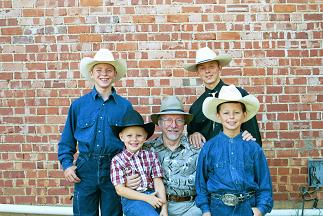 For current information, especially about my writing, please see my web site at

http://www.geraldwarfield.com



At Home

Above you see me with four of my great-nephews in Mineral Wells, Texas, where I now reside. They are, left to right, Lucas, Jared, Keith, and Carlton Stone.


_________________


After leaving Princeton in 1970 I moved to New York where I lived for 30 years. During this time, around 1985, I changed professions (painlessly) to that of writer--witness my list of publications on the right.

In early 2000 I resigned my position as general manager of SCI and left New York for Texas to be close to my sister and to help with the family of one of my nephews (witness my great-nephews above!).

As fate would have it, I returned to SCI in 2002 to manage the Society from a virtual office in Mineral Wells. Here I hope to be a help to my sister in her final years, to be a good great-uncle, and to keep SCI running. I also hope to publish my novels as well as place as well as place my out-of-print music theory books on the Internet. A more recent note: my sister is gone now. The boys pictured above, as well as my other great nieces and nephews are growing up fast. Some are in college. I hope I was a help. I try to contribute to the community. I am chairman of the advisory board of our local library. I cast about for an agent for my novels, and I continue to write.



Email Gerald Warfield

PUBLICATION LIST

A Beginner's Manual of Music 4B

, 1967 (Princeton University)

Layer Analysis: a Primer of Elementary Tonal Structures

, 1976 (Longman Music Series)

Writings on Contemporary Music Notations

, 1977 (Music Library Association)

How to Write Music Manuscript

, 1977 (Longman Music Series)

Introduction to Musical Notation

, 1976 (filmstrip—Educational Audio Visual)

Layer Dictation

(with Richard Brooks), 1978 (Longman Music Series)

The Investor's Guide to Stock Quotations

, 1982 (HarperCollins) four editions

How To Buy Foreign Stocks and Bonds

,1984 (HarperCollins)

How To Read the Financial News

, 1986 (HarperCollins)

Export-Import Financing

(with Harry Venedikian), 1986 (Willey & Sons) four editions

No Nonsense Guides to the Stock Market

(1991),

Mutual Funds

(1991),

Tax-Free Bonds

(1992),

Managing Your Stock Portfolio

(1993),

Money Market Funds

, (1993) all published by Longmeadow

Feng Shui Revealed

(with R.D. Chin), 1997 (Clarkson Potter)

UNPUBLICATION LIST (novels)

Treader From the Sea

– the story of a green sea turtle and the two great nesting colonies in the Caribbean: Tortuguero, Costa Rico; and Aves Island in the eastern Caribbean.

The Last Gargoyle

– the story of a girl's summer in Philadelphia and her discovery of the last gargoyle, an ancient creature imprisoned from the time of King Arthur and stolen from a cathedral in Normandy. (Young Adult)

The Easter Island Murder

– a man goes to Easter Island seeking a possible half-brother to discover that not only does his half brother exist: he is a drag queen and charged with murder.

Disciple of Earth

-- a young, gay, indentured servant attempts to become a mage despite the rigid stratification of the medieval world in which the story is set. It is a story of heroes and the awakenoing of love.

ARTICLES

Boston Globe

,

Los Angeles Times

,

Fort Worth Star Telegram

,

Groves Dictionary of Music and Musicians

(1976 edition),

Strategy-Plus

(computer game magazine), and

SCI Newsletter

.

My first short story, "And Happiness Everlasting," was published in 2010 in the Canadian Anthology TIMELINES. For more of my writing, please see my website at http://www.geraldwarfield.com

______________________________________________________________________________


THE REST OF THE STORY...

GERALD ALEXANDER WARFIELD, composer, writer. Born in Ft. Worth, Feb. 23, 1940. Son of George Alexander and Geraldine (Spencer) Warfield.

Education: Arlington Heights High School, 1955-58 (Fort Worth); Texas Christian University, 1958-61; B.A., North Texas State University, 1963, M.Mus., 1965; M.F.A., Princeton University, 1967; postgrad., Tanglewood, summers 1963-64.

Professional Positions:

Instructor, Princeton University, 1968-71
Associate Director, Index of New Music Notation, New York, 1971-75
Lecturer, contemporary music notation
Member, conference committee, International Conference on New Music Notation, Belgium, 1974
Chairman of the Program Committee, 2nd National Conference on Music Theory, 1977
Chairman, 9th Annual Conference, ASUC, 1974
Editor: Longman Music Series, 1976-85. Professional books in music including the English translation of Free Composition (Die Freie Satz) and other works by Heinrich Schenker.
Chairman, Executive Committee, American Society of University Composers, 1972-74 Founding editor, ASUC Journal of Music Scores
General Manager, ASUC/SCI, 1977-1999, 2002 --)
Treasurer, American Composers Alliance, 1979-96 (Executive Director [pro-tem] 1994-1995)
Council, College Music Society (conference chairman, 1981)
Broadcast Music Inc.

Music compositions include: Three Movements for Orchestra, premiered by the Dallas Symphony, 1966; Thirteen Ways of Looking at a Blackbird, 1968 (1st prize, N.J. Chapter of National Society of Arts and Letters); Incidental Music to Hippolytos, 1977; Variations and Metamorphoses, 1973 (1st prize Arizona Cello Society); Fantasy Quintet, 1978 (2nd prize New Music for Young Ensembles).