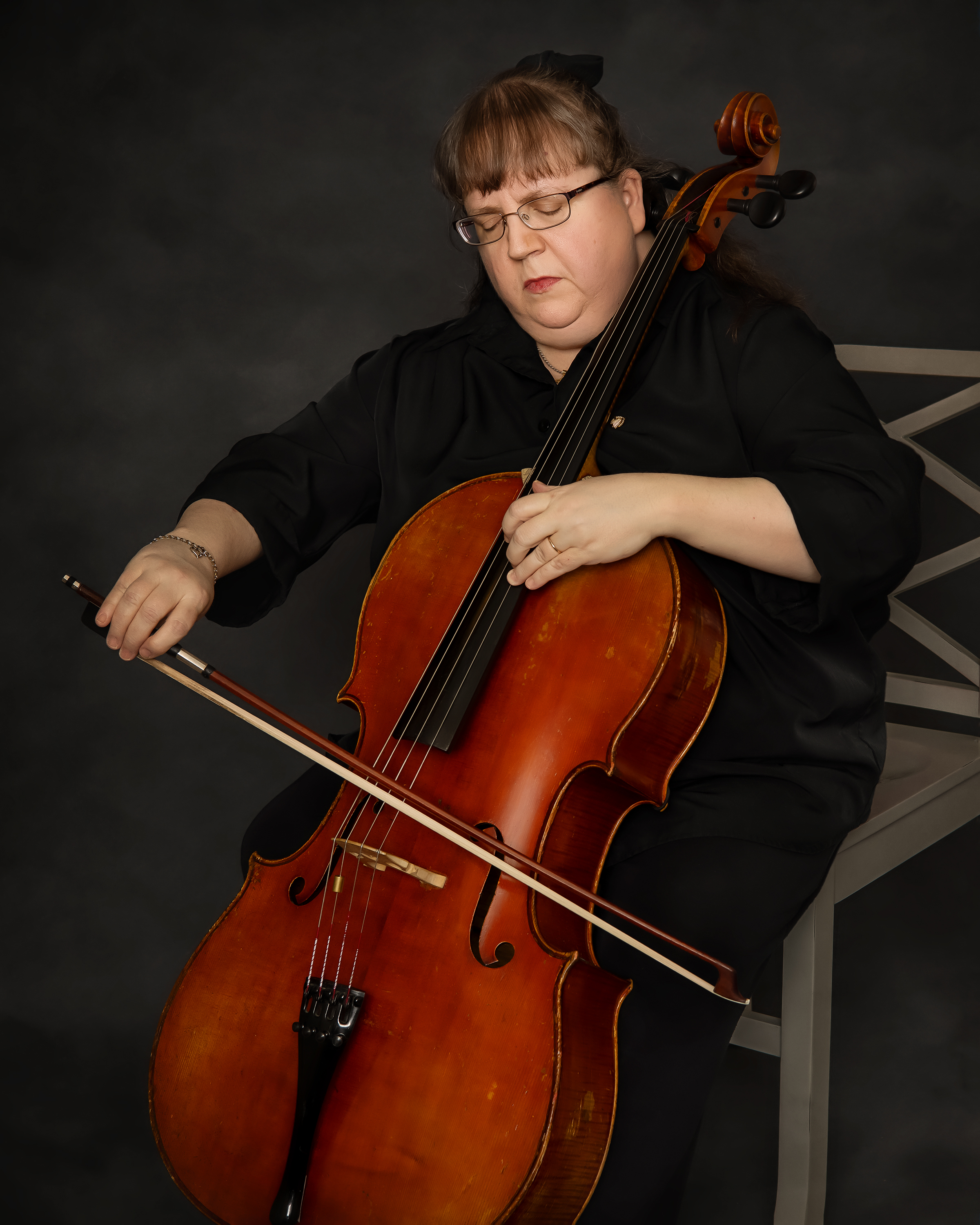 Born at Womack Army Hospital, Fort Bragg, North Carolina, Davis grew up moving frequently until her family finally settled in southern Indiana. Initially she studied voice with her mother, then piano and organ at nine and cello at thirteen after having been piano accompanist for her junior high school string orchestra for two years. She completed her primary and undergraduate studies in Indiana, earning a B.M. in cello performance from the University of Evansville (Indiana).

While pursuing a master's degree at Louisiana State University (Baton Rouge, LA), she shifted majors from performance to music theory, then ultimately to music composition. A student of Dr. Dinos Constantinides, Davis earned several awards during her time at LSU, including third prize in the 1989 ASCAP Victor Herbert Young Composers competition, Voice with Orchestra category with Oriana's Lament for soprano and chamber orchestra. Her Trio for Clarinet, Cello & Piano was one of seven honorable mentions in the 1991 ASCAP Victor Herbert Young Composers competition, Small Ensemble category, and was also featured at the Second Festival of Women Composers at Indiana, Pennsylvania in March, 1991.

Davis performed professionally for seventeen years with two major metropolitan orchestras, the Evansville Philharmonic Orchestra (Evansville, IN) and the Baton Rouge Symphony Orchestra (Baton Rouge, LA). Other groups she has performed with include the Acadiana Symphony (Lafayette, LA), Austin Civic Orchestra (Austin, TX), Austin Symphony (Austin, TX), Louisiana Sinfonietta (Baton Rouge, LA), Mission Chamber Orchestra (San Jose, CA), Mission City Opera (Santa Clara, CA), Natchez Opera (Natchez, MS), and Southeastern Louisiana University Opera (Hammond, LA), as well as numerous chamber and studio recording ensembles.

Prior to moving to Maryland in March, 2012, Davis was principal cellist of the Palo Alto Philharmonic in the San Francisco bay area. She is currently principal cellist for the Columbia Orchestra (Columbia, MD) and principal cellist and composer in residence for the Trinity Chamber Orchestra (Bethesda, MD).
Selected Works:

Age Archaic (1987)
Sprechstimme Voice, Timp, 2 Perc.

Oriana's Lament (1989)
Soprano w/2,2,2,2-2,2,2,1-timp, perc, harp, str.
Text adapted by the composer from "A Knight Errant and his Dowdy Deeds: The Story of Amadis of Gaul" Published in 1911 by J. B. Lippincott Company.
3rd place winner of 1989 ASCAP Victor Herbert Young Composers competition, Voice with Orchestra. Also available for voice w/piano reduction.

Paths (1990)
2 Ten, Bar, Bass voices w/ Fl, Ob, Cl, Bn, Hn, 2 Vl, Vla, Vc.
Text by David Eadington

*Trio for Clarinet, Cello and Piano (1990)
Cl, Vc, Pno
Honorable mention (one of seven awarded) in 1991 ASCAP Victor Herbert Young Composers competition, Small Ensemble.

Marimba Mantra (1991)
Marimba, Piano

Cult Costa? (1992)
Sax. Quartet (Sop, Alto, Ten, Bari) w/orchestra 2,2,2,2--2,2,0,0-timp, perc, str.

Flourish! (2013)
Orchestra 2,2,2,2--4,2,3,1-timp, perc, str.

Madame Grand Doigts (2014)
Chamber Orchestra 1,1,1,1--1,1,1,1-timp, perc. str.


*Wolf Skin (2014)
Tenor, upright bass and piano
Text by Mary McMyne

The Spindle Whorl (2014)
Carillon

*In Memory (2015)
SATB choir w/piano
Text by Elizabeth Jennings

Please All, Please None (2017)
Woodwind Quintet

*Epiphany Insurrection (2021)
Mezzo/Soprano, Piano

String Quartet (revisited) (2021)
2 violins, viola, cello

Triskele (2022)
solo flute

Ever Forward (2022)
full orchestra


Scores available on Sheet Music Plus


Selected works can be heard on my Soundcloud channel
Selected works can be viewed on my Youtube channel

email contact:
fictacello@gmail.com
Compositions
Epiphany Insurrection
So many were shocked at the unfathomable events of January 6 in Washington DC. This is my reaction. Video and full text available on YouTube at https://youtu.be/FH4ek4idCQk.
In Memory
text "In Memory of Anyone Unknown to Me" by Elizabeth Jennings (1926 - 2001)

At this particular time I have no one
Particular person to grieve for, though there must
Be many, many unknown ones going to dust
Slowly, not remembered for what they have done
Or left undone. For these, then, I will grieve
Being impartial, unable to deceive.

How they lived, or died, is quite unknown,
And, by that fact gives my grief purity,
An important person quite apart from me
Or one obscure who drifted down alone.
Both or all I remember, have a place.
For these I never encountered face to face.

Sentiment will creep in. I cast it out
Wishing to give these classical repose,
No epitaph, no poppy and no rose
From me, and certainly no wish to learn about
The way they lived or died. In earth or fire
They are gone. Simply because they were human, I admire.
Wolf Skin (2014)
"Wolf Skin," a song originally written for male voice, upright bass, and piano, was written to accompany a prose poem of the same name by Mary McMyne, which originally appeared in the Los Angeles Review (Red Hen Press, 2013) and was subsequently reprinted as the title poem in McMyne's Elgin-Award-nominated collection (Wolf Skin, Dancing Girl Press, 2014). The lyrics and music retell the Little Red Riding Hood folktale from the huntsman's perspective, putting the listener into the position of the hero in the Brothers Grimm variant as he enters the grandmother's house. "Inside," the baritone sings, "the shadows shape a riddle, a story. The half-burnt candle in the kitchen, the unwashed dishes. The cloth-covered basket by the door." With these lines, we travel into the grandmother's house with the huntsman, the piano manifesting the huntsman's realization of what happened before he arrived. The discord between the voices, like the poem, questions the classic tale, interrogating the familiar trope of huntsman as hero at the same time as it pays homage to Franz Schubert's Erlkönig with its driving rhythm and dark tone.
Trio for Clarinet, Cello and Piano (1990)
This composition is one of seven works to receive Honorable Mention in the 1990 ASCAP Victor Herbert Young Composers' Competition, chamber ensemble category.

The first half is written as a wistful, melancholy recollection of a child's song, first appearing high in the cello's register, accompanied by planing fifths in the piano and occasional echoes in the clarinet.

The MP3 is from the second half of the piece.

Performers in this recording:
Gail Carpenter - clarinet
Elizabeth Skola - cello
Louis Wendt - piano