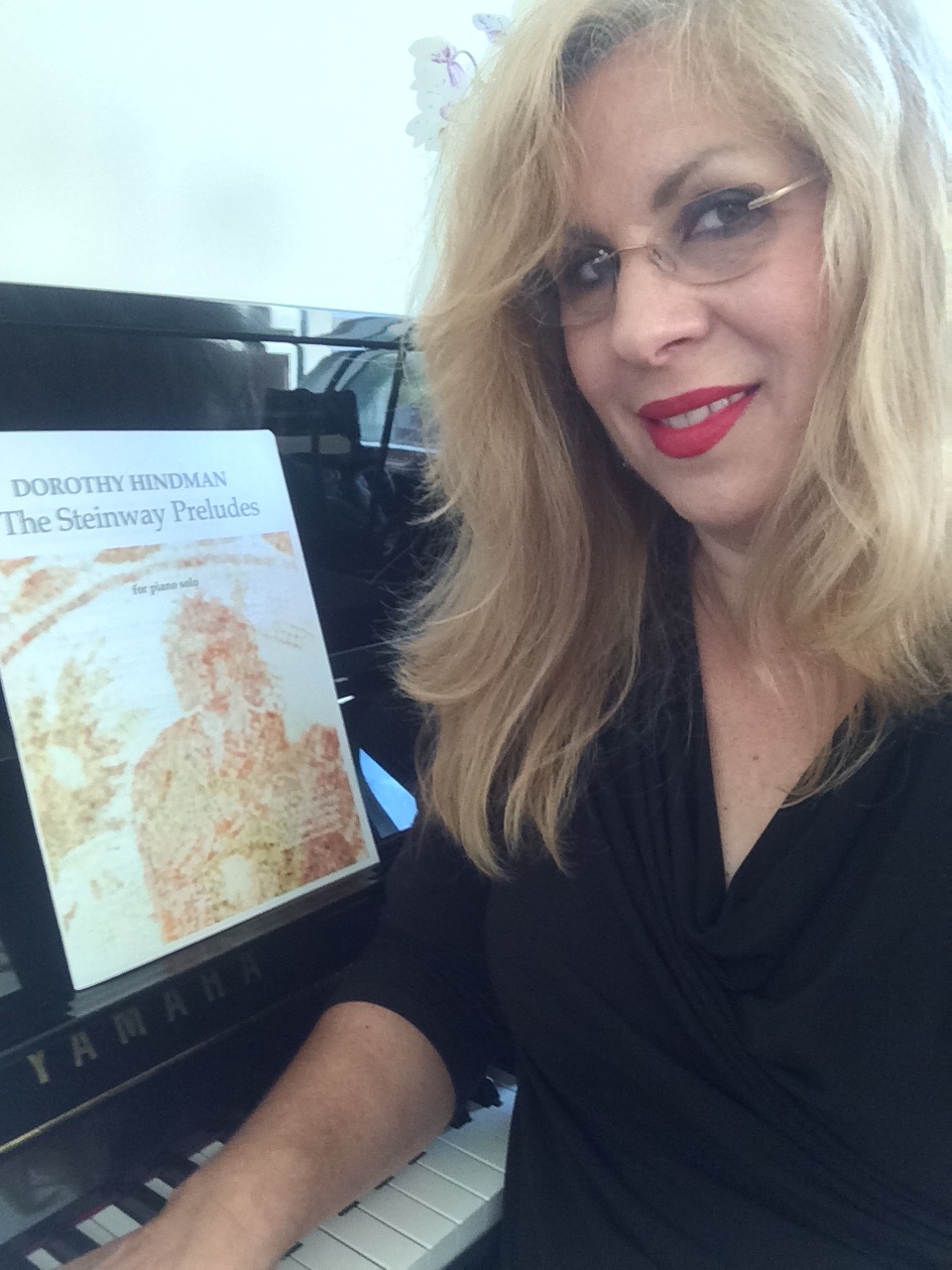 Self-Portrait with Orchid, 2016
Dorothy Hindman's music, a blend of punk/grunge with a spectralist sensibility, has been described as "bright with energy and a lilting lyricism" (New York Classical Review), "dramatic, highly strung" (Fanfare), "varied, utterly rich and sung with purpose and heart" (Huffington Post), "powerful and skillfully conceived" (The Miami Herald), "music of terrific romantic gesture" (The Buffalo News) and "one of the hopes of the present chamber music" (Kulturni Magazin UNI). Her over 350 performances span 30 states and 16 countries, including major venues such as Carnegie Hall, the United Nations, Boston's Jordan Hall, the American Academy in Rome, Amsterdam's Muziekgebouw, Berlin's BKA-Theater, and Miami's Adrienne Arsht Center. Numerous festival appearances include the Havana Contemporary Music Festival, Australian Flute Festival, 2015 Birmingham New Music Festival, Nuovi Spazi Musicali Festival, Imagine, and New Music Greensboro. Hindman's music has been commissioned and performed by the world's top new music performers including most recently the Bent Frequency Chamber Ensemble (Atlanta), Pulse Ensemble (Miami), Empire City Men's Chorus (NYC), virtuosi including Bang-on-a-Can's bassist Robert Black, cellist Craig Hultgren, guitarist Paul Bowman, percussionist Stuart Gerber, the Caraval Quartet (NYC), the Goliard Ensemble (NYC), the Atlas Saxophone Quartet (Chicago), the Corona Guitar Kvartet (Denmark), and orchestras including the Women's Philharmonic Orchestra (reading session), the Alabama Symphony, the Brevard Symphony Orchestra, and the North Florida Symphony Orchestra. Her installation with artist Sally Johnson Projections and Reflections has been exhibited in multiple museums throughout the Southeast. Hindman's many awards and recognitions include Iron Composer 2015, a 2015 Artist Access Grant from the Miami-Dade County Department of Cultural Affairs, a 2015 University of Miami Provost Research Award, NoteNova Choral Competition, Caprice Saxophone Quartet, Black House Collective, Almquist Choral Composition Award, Nancy Van de Vate International Composition Prize for Opera, International Society of Bassists Solo Composition Competition, ASCA/National Symphony Orchestra/Kennedy Center Commission Competition, G. Schirmer 1997 Young Americans Choral Competition, an Alabama State Council on the Arts Individual Artist Fellowship, and the NACUSA Young Composers Competition. Guest teaching appearances include the 2016 Summer Composition Intensive at St. Mary's College, the 2016 Miami International Piano Festival Academy, the 2015 AmiCa Credenze POP Festival in Sicily, and residencies include 2017 and 2009 Seaside Escape to Create Fellowships, Visiting Artist at the American Academy in Rome, the Visby [Sweden] International Centre for Composers, and Composer-in-Residence for the Goliard Ensemble. Her music appears on ten CDs, including her critically acclaimed solo CD Tapping the Furnace (2014), submitted for Grammy consideration. "Hindman offers extraordinary glimpses into interesting topics, concepts of modernity and structured complexity. … for many listeners the composer's first CD Tapping The Furnace represents a remarkable discovery," says Kulturni Magazin UNI. Most recently, her work is the title track on Corona Guitar Kvartet's Taut (2015) on Albany Records. Her next solo CD Tightly Wound, a collection of string works, will be released on innova in Summer, 2017. Other labels include Capstone and Living Artists. Scores are available from Subito Music, NoteNova, and dorn/Needham. A native of Miami, Florida, Hindman is Associate Professor of Composition at the Frost School of Music, University of Miami. She has been new music critic for the Miami Herald and South Florida Classical Review, and hosted WVUM's Po Mo Show, devoted to a post-modern mix of classical music written since 1980.
For a more extensive bio, list of works, upcoming performances, recordings and program notes, visit: http://dorothyhindman.org
Compositions
drowningXnumbers
"drowningXnumbers" (drowning by numbers) was written during a residency at Atlantic Center for the Arts in December, 1994, for cellist Craig Hultgren, who asked for a piece for amplified cello. The piece exploits the effects made possible by amplification, and also incorporates virtuosic effects which were inspired by Craig himself. It is a continuous, fifteen-minute work divided into three main sections, each with a faster tempo but longer note durations than the preceding. The first section is unforgivingly aggressive, the second is more percussive but less frantic, and the third is increasingly quiet, desolate, and still. The work is the composer's response to the large amount of aggressive music being composed by her colleagues. It reflects some of her own beliefs about beauty, emotion, intention, and profundity in music. While the title suggests an obvious metaphor for the work, it is a reference to a film by Peter Greenaway, and even more a reference and grateful acknowledgment to composer Louis Andriessen.
Drift
Drift is concerned with the perceptual dilemma that no matter how hard one tries, it is not possible to fully focus on a piece of music from beginning to end without having other thoughts or ideas drift in, or rather, it is not possible not to drift in thought while listening to a piece. There are a number of devices in Drift that attempt to force the listener to constantly return their attention to the piece, including hooks, repetition, and timbral effects. There are also internal relationships between instruments and between formal sections that play off the idea of drift, such as one instrument going off on a different tangent than the others in the quartet, or imitative ideas where one instrument follows another canonically, or formal variations that continuously develop an idea. Drift was written for the Lithium Saxophone Quartet in 2002 at their request.
Tapping the Furnace
Tapping the Furnace, for unpitched percussion solo including snare, toms, and assorted unpitched metals, was composed in memory of James Withers Sloss, who built the furnaces that would become known as the "City Furnaces", and are now known as Sloss Furnaces in Birmingham, Alabama. These furnaces are the engines that drove Birmingham's steel economy for nearly a century, helping the city earn the name "Magic City". However, this piece is also in memory of the many primarily African-American workers who were maimed and killed in the furnace while doing their jobs. In 1891 (after James Sloss had died), the furnace began using convicts who were forced to labor; this practice continued through the 1920s. Among jobs that needed to be done was "tapping the furnace", which was done every four hours, twenty four hours a day, seven days a week. The numbers 4, 7, and 24 figure prominently in the rhythmic and formal structure of the work. Clarence Dean, who worked the furnaces from 1937 to 1967 gives the following oral history: That wasn't no plaything, you had to be on your "p's and q's" when you're working around a blast furnace… when you go in the gate everything's dangerous - overhead, underhead, dangerous work - and wasn't no easy job, not for the black man. As the steel industry that built Birmingham slowly dwindled away, Sloss Furnaces sat dormant for twelve years before reopening as a museum and a haven for contemporary metal artists in 1983. It is a prominent, sprawling, unmistakable landmark visible from the highways in Northeast Birmingham, a tangible echo of the city's past and the lives that built it. The piece is built around powerful bombastic attacks with increasing levels of muting, deadsticking, and choked decays over the course of the work, inspired by the unimaginable expenditure of energy both by the men and the furnace during the years the city was built, eventually all falling silent. The work was written at the American Academy in Rome in 2006 for Evelyn Glennie, Stuart Gerber, and Scott Deal.
The Road to Damascus
The Road to Damascus (2010) takes on the concept of the transformation of dissonance. Among the roughness and the ruckus of the majority of the work are shimmering moments of beauty. While these are brief, like Paul's experience on the road to Damascus, they also have the power to profoundly affect the overall meaning of the work. The Road to Damascus was written for the Caravel String Quartet.