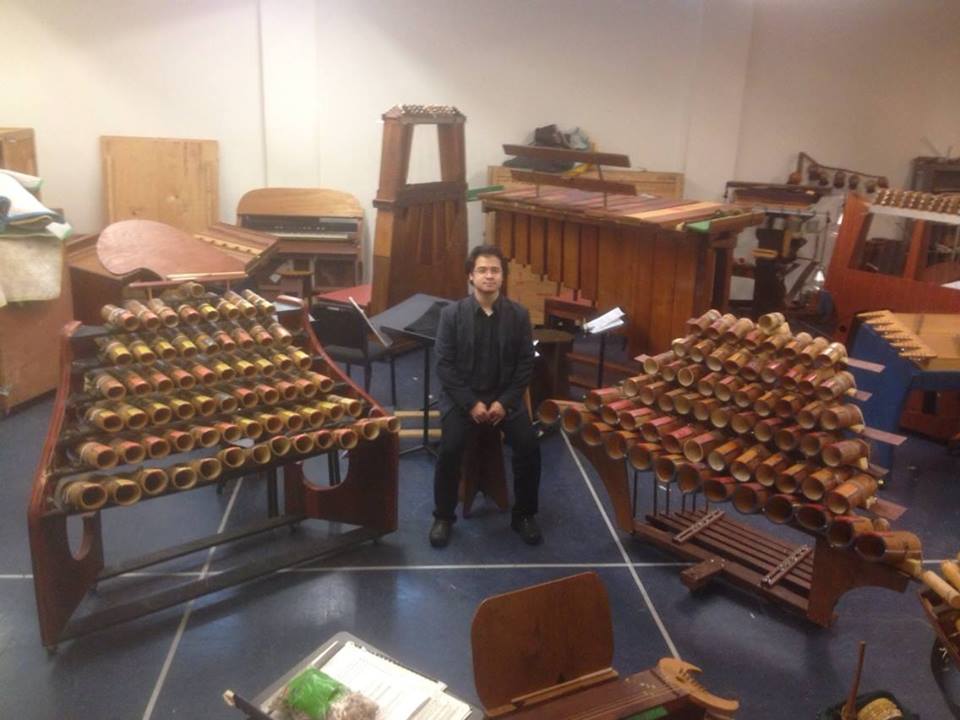 Tipp in the Partch Instrumentarium, May 2014
Shaped by sonic sensitivity from a young age, Pittsburgh based composer/multi-instrumentalist Devon Tipp (also known as Yasamune Toyotomi) creates unorthodox musical environments from ostensibly incompatible realms. He is equally at home composing for deconstructed western woodwinds, folk instruments, the Harry Partch instruments or western orchestra, drawing influence from rich Japanese and Eastern European roots, alongside experiences in Nordic countries. His compositions have been performed in the US, the UK, Switzerland, Norway, Finland, Iceland, Italy, Germany, China and Japan.
Tipp's awards include the 2015-2016 Listhus Ses Skammedgi Air Award(Iceland), Rarescale's 10th Anniversary Composition Competition (student category, U.K. 2013), and first prize in the 2010 Jerome G. Sala Memorial Wind Competition. He has participated in the Sävellyspaja Summer Masterclass (Finland), Imani Woodwinds Chamber Music Festival, soundSCAPE Festival (Italy), Bowdoin International Music Festival and Atlantic Music Festival. He has performed with the Harry Partch Ensemble at Montclair State University, and as part of the Composer's Voice Concert Series.
Ever in search of new sounds, Tipp has collaborated with microtonal specialists Kjell Tore Innervik (quartertone percussion), Daniel Paulsen (quartertone percussion), Veli Kujala (quartertone accordion), Rarescale's Carla Rees (Kingma System alto flute) and Tolgahan Çogulu (microtonal guitar). He has also worked with Reigakusha Ensemble's Hitomi Nakamura, pianist Kate Halsall, clarinetist/composer Gleb Kanasevich, oboist Sabine Kaselow, oboist Alison Lowell, Thin Edge New Music Collective, the Sudbury Guitar Trio, and members of Avanti! Chamber Orchestra. He is a student of Eric Moe, Marcos Balter, Elizabeth Brown, and Dean Drummond. For more works, please check: www.greengiraffemusic.info https://soundcloud.com/devon-yasamune-toyotomi
Compositions