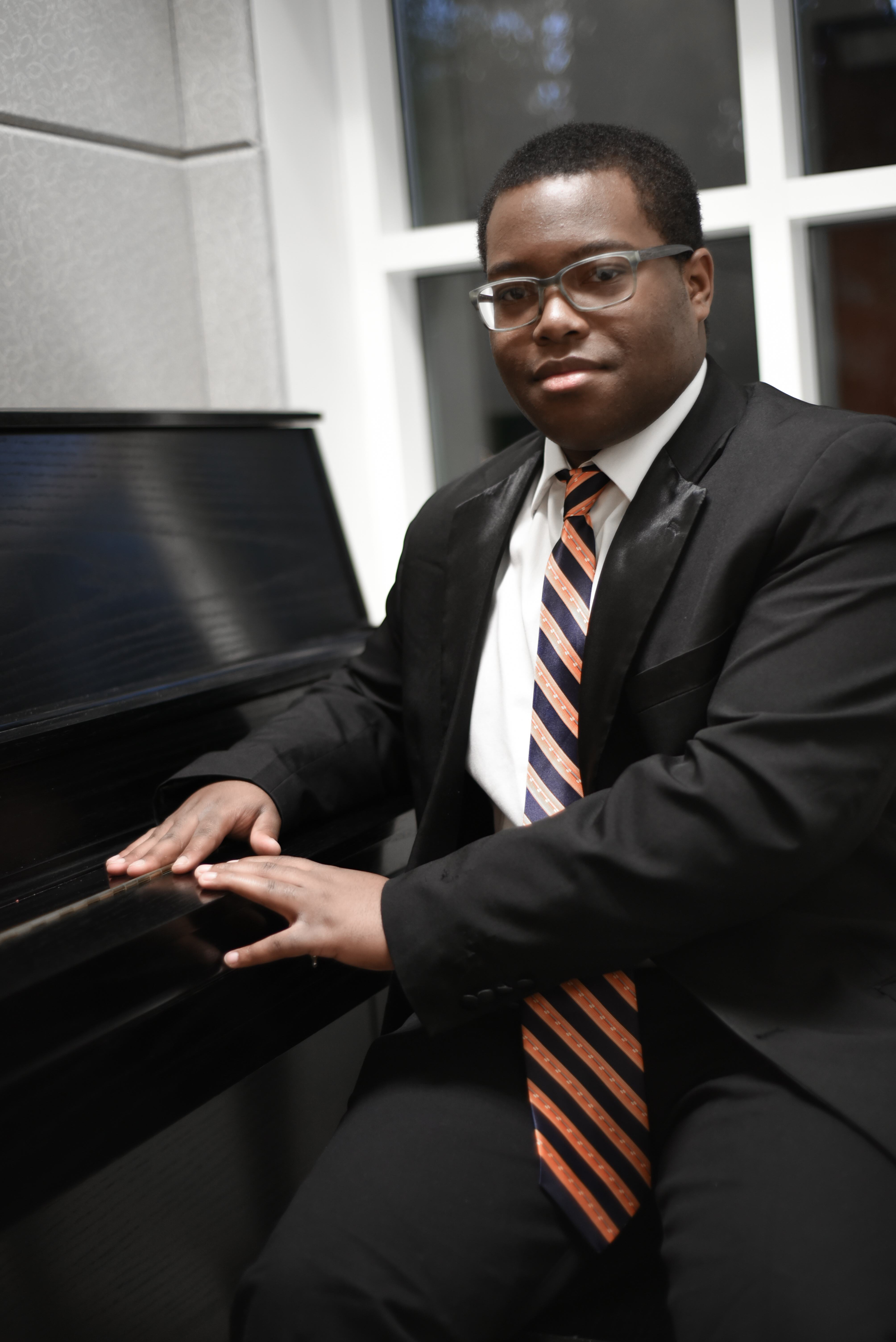 Composer Denzel Washington (B.A in Music from Mercer University) is a graduate student pursuing and M.M in Music Composition at the University of Northern Iowa. He is a member of ASCAP and SCI (Society of Composers Inc.)His current teacher is Dr. Jonathan Schwabe. He has participated in masterclasses with Dr. Zae Munn, Dr. Paul Salerni, and Dr. PQ Phan. His musical inspiration stems from a variety of composers, such as Charles Ives, Johannes Brahms, and Igor Stravinsky. Washington placed first and received $1000 in the Atlanta Mu Phi Epsilon Alumni Chapter Scholarship Competition.In the fall of 2015, Washington was commissioned by Dr. Douglas Hill, director of the Mercer University Wind Ensemble, to write Fanfare Extraordinaire for the Mercer University Faculty Brass Quintet to premiere in their annual concert. Other commissioned works include Sonata for Double Bass and Piano for Reed Tucker (graduate student at the Juilliard School) and Fantasie and Dance for Euphonium and Piano for Demariquez Springs a senior Music Education major at Troy University. Outside of his musical life, he enjoys video gaming and watching anime with friends.
Born:January 27, 1995 in Detroit, MI Hometown: Waycross, GA
email:denzelwashington9527@gmail.com
Compositions
Symphony No. 1 "Memories of Mercer
This symphony was primarily composed during the Summer of 2016, and it is a musical representation of my experiences at Mercer University. The recording is of the final movement. "Memories". Memories is the finale that represents the lasting impression of my time at Mercer. The A in this ABA' form is a bright joyous melody that represents the happiness of being a part of a community of leaders and innovators. The middle section of this piece is slightly slower, creating a nostalgic feeling, and it quotes the hymn "Blest Be the Ties that Bind." This hymn is sung as a benediction in my home church, and it represents the bonds that were developed during my stay at Mercer. No matter how far away life takes me, I will always be connected through the bonds of friendship, love, and memories of the many great people that are a part of the big Mercer story. The A section later returns, but it is raised a whole step. This creates the feeling of pride that comes after reflecting and reminiscing on the memories made.
Colors for Bb Clarinet and Piano
Colors consists of three short movements, creating a sound image representing colors of the spectrum: yellow, blue, and red. Yellow can be heard in the marcato rhythms and the bright sounds of the clarinet and piano. Blue is complex and reflective, and is depicted with the use of ascending minor 6ths in the melody. Red's passion is expressed by a Latin groove in the piano and an exciting clarinet melody. The accompanying recording contains movements I
Phobic Antics
This electronic composition was written using Logic Express 9 and Electronic Wind Instrument (E-WI). The E-WI is versatile, with over 100 sound patches to create any number of styles and timbres. This piece will explore some of those patches that create a spooky atmosphere. The haunting melody is a variation on the melody of Hot Cross Buns. This is meant to be the perfect festive opener for a halloween recital or any other spooky scenarios
The God Who Made the World
This choral work is a text setting of Acts 17:24-25 and it was the first in a set of eight weekly compositions written during the season of Lent 2017.