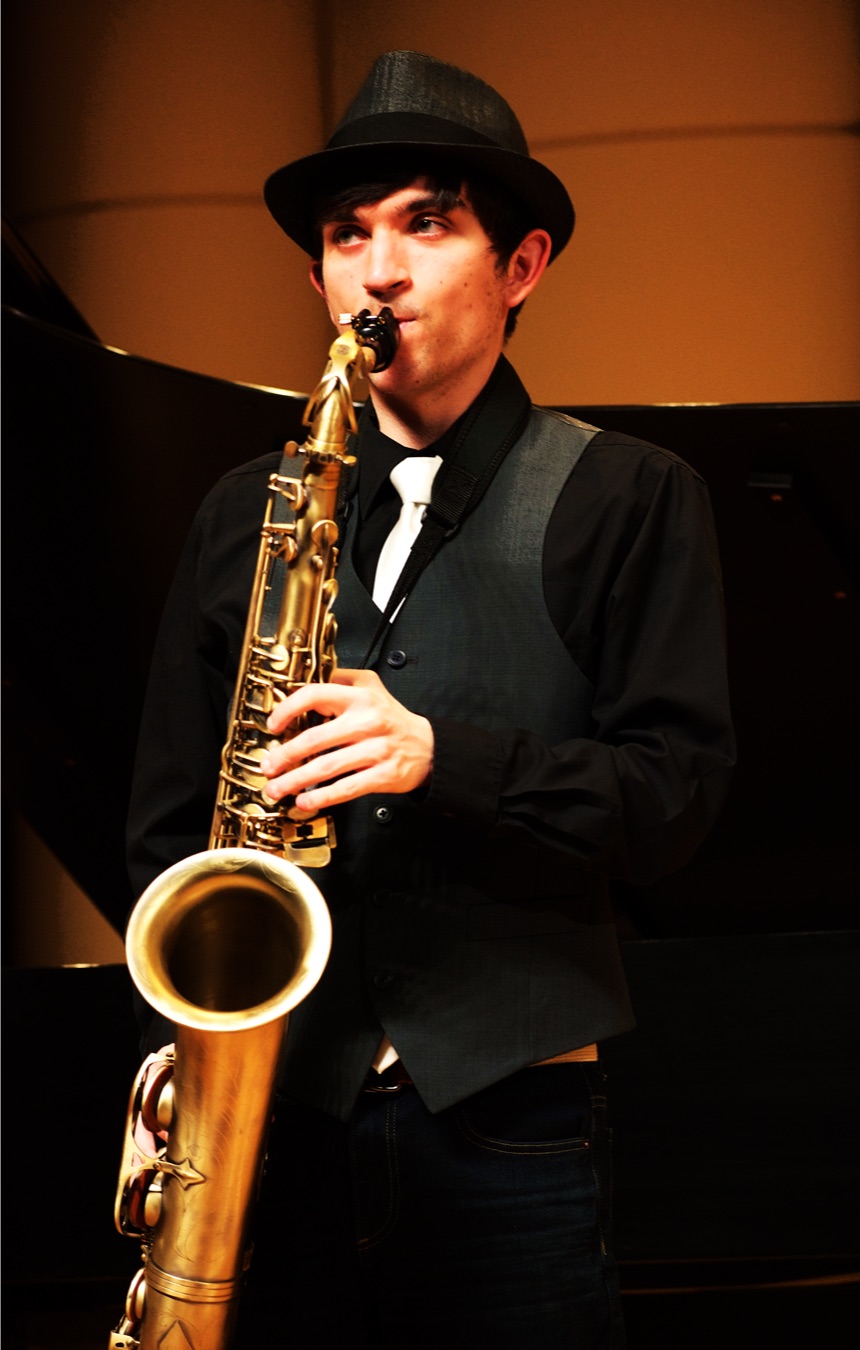 Photo by Davis Martin
Originally from Moncks Corner, South Carolina, Dallas J. Herndon (b. 1994) completed his undergraduate studies (summa cum laude) at Newberry College (Newberry, SC), majoring in Music Performance (clarinet) and Music Theory, with a minor in Jazz Studies. He completed his graduate studies (M.M.) in composition and music theory at East Carolina University, where he served as a music theory instructor, audio recording assitant, and as the graduate supervisor for the theory tutoring program. More recently, he was an Adjunct Instructor of Music at Pitt Community College (Winterville, NC), were he taught and assisted with courses in music theory, aural skills, music appreciation, and American Music. Dallas is currently pursuing his doctoral studies (PhD) in music composition at the University of Utah, studying with Elisabet Curbelo, where he also teaches and assists with undergraduate courses in music theory and musicianship. An adovcate for new music, Dallas composed for and collaborated with many renowned guest artists as a part of the North Carolina New Music Initiative, including Julia Den Boer, Sharon Harms & Steven Beck, the Meridian Arts Ensemble, Ensemble Dal Niente, Ben Melsky, as well as internationally renowned marimbist Ayano Kataoka. He was also largely involved with UnCaged (an ECU new music ensemble focused on free improvisation) and the ECU Frequencies, a concert series devoted to promoting and performing modern music of the 20th and 21st centuries. He is presently also an active member and student officer of the University Composers Collective at the University of Utah. Dallas has studied clarinet with Dr. Barry McGinnis (additional studies with Robert DiLutis), piano with Dr. Sarah Masterson (additional studies with Kwan Yi and Irem Ozay), and improvistation with Dr. John Valerio. Other minor studies include oboe (Briana Leaman), cello (Tzu-Ying Liao), and guitar (Amy Campbell). Primary composition studies include Dr. Edward Jacobs and Dr. Travis Alford; other compositional studies/masterclasses include composers John Valerio, Matthew Ricketts, Charlie Peck, Melinda Wagner, Jim Mobberly, Richard Nelson, Frank Mauceri, Joel Hoffman, Kyong Mee Choi, and Anna Weesner. Dallas's music has been recognized in a variety of competitive platforms. Written in 2014, Omega recieved its world premiere by the Newberry College Saxophone Ensemble, and placed as the state winner (South Carolina) for the 2015-2016 MTNA Composition Competition. His work Tetramania (for fixed media) was featured in The East Carolinian as well as the 60th Edition of ECU's Rebel Magazine, a university magazine devoted to showcasing a wide varieity of mediums within the creative arts. Recent endeavors include participating in the 2017 Snow Pond Composers Workshop (Sidney, Maine), where his work Two Preludes for Violin and Viola was premiered by violinist Maya Bennardo and violist Hannah Levinson, as well as the Charlotte New Music Festival (2018) in Charlotte NC, where his works Two Etudes for Saxophone Quartet and Micromorphosis were premiered by the Red Clay Saxophone Quartet and the Beo String Quartet, respectively. As a composer, Dallas seeks to create works that bridge the gap between the old and the new, often drawing upon a wide variety of musical influences within a single work. Past early interests include composers of the Romantic idiom, namely those such as Beethoven, Chopin, and Sibelius. More recent interests include Soviet composers of the mid/late twentieth century, such as Dmitri Shostakovich and Alfred Schnittke, with a particular fascination of Alfred Schnittke's use of motivic unity to synthesize a large variety of musical styles in his works. Dallas is also interested in the concept of relativity in music, and exploring how human perception of what music is might change depending on the situation, surrounding material, and/or environment. His current research explores the notion of music as a "relative" system, and how conceptual dualities such as sound and silence, association and differentiation, and physical and "reactionary" energy might exist as relative interconnections in a music composition. In the past, his music has been described as motivically and harmonically driven, but he seeks to create works that transcend labels of any particular idiom, and is very open to exploring new creative possibilities. He is presently working on a collaborative piece between the department of film and the University Composers Collective at the University of Utah. Dallas is a member of Society of Composers, Inc. and ASCAP. His other interests outside of music include philosophy, astronomy, language/culture, history, and European folklore/mythology.
Youtube:
I am a composer, writer, and musician. My educational background includes a B.M. in clarinet performance and music theory, with a minor in jazz studies, as w...
LinkedIn:
View Dallas J. Herndon, M.M.'s profile on LinkedIn, the world's largest professional community. Dallas has 4 jobs listed on their profile. See the complete profile on LinkedIn and discover Dallas' connections and jobs at similar companies.
Website:
null
Soundcloud:
Composer I Writer I Musician Education: University of Utah, PhD in music theory/composition (2019-) East Carolina University, M.M in music theory/composition (2016-18) Newberry College, B.M., clarinet performance/theory, jazz studies minor (2012-16) Creative Interests: Russian/Soviet Composers of the 20th Century Polystylism Music and Philosophy Music and Scientific concepts Relativity/Relativism Systems Theory Language/Cultures Writing/Poetry For questions/inquiries: dallasherndonmusic@gmail.com
Compositions
Two Etudes for Saxophone Quartet (2018)
Tetramania (2017)
Two Preludes for Violin and Viola (2017)
Premiered at the 2017 Snow Pond Composers Workshop in Sidney, ME. Maya Bennardo, violin; Hannah Levinson, viola
Nescio (2018), for clarinet, bassoon, horn, violin, cello, piano