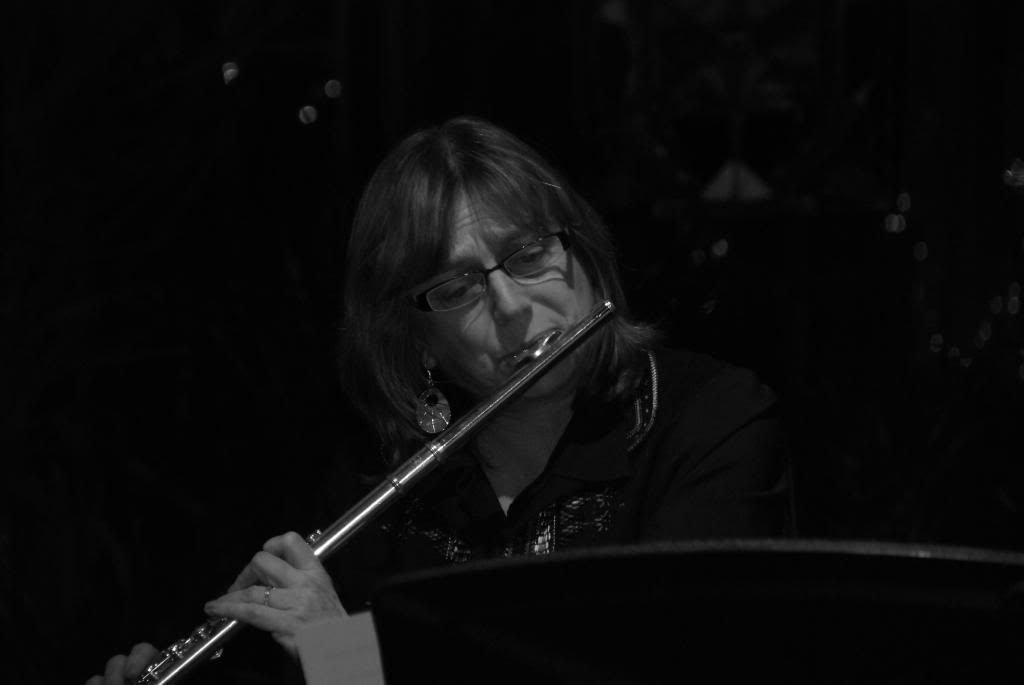 Photo by John Hayes
Cynthia Folio is Professor of Music Studies at Temple University, where she was honored with the Creative Achievement Award in 2012 and the Lindback Award for Distinguished Teaching in 1994. She received her Ph.D. in music theory and Performers Certificate in flute from the Eastman School of Music where she studied flute with Bonita Boyd and composition with Joseph Schwantner. Robert D. Morris was her advisor on a dissertation about Schwantner's music. Cynthia has since published articles on Schwantner and also on the topics of jazz and the relationship between analysis and performance.
Cynthia's compositions have been described by reviewers as "confident and musical in expressing ideas of great substance," "intriguing and enjoyable," and "imaginatively scored" (Philadelphia Inquirer). She has received commissions from such organizations as Network for New Music, the Relâche Ensemble, the Mendelssohn Club of Philadelphia, Astral Artistic Services, and the National Flute Association, and she earned 20 consecutive ASCAP Awards for composition. Cynthia's pieces are recorded on many CD's, including a 2006 release by the Relâche Ensemble, Press Play, (Meyer Music LLC) and a 2006 release of Flute Loops: Chamber Music for Flute (including eight of her compositions, with Cynthia as flutist on four tracks) by Centaur Records. Another CD featuring her music is due for release summer 2014 (BCM+D Records), and she also recorded a jazz CD, Portfolio (Centaur Records)—now available only as a download. For more detailed information, please visit: www.cynthiafolio.com.
Compositions
Music Box (2005)
Performance: Temple University Choir; Alan Harler, director; Lisa Auerbach, pianist. Publisher: Hildegard Publishing Co. I composed Music Box in response to a request from Alan Harler for a composition with music boxes. Alan liked the "music box effect" that I used in another piece, When the Spirit Catches You … (composed in 2004). I asked my friend and poet, Susan Albertine, if she would be interested in writing a poem having something to do with music boxes; this resulted in the beautiful poem that served as the inspiration for the piece. The composition begins with random entrances from the choir—"you never knew … where it would start." Once the music "winds up" over a driving rhythm in the piano part, the character shifts freely from humorous to nostalgic as it reflects the changing moods and wonderful imagery in the text. The actual music box that inspired the poem belonged to Susan's grandfather; because it plays "Tales from the Vienna Woods," I include a distorted quote from this waltz in the piano interlude. The music slowly fades at the end—first the choir, then the music boxes—suggesting the passage of time, as lessons are passed on through generations. See .pdf above ("PDF score") for the poem, "Music Box."
Philadelphia Portraits: A Spiritual Journey (IV. Benjamin Franklin) (2011)
Performance by Lois Herbine, piccolo and Charles Abramovic, piano. Recorded in the Boyer College of Music and Dance Recording Studio at Temple University with David Pasbrig as engineer and Dean Robert Stroker as producer. One movement out of five, soon to be released on BCM+D Records (summer 2014). This work is dedicated to Lois Bliss Herbine, who commissioned the piece and put forward the proposal for it to be premiered at the National Flute Association convention in August, 2011. She also suggested the idea of doing a piece on a Philadelphia theme, supplied me with some of Persichetti's music, and gave me feedback as I sent her drafts of individual movements. This composition was a Finalist in the NFA Newly Published Music Competition 2012. The following are the movement titles, with inscriptions: I. Vincent Persichetti -- "The place where men meet to seek the highest is holy ground." II. John Coltrane -- "Let us sing all songs to God, To whom all praise is due …" III. Marian Anderson -- "I dearly love Negro Spirituals. They are the unburdenings of the sorrows of an entire race, which, finding scant happiness on earth, turns to the future for its joys." IV. Benjamin Franklin -- "Of all my inventions, the glass armonica has given me the greatest personal satisfaction." V. Betsy Ross -- "Ev'ry heart beats true 'neath the Red, White and Blue."
A Matter of Honor: A Portrait of Alexander Hamilton (2004)
Premiere at the National Constitution Center, Philadelphia by Eric Owens (narrator) and Astral Artists: Doug O'Connor (saxophone), Zachary De Pue (violin), Nicolas Kendall (violin), Ayano Ninomiya (violin), Teng Li (viola), Clancy Newman (cello), Ranaan Meyer (bass), Koji Attwood (piano), Peter Wilson (percussion) Commissioned by Astral Artistic Services, with a grant from the Presser Foundation--to celebrate the 200th anniversary of Hamilton's death. Excerpts: I. Publius (0:00) II. An Odd Destiny (0:25) III. Why Soldiers, Why? (2:05) IV. A Happy Immortality (3:53) The text for PUBLIUS is taken from "The Federalist Papers" by Alexander Hamilton, who signed each letter as "Publius." AN ODD DESTINY is a setting of a letter that Hamilton wrote to a friend expressing his frustration that his work for the US is not appreciated. WHY SOLDIERS, WHY? is based on Hamilton's favorite song by the same name, which he sang in a Tavern shortly before the duel. The last movement tells the story of the duel, ending with a letter he wrote to his wife Eliza shortly before the duel "just in case" he might die.