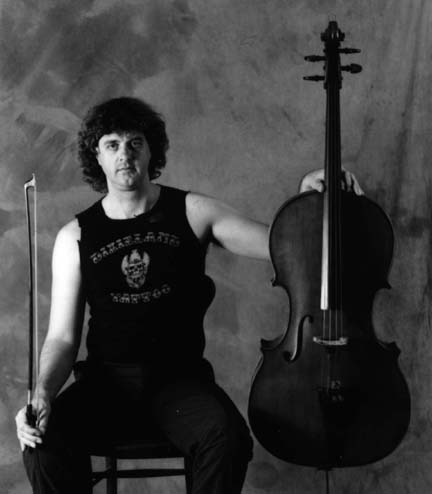 Gothic cello - Craig Hultgren photo by Karen Graffeo
Cellist Craig Hultgren remains active in new music, the newly creative arts, and the avant-garde. Leaving Birmingham after more than 30 years as a member of the Alabama Symphony, he now resides outside of Decorah, Iowa as the farmer-cellist. The New York Classical Review commented that he, "…played with impressive poise and sensitivity…" for Dorothy Hindman's 2016 chamber music retrospective at Carnegie Hall. At this point, almost 300 works have been created for him. A recipient of two Artist Fellowships from the Alabama State Council on the Arts, he was a member for many years of Thámyris, a contemporary chamber music ensemble in Atlanta. He is a founding member of Luna Nova, a new music ensemble with a large repertoire of performances available as podcast downloads on iTunes. Hultgren is featured in four solo CD recordings including UK composer Craig Vear's hyperconcerto Black Cats and Blues on Métier Recordings. Recently, Hultgren entered the realm of digital online releases with four works Songs for Cello and Piano by Ben Hippen available on Spotify. For ten years, he produced the Hultgren Solo Cello Works Biennial, an international competition that highlighted the best new compositions for the instrument. He taught at the University of Alabama at Birmingham, the Alabama School of Fine Arts, Wartburg College (Iowa) and Birmingham-Southern College where he directed the BSC New Music Ensemble. He is a founding member and former President of the Birmingham Art Music Alliance and was on the Board of Directors of the Metropolitan Youth Orchestras of Birmingham and their Scrollworks program. Currently, he is Vice President of the Oneota Valley Community Orchestra Board of Directors in Decorah and has recently assumed the role of Chair for the Iowa Composers Forum.
Email - chultgre@gmail.com Luna Nova website/extended techniques articles: http://lunanova.org/CelloET/index.html Birmingham Art Music Alliance link: http://bham.artmusic.org/members/#hultgren
15 Minutes of Fame performance/YouTube: https://www.youtube.com/watch?v=ROcd1xy4vWg#action=share drowningXnumbers by Dorothy Hindman/YouTube: https://www.youtube.com/watch?v=aOrsyNHzvN8 I understand you perfectly by Melissa Grey/YouTube: https://www.youtube.com/watch?v=j3_fpKpMq7g
Compositions
Double Bow Improvisation
Live recording of free-style playing on an amplified acoustic cello.