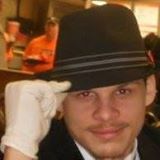 Christopher Gonsalves is currently working on his Master of Music in Theory and Composition at Hardin-Simmons University in Abilene, Texas.
Compositions
The Cavernous Deep
"The Cavernous Deep" is a composition which reflects upon the depths of the ocean. As the composition goes forward, you are getting deeper and deeper into the ocean. There are 5 zones in the ocean, and this piece reflects on the deepness and the creatures that lurk down in the depths of the ocean. The deepest known part of the ocean is currently about 36,069 feet below sea level. Just imagine what lurks down there!
Judas
"Judas" was originally written for chorus and percussion but was arranged for brass for my master's composition recital on November 16th, 2017. The piece is based on a poem by Jonathan Swift in 1731, which makes an analogy between Judas Iscariot and church leadership of the eighteenth-century. It is a scathing critique of the bishopric of the Church of Ireland of his time.
Spectrums of Sound
"Spectrums of Sound" is titled as such because I wanted to relate the spectrum of colors to the different emotions encountered in life. Like light and life, some parts shine and other parts do not. But the great parts of your life do not truly shine until you have hit the parts in your life that are darker and more difficult.
Into the Past
"Into the Past" is the second movement of "Links through Time", which concentrates on modal writing. The use of modes was very prominent during the Medieval and Renaissance periods. "Into the Past" has several different modes, each of which have a distinguishable color or emotion throughout the piece.