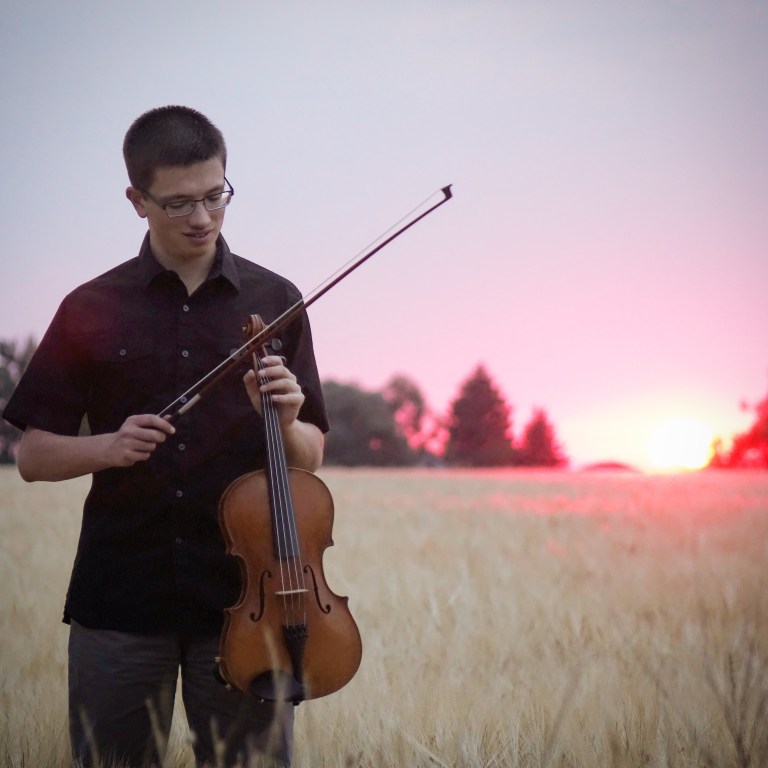 CHASE JORDAN (b. 1998) is a composer and violist who draws inspiration from the beauty of the natural world and from literary sources. He likens himself to a musical storyteller Ė using music to create emotional arcs which brings the audience with the musicians in the journey.
Chase is currently working on a Bachelorís Degree in Viola Performance with a secondary emphasis in music composition. He serves as the co-principal of the University of Wyoming Symphony Orchestra, actively performs as a chamber musician, and is a frequent performer of new music, having performed several world premieres.
As a composer, Jordan studies with Anne Guzzo at the University of Wyoming. He has also worked with composers such as David Maslanka, Libby Larsen, Jake Heggie, Daron Hagen, Gilda Lyons, and others. In addition to being performed frequently at the University of Wyoming, his music has been performed in at the Charlotte New Music Festival (NC), Tidewater Brass Festival (VA) and at the Wintergreen Festival (VA), where he was a Susan Talarico and Mike Sundermeyer Scholar. Recent performances of Jordanís compositions include performances by the Colorado Chamber Orchestra, Antero Winds, Duo Zonda, as well as members of the Maryland Symphony Orchestra, Wintergreen Festival Orchestra, the Beo String Quartet, the Chattanooga Symphony, and the Florida Orchestra.
As a violist, Chase studies with James Przygocki at the University of Wyoming. He also has worked with Daniel Sweeny, Ann Roggen, Joen Vasquez, and Marylene Gingras-Roy. Jordan also maintains a small studio of young violin and viola students through the University of Wyoming String Project, where he also teaches advanced chamber music. Prior teaching engagements have included being faculty for the ViolaFest West in Laramie, WY from 2016 to 2018.
When he isnít playing music, you can find Chase finding renewed inspiration in the vast wilderness, where he gains some of his best ideas. His adventures have led him to the Sierra Nevada mountains in California, the Uinta Mountains in Utah, the Wind River Range in Wyoming, and on a 100-mile trek in Montanaís Bob Marshall Wilderness Complex. He also works as an author and editor at Backpacking Light magazine, where he writes reviews as well as investigates outdoor ethics, philosophy, and contemplates his expanding theories regarding the intrinsic value of wilderness.