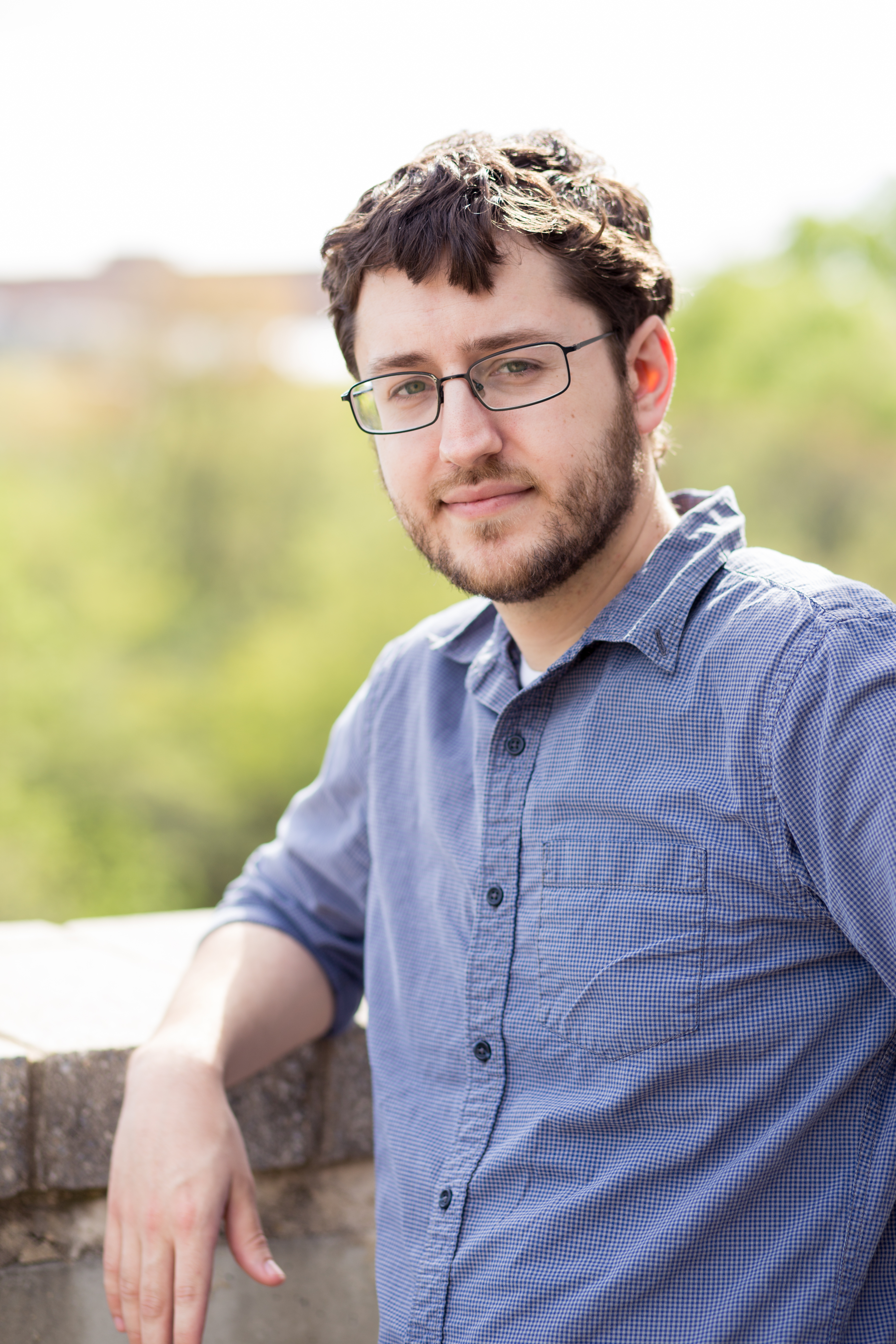 Image courtesy of Geoff Sheil
Bradley S. Green is a composer, theorist, and educator based in the Washington, DC metro area. Bradley's music is performed extensively in DC and across the US, and his style is exemplified by an interest in creating unique and colorful textures that develop slowly and naturally over time. He also experiments with varying types of music notation in order to better connect the performer with the sounds represented by the score, and to also allow performers more freedom of interpretation. His music has been featured on the Takoma Public Radio show Coda (hosted by Matt Testa), and has been programmed at various professional conferences, the Electroacoustic Barn Dance Festival, the New York City Electroacoustic Music Festival, the StageFree concert series, and at the upcoming CMS International Conference in Belgium. Bradley is also one of the founding members of DISTRICT NEW MUSIC COALITION, an organization of musicians and new music lovers that aim to promote the performance and appreciation of contemporary music by connecting performers, composers, institutions, and audiences located in the Washington, D.C. metropolitan area through concerts, conferences, and active community-building. Please visit www.districtnewmusiccoalition.com for more information. He is also active in the fields of music theory and music theory pedagogy. As a theorist, his most notable work has been his research into Earle Brown and his Open Form compositions, specifically his analysis of Brown's String Quartet (1965), which has been published by Indiana Theory Review. As a pedagogue, he is always looking for new and engaging ways to incorporate technology into the music theory classroom, and has been published on the topic of utilizing iPad's to enrich class lessons by the Journal of Music Theory Pedagogy Online. He has also presented his work in a variety of mediums, including SCI and CMS conferences, UMBC's Livewire New Music Festival, the USF New Music Festival & Symposium, and as a guest lecturer at multiple universities. Bradley graduated from Campbell University in Buies Creek, NC, in 2012 with B.A. degrees in both Music Composition and Music Education. In 2014 he graduated from Appalachian State University in Boone, NC, with a M.M. degree in Music Theory and Composition. In 2017, he earned a D.M.A. degree in music composition at the University of Maryland in College Park. Currently, he is a visiting professorial lecturer at American University. His previous composition teachers include Thomas J. DeLio, Scott Meister, and Ran Whitley. Bradley is a member of Society of Composers, Inc., Broadcast Music, Inc., College Music Society, and Pi Kappa Lambda.
Feel free to contact Bradley Green about commissions or to request music. To see score excerpts, a full list of compositions, and contact info, please visit the composer's website.
Website: http://www.bradleygreencomposer.com
Compositions
Crest/Clutter/Clamor for Solo Cello
Performed by Pecos Singer. The title of this piece, Crest/Clutter/Clamor, illustrates mainly the most pronounced, audible progression of materials in the work, which does not need to be described for the relationships to be understood. However, one of the most integral underlying structures involves pitch collection/tonality. In working with the performer, it was decided that the pitch collections would be chosen based on the physical properties of the cello's open strings (C, G, D, and A), specifically by evoking (or combining) each of their respective overtone series. This is accomplished in multiple ways throughout the piece, most prominently by bowing very close to the bridge (a technique known as molto sul ponticello) which, if done softly and with great control, allows various overtones to sound and overlap above the fundamental pitch. As such, the tonality of the piece is inseparable from the construction and acoustic properties of the cello.
Pale Blare II
Each sound used in Pale Blare originated as a standard white noise signal. The piece attempts to take this generic, recognizable sound and gradually make it unrecognizable and less aperiodic through various filtering processes and effects, to eventually reach a point where the sounds take on other sonic properties altogether. As the piece progresses, the white noise is altered through increasingly complex filters and processes, eventually destroying almost any likeness to the original sound. Pale Blare is an ongoing series of electronic compositions based on white noise. This is the 2nd piece in the series.
Constrict-Depart, String Quartet No. 1 - Mvt I
Public Reading at the University of Maryland
Constrict-Depart, String Quartet No. 1 - Mvt II
Public Reading at the University of Maryland (PDF of Constrict-Depart full score, including Movement II, can be found under the Mvt I header above)