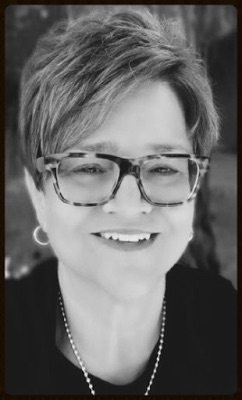 BIOGRAPHY Beth Mehocic (USA), composer, poet, visual artist, filmmaker and author received her M.M. and Ph.D. in music composition from Michigan State University, East Lansing and her B.M. from Dana School of Music, Youngstown State University, and is currently the Music Director/Composer-in-Residence and full professor for the Dance Department at the University of Nevada, Las Vegas. Dr. Mehocic has written over one hundred works for orchestra, concert band, chamber music, dance ensembles, theatre and film and her works have been performed throughout the United States, Japan, China and Europe. She has produced works in several Las Vegas Hotels including The Mirage, Caesar's Palace and the Las Vegas Hilton. From 2000-14, several of her music compositions written for choreography have been performed at the Endinburgh Fringe Festival, Edinburgh, Scotland, the Adaliade Fringe Festival, Adalaide, Australia and for joint concerts between UNLV and the Korea National Sport University, Seoul, Korea. Her video dance poem Perpetual Motion with original music, choreographed by Carole Rae was also performed in Seoul, Korea. Perpetual Motion is in the Jerome Robbins Dance Library of the NYC Library at Lincolon Center. Her dance poem, Shadows and her video dance poem, Hands with original music were presented at the 2005 International Taishan Congress of Cultures and the 19th World Congress of Poets in Tai'an City, Shandong Province, China for which she was awarded a "Gold Medal in Innovation" for digital poetry, dance and music by the Peoples Republic of China. Hands was presented at the Twelveth Annual Dancing Poetry Festival and in 2004, Shadows was presented at the Eleventh Annual Dancing Poetry Festival in San Francisco. Her presentation on poetic dance was accepted by the 2005 Hawaii International Conference on Arts and Humanities. Her music was used at the 2005 Fringe Festival in Edinburgh, Scotland as part of a collaboration between the Liverpool Institute of the Arts and the UNLV Dance and Theater Departments. In 2003, her film Clouds with original poetry and music was presented at the Tenth Annual Dancing Poetry Festival. In 2002, her films Eyes and Forever were presented at the Ninth Annual Dancing Poetry Festival and her music for the dance It's in the Bag was performed at the 2002 Fringe Festival. In 2001, she performed her poem Saints and Sinners to her own jazz percussion accompaniment for world peace in Assisi, Italy as well as at the Eighth Annual Dancing Poetry Festival. Her poem Lost But Found was produced as lyrics for the album AMERICA by HillTop Records and her music for the dance suite Maid in America was performed at the 2001 Edinburgh Fringe Festival. In 2000, she presented her electronic suite "Area 51" a series of five dances based on Nevada's notorious military and UFO site at the 2000 Edinburgh Fringe Festival. Her collection of jazz poems entitled Jazz Odyssey for reader, musician and dancer was presented at the Seventh Annual Dancing Poetry Festival in San Francisco.
In 1999, she presented her poetry and incidental music for the dance collage Once Upon A Time: a series of six dances at the 1999 Fringe Festival. As a multimedia performing artist, her music, poetry, visual art and dance were presented in her one-woman exhibit entitled Poetic Visions which was on tour in the Clark County Library Galleries in Las Vegas in 1998. In 1997, her article "Learning to Dance with Live Music" was published by Dance Teacher Now and in 1995 her article "Chamber Music in Las Vegas" was featured in the directory edition of Chamber Music America. In the Spring of 1996 she produced and directed Can't Touch This a multimedia production about the exploitation of women in the media. In 1995, she received a commission for the Las Vegas Jazz Society for Too Cool To Be Hip for narrator and jazz ensemble based on her original poem of the same name. That work was performed in New York City for the Fifth Annual Conference of Musicians in Dance for which she was also the conference lighting designer. Also in 1995, her poetry was published in the Journal for the International Guild of Musicians in Dance. She produced and directed T 'N A: a Womyn's Multimedia Hap'nin, in the Spring of 1995, the first production of it's kind produced by the Dance Department to center entirely around women's issues using students from Dance and Women's Studies. She has received several grants from The Nevada State Council on the Arts and in 2005, received a grant for her participation in the China Conference. Her other grants include awards from New Music Across America, the Southwest Gas Corp., The Western States Arts Foundation and Meet-the-Composer as well as awards in music composition from ASCAP. In 1993, she produced her second album, POWERPLAY, of entirely improvised music featuring cellist Gwendolyn Marie Watson and trumpeter/composer Walter Blanton which was released in 2000 on peoplesound.com, Europe's largest internet music distributor. She presented a concert of her music at Carnegie Recital Hall in 1988, and in 1987, she produced her first album Half & Half, which has been sold in several states. In 1992, she was proclaimed "Distinguished Composer" of the City of Las Vegas by Mayor Jan Laverty Jones and received a commission from New Music Across America for the Utah New Music Festival; and in 1991 she received a commission from the Sierra Woodwind Quintet for Dául Kade, a work based on American Indian themes. She also received a commission in 1990 from the University of Utah for a musical score to a documentary film that commemorated fifty years of dance history at that university. In 1989, she was awarded the First Performing Artist's Fellowship in Music Composition from the State of Nevada. In 1990, she became a founding member for the International Guild of Musicians in Dance, the first guild in western history devoted to the advancement of concert dance music and musical education of dancers. She was also the founding editor for the Guild's Journal from 1991-93.
Compositions
Piece by Piece for Fl, B. Cl, Trpt, B. Tbn, Vln, Cb and Percussion
Piece by Piece was commissioned by the Erick Hawkins Dance Company of NYC in 2014 and was premiered in Las Vegas in 2015. It was written as a tribute to the company's avant-garde composer-in residence and later artistic director, Lucia Dlugoszewski. The work references several instrumental techniques made famous by Lucia but it is not a copy of her style per se. This work was recorded by the Moravian Philharmonic Chamber Players and released by Parma Recordings on their Ravello Label March, 2017. You can see a youtube video of the recording with video graphics provided by my UNLV Video Design for Dance Class at https://youtu.be/USUL1e5KXZY.
Somewhere Between D and C# for Violoncello
Somewhere Between D and C#, 2014, is a cello solo which is being used as accompaniment for a modern dance duet by choreographer, Cathy Allen. The music and dance inspired the following poem: We teeter on the edge, somewhere between D and C#, not knowing whether to resolve up or down. Suspended by time and space within a shape that still appears unresolved by design. And yet, we keep teetering on that edge between D and C#, with constant consonant memories of dissonant times. We teeter somewhere between D and C#, where desired resolutions magically appear. —Beth Mehocic, 4/22/2014