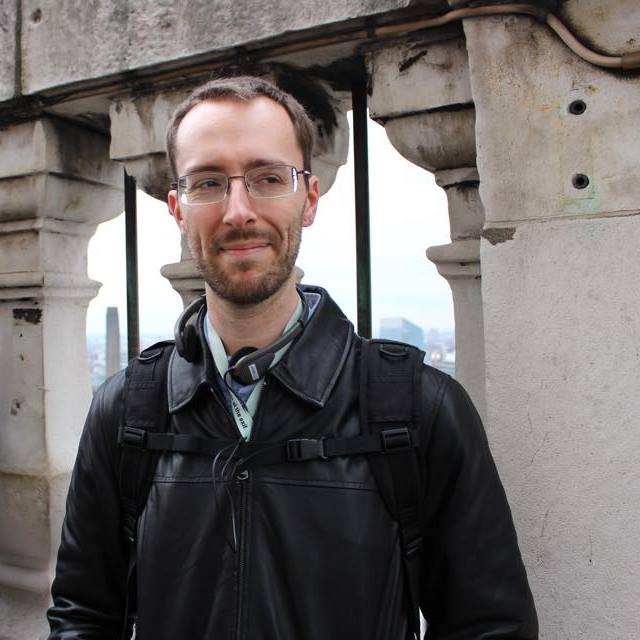 Born in Lansing, Benjamin Fuhrman is a graduate of the doctoral program in music composition at Michigan State University, where his principle instructors were Dr. Ricardo Lorenz and Dr. Mark Sullivan. He also holds a master's degree in music composition from Michigan State University, and a bachelor's degree in violin performance from Hope College, where his principle instructor was Mihai Craioveanu. He has had works commissioned from performers and organizations such as Grant Gould, Jack Kinsey, Mark Flegg, Shawn Teichmer, Ty Forquer, Jeff Loeffert, Barton Rotberg, Ryan Janus, Sam Gould, Nathan Bogert, Will Cicola, the H2 Quartet, University Reformed Church, Blacksoil Church, and the Magnolia West High School Wind Symphony. His works have been performed at the IMMARTS TechArts Festival 2007, Electro-Acoustic Juke Joint 2008 and 2009, the Digital Arts Week 2008 Diamond in the Mud Exhibition, the ARC Gallery, the 2009 World Saxophone Congress, the 12 Nights Electronic Music and Art Festival, University of Central Missouri New Music Festival 2010: Dualities, the Electro-Acoustic Barn Dance, SCENE&Heard Concerts, the STREET Festival, the 2013 SCI National Conference, the 2013 SEAMUS National Conference, the 2013 Studio 300 Festival, Colorado State University, Bowling Green State University, Oklahoma State University, and elsewhere in the US, Brazil, Switzerland, and Asia. He has also served as the composer in residence for ART342 in Fort Collins, Colorado. He maintains an active role as a performer and teacher of mandolin and computer music at the MSU Community Music School, Mott Community College, and Oakland University, and is the co-host of the podcast Patch In. His first solo album "Concrete Oasis" is now available on Amazon, BandCamp, CD Baby, Google Play, iTunes, and Spotify. For more information check out www.benfuhrman.com
For more information, including performance schedule, work samples, and much more, check out my website, benfuhrman.com
Contact Info: Twitter: @bfuhrman Email: ben@benfuhrman.com Web: benfuhrman.com
Compositions
...a handful of dust (2017)
Inspired by my re-reading of T.S. Eliot's The Waste Land, …a handful of dust takes the famous line "I will show you fear in a handful of dust" literally and figuratively as a point of departure. Created using extremely short bursts of noise and pitches from an analog synthesizer, these sources are then processed into clouds of sonic material. These dry and dusty swarms of particles swirl and flow around the listener as both literal dust, and an examination of both the passage of time and fear of death, and the impending dissolution of a relationship due to trivial bickering envisaged in the poem. As the piece progresses these different roles come to the forefront, asking the listener to reinterpret the title in light of these different interpretations.
L'Esprit Inquiet (2017)
L'Esprit Inquiet is a depiction of my mental state, watching as civil rights and protections are eroded in the US under the Trump administration. As my thoughts try to focus on anything else, they are constantly invaded by the anxious susurrations of my inner monologue, an oppressive nagging that keeps me up at night and defies catharsis.
Study on Morning Religion (2007)
The primary idea behind this piece was the juxtaposition of textural elements through the blending of materials within an audio editor. With that in mind, the primary sampled sound used was the coffee maker in my office, due in a large part to its proximity to the microphone that was currently attached to my computer. Samples were then granulated and pitch-shifted to create the resulting work.
Exploring the Remains of a Giant (2015)
I'm fascinated by the cycle of urban growth and decay in the American Rust Belt. Growing up in Michigan, I've seen quite a number of properties fall into disrepair and neglect, with the larger ones always seeming to become gigantic scabs on the landscape – a silent testament to overreaching, and a lack of financial planning. So, when I saw the K-Mart ephemera collection, "Attention K-Mart Shoppers," posted to the Internet Archive, I knew I had to play with it a bit. The resulting piece uses store announcements (though only a handful are intelligible) in a sonic depiction of wandering through an abandoned store. These comprehensible snippets can be understood as memory, or possibly an idealization while surrounded by desolation and decay within the corpse of a former giant.